Denon AVP-A1HDCI AV Processor
Denon AVP-A1HDCI AV Processor
Filed under: A/V Receivers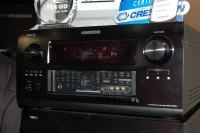 Denon AVP-A1HDCI
> Read our Comprehensive Review of the Denon  AVP-A1HDCI  Pre/Pro <

Scheduled for delivery this Fall, the AVP-A1HDC1 is engineered from the ground up to provide the ultimate in audio and video performance, as well as to meet the demands of Denon's valued custom integration customers, including the growing need for advanced multi-zone networking capabilities. The introduction of this processor and matching 10 CH amplifier (Denon POA-A1HDCI)  marks the debut of a new family of high-performance custom-focused components.
Jeff Talmadge, Director, Product Development and Systems Integration noted, "We've had many requests from our enthusiast customers to get back into this market, which we have not focused on in over 10 years. After talking to many of our customers, we determined that these two products we're introducing are what people want most from Denon. We've combined the advanced functionality of our ultimate-quality components with advanced multi-zone and networking capabilities. Our goal is to bring dedicated home entertainment aficionados the upscale solutions they need to enjoy ultimate-quality audio and video performance, and to give custom integrators new ways to meet the demands of their discriminating clientele."
AVP-A1HDCI – Powerful Audio/Video Controller Processor with Silicon Optix Realta Chipset
Following its success in Denon's renowned DVD players, Denon has added the advanced Silicon Optix Realta chipset to its new AVP-A1HDCI, enabling enhanced video performance with upconversion and scaling to 1080p from all analog and digital sources, including the ability to use Realta Noise Reduction circuitry for 1080p input signals. This powerful chipset is just one of many advanced features that make the reference-quality AVP-A1HDCI one of the world's most advanced audio/video controllers.
The AVP-A1HDCI features six HDMI inputs and two HDMI outputs and also includes built-in Ethernet and Wi-Fi 802.11b/g connectivity. Both network protocols allow custom integrators the ability to diagnose, correct, update and remotely perform maintenance on the units without the need to travel to their customer's home. The SimplayHD certified AVP-A1HDCI also features DLNA and Windows Vista certification, and allows users to stream multimedia content from network attached devices including computers and the popular iTunes software as well as media servers and network attached storage devices.
Other CI dedicated-features include RS-232 and assignable high current DC trigger outputs, Audyssey MultEQ XT Auto Setup and Calibration, and the ability to use the Audyssey Pro installer package, which measures ideal sonic performance in up to 32 different positions, allowing installers to define the ultimate sound quality for virtually any size or shape room.
The AVP-A1HDCI is a multiple source/multiple zone controller processor, capable of up to four zones and providing digital output to Zone 2. Users enjoy discrete command, source select, volume, power and more in each zone. In addition, three discrete and independent tuners; AM/FM, XM satellite radio ready (subscription required) and HD Radio provide for multi-zone distribution with high quality playback and support of multicasting from HD Radio.
The AVP-A1HDCI features the company's newly designed Graphical User Interface (GUI) that makes accessing all the advanced features simpler and more intuitive than ever.
Enhanced Music Performance from Multiple Sources
For those users who enjoy streaming music via Ethernet / Wi-Fi or listening to their MP3 player via an iPod dock or USB flash drive/HDD, the AVP-A1HDCI features a compressed audio restorer that enhances music files that may be lacking in quality.
MSRP: $7,000, shipping Fall 2007 For more information, visit: http://www.usa.denon.com/
> Read our Comprehensive Review of the Denon  AVP-A1HDCI  Pre/Pro <