Status Acoustics Titus Speaker System
Status Acoustics Titus Speaker System
Filed under: Loudspeakers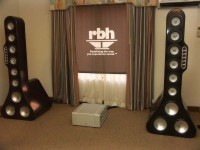 Best of Show CES 2006 Winner!
Best of Show CES 2006 Winner!
After nearly five years since their last very well received display of the original Titus Speaker system, the high end division of RBH Sound is back at Alexis Park with a prototype pair of their new flagship speakers which will soon be the successors to the acclaimed Titus tower.
Their demo room had a lot of activity from current and prospective dealers and industry folks. We heard a few people walking out of the demo declaring the asking price of these speakers wasn't enough given their level of performance. $50k/pair not enough? Huh? I'd love to have half the bank account of anyone who could afford to make such a statement. In reality this is a high compliment to pay to a high end company attempting to deliver class leading performance with no compromises due to price.
We had our first listen to these monstrosities during our RBH Sound On Location Tour last year and walked away impressed, and fearful that all other speakers would sound small in comparison. Our listening experience this time at Alexis Park served to affirm our first impressions.
The demo room featured some of the industries finest, no compromise equipment, including:

Boulder Amplifier 1060
Wadia 302 CD Player
APC S-15 Power Conditioner (which incidentally won our 2005 Product of the Year Award for best power conditioner)
Note: Also check out our APC FAQ Interview on Power Conditioners
The Boulder amp was immense. I have never seen an amp with higher build quality. Peering through their marketing literature and specifications, I don't think I have ever seen a more overly engineered one either. They put the design in over design. $30,000 for two channels may be a bit steep for all but Bill Gates. However, nobody ever claimed truly good high end audio was inexpensive. It's nice to see the product is based on solid engineering and not snake oil. This is certainly one amplifier we would love to review and benchmark to compare all others against.
The demo room was lightly treated acoustically with only a few side panels at the first reflection points present. The Wadia CD player was coupled directly to the boulder amplifier with no additional preamplifier in the chain.
Our initial observations when entering the demo room were as follows:

The same bare room (craving additional room treatment and a little décor just like it did for the past two years) was used when demoing the RBH Sound T2 system which, because of its stellar performance, won our Best Of Show Award in 2004.
Garden hose triwire speaker cables were furnished by Kimber Kable (namely the Trifocal XL). Yes it's esoteric at its finest, but what else were you expecting from high end audio at Alexis Park? I used the Kimber BiFocals in the past on my old Aragon amps, but would caution prospective buyers against using them on midfi receivers do to their high capacitance. However with published 3AWG specification, the Trifocal XL cable will surely be able to transfer all of the power of the mighty Boulder amp without achieving thermal meltdown.
Excellent looking and comfortable seating was provided by Continental Seating . This is our personal #1 choice for theater seating. Spend a few minutes in one and you will quickly realize why. Regardless of how good a playback system is, without comfortable seating, you might as well foggetaboutit!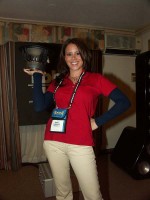 System Information on the new Status Acoustics Tower
System Type: 3-way sealed / vented
Frequency Response: 18Hz to 20kHz +-3dB
Sensitivity: 93.5dB (2.83V @ 1 meter)
Recommended Power: 75-1000 watts
Drive Units: 5 x 10" Aluminum woofers, 6 x 6 ½" *Beryllium Mid Woofers
(upgrade), comes standard in aluminum; 6 x 1.1" fabric dome tweeters, 1 x 1" titanium rear tweeter.
Crossover Frequencies 80Hz, 2,200Hz
Impedance: 4 ohms
Dimensions: 26 ¾" W x 69 ¼" H, 28" deep
Finish: Acrylic Polymer / Natural Wood
Weight: 385lbs /ea
Warranty: 5 years
The new Titus tower is essentially a truncated line array tower. All drivers are active and the system is capable of bi and tri amplification and wiring.
To the right we have our lovely Diana Libreros holding one of the 20lb bass drivers in one arm and not breaking a sweat. I was tempted to place a wager on how long she could have maintained that, but considering she was serving as one of our official photographers for the show, I didn't want to push my luck.
Listening Session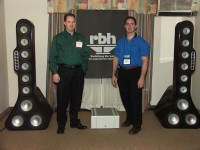 I had Shane Rich fire up some familiar test discs, including the bass tracks from Brian Bromberg A Tribute to Jaco. " Slangish" sounded fantastic. You could hear the frets in the bass with distinct clarity. The soundstage seemed about as big as a football stadium and most importantly the sound character remained intimate and focused at all listening positions. It was almost like a near field listening experience on steroids. The low end bass although very tight and controlled, could have used assistance via some room tuning or lower octave equalization. Having heard their demos of previous speakers in the same room, this was clearly a room issue, NOT the speakers.
Playing demo materials from various artists, more than I can remember actually, we had a lot of fun just sitting back in the comfortable Continental Seating chairs. Female voices were clear and concise, void of tubbiness or coloration like we've heard in a couple of other demos at Alexis Park. The highlight of the night was listening to drum solos that sounded as close to the real thing that we've heard on any playback system. Each cymbal crash was conveyed with the utmost clarity and the decay of the toms clearly audible. These speakers had a very airy sound quality with absolutely no discernable listening fatigue regardless of volume level or what source was being played. Though not quite as broadbased as the RBH Sound T-2 System , imaging was more precise and maintained through a relatively large listening area on all listening planes.
I do feel the demo room was simply too small for these speakers and could only imagine how much more they could have opened up in a room about 20% larger and with better acoustics and noise isolation. There were times during the demo that I simply couldn't bare the distraction from people rustling outside of the demo room as it prevented me to extract all of the details these speakers were conveying. When you listen to a speaker this good, all outside influences simply must be eliminated in order to appreciate their full capabilities which, in our few short listening demos, seemed limitless. Despite the fact that we heard numerous excellent loudspeaker demos at Alexis Park, especially from an Italian speaker company named Opera and a New York based one called Nola, the Status Acoustics demo was the only one that had us feeling like we just left a live unamplified performance. For its uncanny ability to deliver a lifelike sound experience, we tip or hats to Status Acoustics for having the best two channel performance at CES 2006 .
Pictured above, Design Engineer and VP of RBH Sound, Shane Rich and myself humbly stand next to the $50,000 Titus speakers that sit nearly as tall as us and each weigh in at nearly our combined weight. I can't wait to get review samples in our test labs. Now all I need are a couple of brave souls with strong backs to help me move these into our facility. Any volunteers?
For more information, visit: RBH Sound