APC Interview on Power Conditioner Devices
APC Interview on Power Conditioner Devices
APC S15 Backpanel
Over the past few years we have put forth our best effort to demystify the industry on cable snake oils and ficticious claims. While this battle isn't quite yet over, we are happy with the progress that is being made to educate consumers on sound engineering concepts about these products.
Based on our recent market research, it has come to our attention that Power Conditioners are the next topic that need demystifying. Thus to begin this endeavor, we called upon APC - the leading company for power backup and conditioning in the computer industry - that now has its sights pointed on home theater to answer some grueling questions about these products and how they relate to the home theater marketplace. AH Staff
Contained below is an interview we conducted with Steve Williams - Divisional Regulatory Engineer for APC.
Why is it important to have UL, CSA, Part 68, TUV, etc. certifications on power products?

There are 3 reasons why it is important to have certifications on products:
It's the law . Safety (UL), EMI (FCC Part 15) and telco (FCC part 68) are first and foremost legal requirements. Failure to comply with these legal requirements (mostly FCC) can result in fines and, in extreme cases, criminal charges. Failure to have safety approvals have resulted in at least two cases of involuntary manslaughter charges against company executives (Chicago Magnet Wire Co. Inc and CR Bard Inc.)
It protects against liability . If a product is involved in an incident (non-certified design causes a fire, excessive EMI causes failure of other equipment such as a medical alert system, improper telco interface harms a 911 system, etc.) and the product does not have the required approvals, the jury will not be asked to assign blame - the jury will simply be asked how big a settlement the manufacturer, seller, and installer need to pay.
It's the right thing to do . It would be irresponsible to sell a product that has not been thoroughly tested by an independent laboratory. The approval process is not perfect and is not a guarantee against problems, but it is the best way to make sure the product is well designed and manufactured.
Why do so few companies have this certification on their products?

I can only speculate on the answer to this as I can't think of a good reason why a company would ignore the law, expose their sellers to huge liability, and not employ good practices in their design and manufacturing. Obtaining certifications is costly and time-consuming; the certification agencies do not just rubber-stamp products as "approved." You have to pay for the test time and engineering review time. The labs have two to three levels of review depending upon the certification type, adding significant cost. Also, the labs work at a very slow and methodical pace which delays time to market. Finally, many of the standards cause design limitations and many companies do not want to innovate their way through these restrictions - rather than find a more efficient design that complies with the standards, they simply ignore the certification process.

Are there any safety or regulatory violations for not having these types of products certified?

Absolutely ! The FCC can fine a company up to $10,000 per violation. This is on a unit-by-unit basis, so if a company makes ten power conditioners of the same model with a telco interface and they did not pass the FCC Part 68 requirements they could be fined as much as $100,000. This is an extreme case, but such fines can be levied. OSHA can shut down a workplace that does not use Listed equipment. More importantly, a building inspector can refuse to grant a certificate of occupancy to anyone who is using equipment that is not Listed. The National Electrical Code (NEC) specifically requires the use of Listed equipment. Imagine the person who is renovating their house by adding an A/V room and the town building inspector refuses to sign off on the job because the A/V installer did not use Listed equipment.

What makes other brands of power products not likely to pass these certification tests ?

The biggest violation we see is fudging the product rating. APC products are limited by the standards which require the input rating to be a maximum of 80% of the cord plug rating. As a result we can only rate our product 12A max. Many of our competitors cheat and rate their products 15A. For more detail on this subject please read the following excerpt from an article on the APC A/V web site:

It's important to note that even UL-Listed products can have flaws. A classic example is the 15-Amp rating that appears on many products provided with a 15A plug. This violates the UL standard and the NEC, which specifies that a product can only be rated at 80 percent of the plug attached to it.
An exception is made for RPTs, which can be rated equivalent to the provided plug. This is allowed because an RPT is considered to be a simple extension of the wall, since it does not contain power consuming electronics. However, some power conditioners - meaning devices that include surge protection, noise filtering and voltage regulation - are listed as RPTs. This extends the wall circuit at its full value while also consuming a large amount of electricity, a classic set-up for potentially overloading a power cord; and the IEC-style appliance inlets used in power conditioners are rapidly gaining acceptance in home consumer electronics products.

Overloaded power cords, say firefighters, are a leading cause of household electrical fires, since they can ignite rugs, wood floors, sheet rock walls, and other interior surfaces. This is why installers need to pay attention not just to the presence of the UL listing, but also its proper use.
Source: http://www.apc.com/products/apcav/
How do APC AV power protection units differ from other offerings in the home theater industry?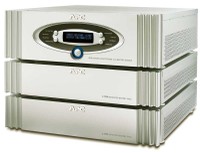 If you look at specific APC AV offerings vs. specific competitive models in the high end AV market, the differences can be large and many. However, from a general overall standpoint, APC AV products can be said to differ from the competition in the following ways:
APC products are ALWAYS designed to and carry the appropriate safety agency approvals required for the region the product is sold in. Not only that, but each product design must comply with over 100 APC internal design standards which actually surpass these agency approval standards.
APC AV products clearly represent the best value in the market. No other product solves as many real world problems at anywhere near the same price points that APC AV products are offered at. Take the S Type Power Conditioner with Battery Backup, for example. To get the S Type's Pure sine wave battery backup, voltage regulation, isolated noise filtering and surge protection, you'd have to buy multiple competitive products and spend well over $2000 to get it.
Although not a general difference, the fact the S Type battery backup was specifically designed from the ground up to be capable of powering high end Amplifiers and Subwoofers constitutes an important difference between us and other so-called AV UPS competitors. Amplifiers and subwoofers will often draw a tremendous amount of current on startup. This large in-rush current can damage or at the very least overload a traditional IT-style UPS. APC had to design the inverter of the S Type to handle these types of unique power draws.

Why does the rear panel of the S15/H15 say 120V / 12A? Does this mean the power conditioner is fuse-protected not to deliver any more than 1,440W from the wall outlet?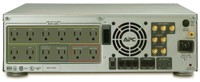 No, as explained above the product is purposefully limiting the end user not to connect more than 12A of load to it. In reality, you could keep loading it until the internal circuit breaker (15A) trips, but that would be misuse. Again, we put ourselves at a competitive disadvantage by doing what is right. Our competition allows the customer to load up to 15A while we limit the customer to only 12A. It is important to understand that this 12A refers to steady state and the unit can source in excess of 30A short-term to handle large inrush currents drawn by professional-grade A/V equipment. APC specifically tests for this by repeatedly cold starting high power A/V equipment well over 6,000 times. In one case the limit on the test was the fact that the amplifier used broke because it could not handle that many starts and stops, but the S type power conditioner kept on running.
This is just a primer for what's to come as we embark on our quest to unveil the mystery of power conditioners and separate the facts from myths, as well as valid products from snake oil. Stay tuned for more...