Pioneer SP-PK52FS 5.1 Speaker System Design Overview
Pioneer SP-PK52FS 5.1 Speaker System Design Overview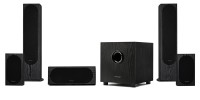 The SP-FS52 is a 4 driver, 2½-way tower design, meaning the two bottom drivers employ a Low Pass Filter (LPF) and the midrange driver employs a very shallow High Pass Filter (HPF) so that it predominately provides the mid frequencies with some assistance in the midbass.  Actually the midrange driver is NOT enclosed in its own chamber so it does experience sympathetic vibrations from the other woofers energy radiating back into the cone of the midrange driver.  Personally, I would have liked to see this driver chambered off in its own enclosure to improve midrange articulation but it's understandable why Mr. Jones didn't do this as it adds cost to the design and penalizes a bit of mid bass punch, which is something quite important in a small, budget design like this.  In speaking with Andrew, he told me the three woofers were designed to work together into a common volume.  If he had made a true 3-way design, the speaker would have lost bass output capability for the small gain in midrange clarity. At the price point he was targeting, this would have been the wrong trade off. Instead he took a long time optimizing the working range and excursion sharing between the drivers. The network provides some of this splitting, and the non-vented pole piece on the upper driver also helps.  It is worth mentioning that the midrange employs a HPF to reduce low frequency cone excursions and intermodulation distortion. I've actually seen speakers costing nearly 5 times the price of the SP-FS52s that let their little midrange run fullrange, mucking up clarity of the vocals at higher listening levels. 
The SP-FS52 is a rather height challenged floorstanding speaker. Standing a mere 35" tall, you will definitely want to install the included plinths on the SP-FS52's not only to add stability to the speaker, but mass and height. It's small stature should definitely score a high WAF.  So, stress this to your significant other when trying to convince them this is a much better option than cubed speakers suspended from a wall or, gasp, ceiling.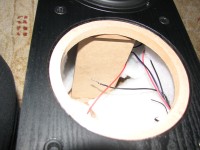 The SP-BS22-LR is a two-way bookshelf and the SP-C22 is a three driver two-way MTM design to be used horizontally as a center channel.  To round off the system, Pioneer threw in a small but quite potent little sub called the SW-8MK2 which is a ported 8" design with a 100-watt amp.  It has a down-firing 8" bass driver with a 2.5" diameter front firing port.  Personally I would have rather seen the port down-firing and the driver front-firing.  Down-firing ports tend to mask chuffing, which this sub has in spades when driven hard.  The SW-8MK2 has both line level and speaker level inputs, a 180 degree phase switch and variable LPF from 40Hz to 150Hz.  There is no crossover bypass so you will have to set it to the max setting (150Hz) if you plan on using your A/V receivers bass management facilities.  It has a non detachable power cord and an auto-on switch.
All of the speakers in this lineup are constructed of ½" thick MDF and all (sans the subwoofer) have contoured cabinets to increase rigidity and enhance styling.  Pioneer also double braced the tower cabinet above and below the mid woofer cavity.  They also lightly batted the mid interior with cotton insulation, though I wish they would have put some at the top and bottom of the cabinet too. But, its omission could have been intentional to not sacrifice efficiency at bass frequencies.
The speaker grilles are constructed of flimsy thin plastic, but don't laugh we've seen similar grille designs on more costly ID speaker competitors.  The grille cloth is affixed tightly to the frame to minimize losses.  The grilles do make an overbearingly snug fit and help to finish off the look of the speakers when installed.
Pioneer SP-BS22-LR Front Baffle (left image); Back View of Pioneer SP-PK52FS 5.1 System (right pic)

The drivers in all of the speakers are flush mounted onto the front baffle to minimize diffraction.
Don't expect Salk Sound-like cabinetry in any of these speakers.  These are as generic as generic gets.  While some competitors would choose aesthetics and styling over performance, Pioneer has clearly decided to put every dime into using real parts in this speaker line up.  
All of the speakers feature 1.5" rear ports, with the towers and center being a dual ported design.  There is a little metal bracket attached to the towers towards the top of the cabinet, the purpose of which I had no idea until I consulted the manual. This was included as a safety hook to secure the speaker to a wall and prevent tipping.  The center channel also comes with plastic brackets that serve as feet and to slightly angle the speaker up towards the listener.  None of the speakers are bi-ampable or bi-wirable.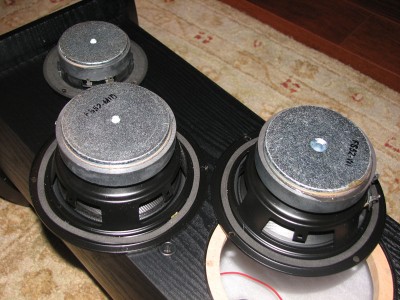 Pioneer Drivers (notice the vented pole piece on the bottom bass driver)

The Drivers
I was quite taken to find drivers with such substantial motor structures in such a modestly priced system.  Instead of getting the typical ½" dome tweeter with wimpy neodymium slug magnet (like found on more expensive models from some of the big name brands), Pioneer used a real 1" soft dome tweeter with a powerful ferrite motor structure and a waveguide in the entire speaker lineup to improve sensitivity, low end response, and control directivity.  The SP-FS52 towers sport three 5 ¼" stamped basket woofers. The two bottom bass drivers employ vented pole pieces to reduce turbulence under the dust cap and improve thermal venting.  This is a detail absent on drivers from some Internet-Direct speaker companies selling bookshelf speakers for more money than this entire 5.1 system!  The SP-BS22-LR and SP-C22 utilize 4" versions of these drivers.
Crossover Topology
The crossover is usually the area most budget speakers skimp on.  You will typically find a very rudimentary 1st order crossover on the tweeter and nothing on the bass driver at all.  This was not the case with the Pioneer system.  Instead they employed a 6-element crossover on the bookshelf and center channel speakers and an 8-element crossover on the towers.  The woofers and the mid-woofer in the SP-FS52 towers are wired in series after the crossover. In parallel with the two bottom woofers only is a shunt RC network to roll them off earlier and to provide some low frequency rolloff to the mid woofer.  Again this was an unexpected and welcome discovery. 
Power Handling
If you examine the specs of the Pioneer speaker system you will notice they don't appear to handle too much sustained power.  The SP-FS52s are rated for 130 watts while the SP-BS22-LR (God, I hate these model numbers) are rated at 80 watts and the SP-C22 is rated at 90 watts.  Doesn't seem like much does it?  Well, unfortunately there is no industry standard on how to rate loudspeaker power handling and we have many articles on this very topic.  So I asked Mr. Jones about how he derived these numbers for the Pioneer speakers.
Editorial Note on Pioneer Power Testing by Andrew Jones

If we rate power handling at max 100w, what we do for testing is run the speaker with shaped noise at 1/3 full power, so in this example 33W average power for 96 hours. This is a lot of power!

After 96 hours, we let it cool down. It must pass all measurements with no change. Then we test for 24 hours at 1/2 power (50W), it must not fail, and must pass most of the specs with only a little change.

Then we test at 100W. If it fails, it must do so safely!

In addition, we have particular music selections that are bass torture tests.  These are well in excess of the standard testing.
Suffice it to say, don't worry too much about the lowish power ratings of these speakers. Just mate them with a solid A/V receiver at or even double the price of this speaker system and you will likely be just fine.  Remember amplifier clipping does far more damage to a speaker system than undistorted power. Having more available clean power on hand is always a good thing.
Set-Up
I tested the Pioneer SP-PK52FS system in the following two scenarios:
Friend's home - comparing the SP-FS52 to the larger and much costlier EMP E55Ti
Theater room - two-channel and multi-channel utilizing the reference gear and premier listening space in the Audioholics Showcase home

Listening Scenario #1:  Friend's Home Pioneer SP-FS52 vs EMP E55Ti
In the first scenario, we connected the EMP E55ti and the Pioneer SP-FS52 to his Harman/kardon HK 3490 stereo receiver using SPK A and SPK B outputs to switch between pairs.  The cables were Kimber 8PR and the source was the Denon DVD-1920CI connected via Sonicwave toslink and a Denon DP-300F turntable with upgraded cartridge/needle to the HK 3490.   Both pairs were level matched (the EMP's were 2dB more efficient than the Pioneers) so it was as easy as flipping the SPKA/SPKB button on the remote to do an instantaneous comparison to hear how the two pairs of speakers compared to each other.
Listening Scenario #2 Audioholics Showcase Theater Room
For the second scenario, I positioned the Pioneer SP-FS52 towers about 5ft from sidewalls and around 8ft from the back walls and spread apart about 10ft from each other, which was about two feet shy of the distance from my primary listening position.  After experimenting, I found they sounded their best with little toe-in since the top end of these speakers is a bit pronounced. I used my Marantz PM-11S2 200wpc integrated stereo amplifier and the Oppo BDP-105 Blu-ray as the source connected balanced.  All interconnects were furnished by Blue Jeans Cables (1694A Coax) and Kimber 8PR speaker cables with WBT compression banana plugs.  I also connected the entire SP-FS52 5.1 system to the Emotiva UMC-200 and matching UPA-500 5-channel amplifier for multi-channel music and movie listening.
Confused about what AV Gear to buy or how to set it up? Join our Exclusive Audioholics E-Book Membership Program!
Recent Forum Posts:
MLadia posts on February 09, 2021 13:18
shadyJ, post: 1306360, member: 20472
There would almost certainly be an improvement.

Ran into this old post. I eventually got an Infinity REFERENCE RC263.
shadyJ posts on March 21, 2019 18:35
MLadia, post: 1306353, member: 87319
Would it be an improvement to use another Floor-standing SP-FS552 as my center instead of the Pioneer SP-C22? Btw, I replaced the original Pioneer sub with 2 Dayton 1200s.
There would almost certainly be an improvement.
MLadia posts on March 21, 2019 18:02
Would it be an improvement to use another Floor-standing SP-FS552 as my center instead of the Pioneer SP-C22? Btw, I replaced the original Pioneer sub with 2 Dayton 1200s.
Dazz Wryght posts on March 20, 2018 14:45
Dazz Wryght, post: 1233567, member: 83977
I hope someone is still watching this thread,

I bought the Pioneer FS-52s, the SP-C22, and the SW-8MK2. I have yet to buy the SP-BS22-LR, I'm using some no name towers I had as surrounds for now.

My receiver is a Onkyo TX-NR646.

I set up the crossovers to 80Hz for all the Pioneers and 100Hz for the surrounds since the drivers are so small. I'm using the LFE for the SW-8MK2 set at 120Hz (max on my receiver). I've been consuming a mix of streaming video (Netflix, Hulu, etc.), streaming music (Spotify, Apple Music, etc.), and gaming on an XboxOne S. I've been happy with the sound in my semi-open 2600 cu-ft living room.

Recently, I found the AccuEQ mic for my TX-NR646. So I plugged it up to see what results it would produce. It got all my distances spot on. I've measured them myself previously. However, it crossover my towers at 50Hz, center at 70Hz, and surrounds at 90Hz. I immediately thought this was wrong and manually set everything back. Much reading had me convinced that 80Hz was the way to go.

After reading this article it seems that the towers are tuned to 50HZ with the center at 70Hz. So was AccuEQ correct? Should I give it a listen, or stick with 80Hz?
Update: I grabbed a pair of SP-BS22-LRs for $68 at Fry's. They are now in the rear position. I also ditched the SW8-MK2 for a pair of SVS SB12-NSDs.
Dazz Wryght posts on February 15, 2018 11:13
j_garcia, post: 1233598, member: 10856
My Pre uses a proprietary EQ and it does some things I don't agree with also, but the end result does seem to be that it does a decent job. So it isn't always perfect in terms of what our preferences might be or what we think we hear, but knowing what the system "thinks" is correct is a good starting point to tweak from.
I got the kids and the wife to be quiet for 10 mins while I ran AccuEQ. I put a camera tripod on my couch in the 'sweet spot' with the mic sitting at about ear level… ish. AccuEQ produced pretty much the same results I discarded previously. I then switched to 2.1 to listen to some music. I grabbed a handful of CDs to listen.
Jimi Hendrix's "Purple Haze" and "Foxy Lady" had a detail to them that I don't think I've ever noticed before. Sticking with this CD I played Jimi's "National Anthem" and WOW! I never noticed that there's a drummer playing rapid kicks and snare trills in the background.
I wasn't listening at a loud level. Sadly, my receiver only displays relative volume and not dB level. Turned up to about 40, which is where my family normally has it for family TV watching, I was impressed.
I then switched to movies and 5.1. I played the opening scene from "The Lion King" on Blu-Ray (DTS-MA), which was apropos being I just saw the play at the Fox, Atlanta with the misses. There was so much more immersion in sound. Birds flying by head, and elephants making my bookshelf shake. I tested again with "Rio" on Blu-Ray. The opening scene had me forgetting I was at home and not at my local Regal RPX.
There's still more testing to do. All of my TV watching is on streaming services, then there's also video games to test.
So far so good,
Thanks again.
Post Reply