Pioneer SP-FS52/BS22/CP22 and SW-8MK2 Subwoofer Conclusion
Pioneer SP-FS52/BS22/CP22 and SW-8MK2 Subwoofer Conclusion
The Downside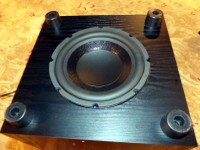 It's really hard to criticize such a low cost, high performance speaker system like the Pioneer SP-PK52FS.  The biggest nits I would pick with it are its ho-hum aesthetics.  Nothing about this system will give you or your friends the illusion of high-end.  They look like the typical budget speaker system you would find at a department store—though they definitely don't sound like them.  I do wish Pioneer would offer a wall-mountable surround speaker as I'd imagine it would be difficult for some people to use the SP-BS22 bookshelf speakers for that application. 
The SW-8MKii subwoofer is arguably the weakest link in the system.  It's not a bad little sub for what it is, but it lacks real depth and punch like you will find on even an entry level sub from HSU or SVS.  It is best suited for small rooms and fares better with music than it does with deep LFE action from movies.  My advice in buying this system would be to use the sub for your computer or a garage system and pair the rest of the speakers with an SVS SB-1000 or PB-1000.  These speakers certainly deserve a subwoofer of that caliber of performance.  Considering Pioneer is giving you almost a $100 discount by buying the SP-PK52FS system as a complete 5.1 package; it's like you're getting this sub for $50.  That is one heck of a deal that shouldn't be passed up. 
Conclusion

At the be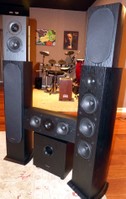 ginning of the review I posed the question about how Pioneer could pull off so much performance on the cheap.  The answer is two-fold:
They are focusing almost the entire budget of the product on quality of parts. They don't use a chintzy tweeter, or a simplistic two element crossover inside their boxes.
Pioneer spent the effort in using a talented design engineer that enjoys the challenge of optimizing every bit of performance in each model.  The entire lineup wasn't just slapped together for big box stores like most entry level gear often is.
The Pioneer SP-PK52FS system will play cleanly with good output in small to medium-sized rooms.  Don't be afraid to use quality electronics on these babies because they will certainly appreciate it.  The SP-FS52 tower speakers alone are worth the $549/pr system price.  I can comfortably say that I've never heard a better balanced, better sounding tower speaker for under $700/pr than these.  In fact, I've heard plenty of more expensive so called "high end" speakers that didn't sound this good.  The BS22-LR is probably the best $129 you can spend in audio.  They serve well as a surround speaker or as a near field monitor for a hifi computer audio system. 
The hype that these speakers received on our forum is well warranted.  I'd really like to see what Andrew Jones could do if Pioneer gave him 2-3 times the budget.   Right now the only step up in a tower speaker from the SP-FS52 is their TAD S-3EX which retails at $6,600/pr.  Come on Pioneer, surely you have customers between that vast price bracket that would love some more options.  If that day ever happens, I am sure a lot of Internet Direct speaker companies will be very nervous. 
Pioneer has redefined the budget loudspeaker genre and in this price bracket they are without peer.  Whether you're dabbling into a budget two-channel or multi-channel system, you owe it to yourself to check these out.  I commend Pioneer for offering such an affordable solution to whet budding audiophile appetites. Highly recommended!
The Score Card
The scoring below is based on each piece of equipment doing the duty it is designed for. The numbers are weighed heavily with respect to the individual cost of each unit, thus giving a rating roughly equal to:
Performance × Price Factor/Value = Rating
Audioholics.com note: The ratings indicated below are based on subjective listening and objective testing of the product in question. The rating scale is based on performance/value ratio. If you notice better performing products in future reviews that have lower numbers in certain areas, be aware that the value factor is most likely the culprit. Other Audioholics reviewers may rate products solely based on performance, and each reviewer has his/her own system for ratings.
Audioholics Rating Scale
— Excellent
— Very Good
— Good
— Fair
— Poor
| Metric | Rating |
| --- | --- |
| Build Quality | |
| Appearance | |
| Treble Extension | |
| Treble Smoothness | |
| Midrange Accuracy | |
| Bass Extension | |
| Bass Accuracy | |
| Dynamic Range | |
| Performance | |
| Value | |
Confused about what AV Gear to buy or how to set it up? Join our Exclusive Audioholics E-Book Membership Program!
Recent Forum Posts:
MLadia posts on February 09, 2021 13:18
shadyJ, post: 1306360, member: 20472
There would almost certainly be an improvement.

Ran into this old post. I eventually got an Infinity REFERENCE RC263.
shadyJ posts on March 21, 2019 18:35
MLadia, post: 1306353, member: 87319
Would it be an improvement to use another Floor-standing SP-FS552 as my center instead of the Pioneer SP-C22? Btw, I replaced the original Pioneer sub with 2 Dayton 1200s.
There would almost certainly be an improvement.
MLadia posts on March 21, 2019 18:02
Would it be an improvement to use another Floor-standing SP-FS552 as my center instead of the Pioneer SP-C22? Btw, I replaced the original Pioneer sub with 2 Dayton 1200s.
Dazz Wryght posts on March 20, 2018 14:45
Dazz Wryght, post: 1233567, member: 83977
I hope someone is still watching this thread,

I bought the Pioneer FS-52s, the SP-C22, and the SW-8MK2. I have yet to buy the SP-BS22-LR, I'm using some no name towers I had as surrounds for now.

My receiver is a Onkyo TX-NR646.

I set up the crossovers to 80Hz for all the Pioneers and 100Hz for the surrounds since the drivers are so small. I'm using the LFE for the SW-8MK2 set at 120Hz (max on my receiver). I've been consuming a mix of streaming video (Netflix, Hulu, etc.), streaming music (Spotify, Apple Music, etc.), and gaming on an XboxOne S. I've been happy with the sound in my semi-open 2600 cu-ft living room.

Recently, I found the AccuEQ mic for my TX-NR646. So I plugged it up to see what results it would produce. It got all my distances spot on. I've measured them myself previously. However, it crossover my towers at 50Hz, center at 70Hz, and surrounds at 90Hz. I immediately thought this was wrong and manually set everything back. Much reading had me convinced that 80Hz was the way to go.

After reading this article it seems that the towers are tuned to 50HZ with the center at 70Hz. So was AccuEQ correct? Should I give it a listen, or stick with 80Hz?
Update: I grabbed a pair of SP-BS22-LRs for $68 at Fry's. They are now in the rear position. I also ditched the SW8-MK2 for a pair of SVS SB12-NSDs.
Dazz Wryght posts on February 15, 2018 11:13
j_garcia, post: 1233598, member: 10856
My Pre uses a proprietary EQ and it does some things I don't agree with also, but the end result does seem to be that it does a decent job. So it isn't always perfect in terms of what our preferences might be or what we think we hear, but knowing what the system "thinks" is correct is a good starting point to tweak from.
I got the kids and the wife to be quiet for 10 mins while I ran AccuEQ. I put a camera tripod on my couch in the 'sweet spot' with the mic sitting at about ear level… ish. AccuEQ produced pretty much the same results I discarded previously. I then switched to 2.1 to listen to some music. I grabbed a handful of CDs to listen.
Jimi Hendrix's "Purple Haze" and "Foxy Lady" had a detail to them that I don't think I've ever noticed before. Sticking with this CD I played Jimi's "National Anthem" and WOW! I never noticed that there's a drummer playing rapid kicks and snare trills in the background.
I wasn't listening at a loud level. Sadly, my receiver only displays relative volume and not dB level. Turned up to about 40, which is where my family normally has it for family TV watching, I was impressed.
I then switched to movies and 5.1. I played the opening scene from "The Lion King" on Blu-Ray (DTS-MA), which was apropos being I just saw the play at the Fox, Atlanta with the misses. There was so much more immersion in sound. Birds flying by head, and elephants making my bookshelf shake. I tested again with "Rio" on Blu-Ray. The opening scene had me forgetting I was at home and not at my local Regal RPX.
There's still more testing to do. All of my TV watching is on streaming services, then there's also video games to test.
So far so good,
Thanks again.
Post Reply