Legacy Audio Focus SE: Equipment Setup and the Listening Room
Legacy Audio Focus SE: Equipment Setup and the Listening Room
This is a scenario where the equipment behind the scenes lends a significant influence to the sound signature of the speakers and the overall enjoyment of the system. You're not going to want to power a system like the Focus SE's with an A/V receiver—even a higher-end one. It's not that the Legacy's aren't efficient enough to produce sound (they're rated at 95.4 [email protected] 2.83V/1m, though that's an in-room measurement so it may be overstated compared to other speakers spec'd using the IEC method), but when you're dealing with the quality of drivers contained in those cabinets, you're going to want something with a ton of headroom to get the most out of them. We went with a pair of Emotiva XPA-1 monoblock amplifiers. For the preamp we used the new Emotiva XSP-1. The pairing resulted in a fully differential system that was balanced from input to output.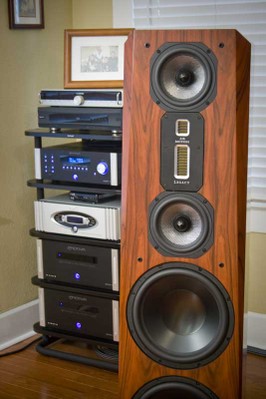 A Sanus Euro Series AV Stand houses all of the equipment used for this review...and then some
I left the toggles mentioned earlier in their default positions and bi-wired the Focus SE's with two pairs of Kimber Kable 8VS cables. The company helped me with the selection and suggested a configuration with both spades and bananas on one side and just bananas on the other. This gave me a lot of flexibility in my wiring options. I have to admit, however, that part of the reason I bi-wired these speakers was because I was using the aforementioned XPA-1 mono block amplifiers. Emotiva mounted the positive and negative speaker terminals a full 13" apart! Bi-wiring allowed me to connect both of the negative terminals and both of the positive terminals of the amp in pairs.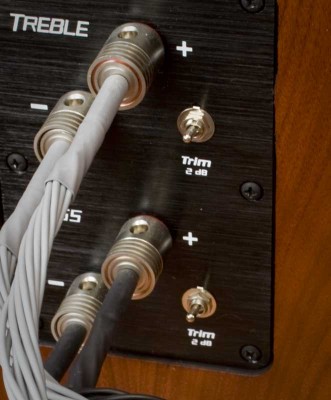 For sources I chose the well-regarded Oppo BDP-95 for SACD, DVD-Audio and Blu-ray and a Logitech Transporter for my computer-sourced FLAC files. Everything I utilized was plugged into the Emotiva XSP-1 two-channel preamp using XLR cables from Blue Jeans and sent onward through a fully differential balanced system.
Is this the only setup that would bring the Legacy Audio Focus SE's to life? Absolutely not. I can think of several other products that would have done the system justice, though I wasn't able to test out other configurations for this review. The Classé CP-800 processor and a CA-2300 would have been perfect. Or Pass Labs' XP-10 with an X150.5 stereo amplifier. In either case, the Emotiva's were on-hand and, as we would have expected, they did fantastic work. We just wish we could have racked up another Sanus Euro Series AV rack and done some A-B comparison testing. I'm certain that would have opened up the floodgates of possibility even further.
For positioning, I toed in the loudspeakers moderately and was seated in more or less a far field listening position about 13 feet away from the Focus speakers. At this distance the speakers have some room to image properly and, according to Legacy, they are really designed and optimized for a longer throw than your typical small tower or even bookshelf speaker. I did move them around a tiny bit in my setup phase, but after doing so, quickly realized that it was mostly to taste and there was no way to communicate what I had done in a way that would be helpful to others. Just make sure you give yourself ample space, and my recommendation is to try and keep the Legacy speakers away from side walls.
Confused about what AV Gear to buy or how to set it up? Join our Exclusive Audioholics E-Book Membership Program!
Recent Forum Posts:
Bucknekked posts on August 11, 2021 17:31
gene, post: 962605, member: 4348
You need to sit tight. I've been working with our new loudspeaker guru/engineer (Joel Foust) and some former consultants (Mark Sanfilipo) to develop the industry's most comprehensive measurement standard. We will be publishing this standard next week and hopefully I can find time with our new writer Joel to head to Clint's house to measure these beasts before he sends them back.

Dr. Floyd Toole just ripped into our standard and gave us a bit of a bloody nose, so we are making some changes before publishing

Somehow I just love the imagery of Floyd Toole giving an audio standard a bloody nose. That's a great line.
Good to see that some heavy weights are involved.
Epsonfan posts on August 11, 2021 12:41
The sucker is heavy .
Art Vandelay posts on March 07, 2017 06:34
Sonic Guild, post: 1175682, member: 81934
Are they on the warm side or just neutral? I can't stand bright speakers, any thoughts?
I heard them at my local store which is a Legacy dealer, and really liked them.
I certainly wouldn't label them as reserved in the treble, but to my ears they're not overly bright or etched sounding, though I can still imagine them sounding a bit bright in a reflective room.
With some Legacy speakers in the past I've been aware of a slight discontinuity in the treble due to the high crossover point to the super tweeter, but with this latest SE model it was difficult to fault the treble at all.
Sonic Guild posts on March 02, 2017 15:43
Are they on the warm side or just neutral? I can't stand bright speakers, any thoughts?
Thunder240 posts on August 28, 2016 09:56
Clint, if you still have your notes from your listening sessions 3 years ago, can you compare to the Salk SS8, which the intro to your review you stated were in your house immediately prior to the Focus SEs? Also, any chance you can offer a comparison to the XTZ 100.49 Divine? These have been reviewed before on Audioholics, though I don't recall who was the reviewer.

Of course if anyone else is able to offer a comparison besides Clint, feel free to chime in.


Sent from my iPhone using Tapatalk
Post Reply