Legacy Audio Focus SE: Build Quality - More than Just Drivers Part 2
Legacy Audio Focus SE: Build Quality - More than Just Drivers Part 2
Working our way up the speaker you next encounter the mids. And it's here that I was really pleased with these speakers. The twinned 7" drivers utilize Rohacell to reinforce the silver graphite cones. Rohacell shows up as a super stiff and lightweight material in sports cars, aviation and wind turbines. High end hockey sticks are using this material. It's really hitting the market hard and for good reason: light and stiff is the name of the game when it comes to loudspeaker cones. Of course stiffness and weight are graded on a scale, and so the game is always afoot, with plastics, kevlar, aluminum and beryllium making a showing in various manufacturers' products. In either case, Legacy has chosen this route and it appears to be working well for the design.
The Legacy seems to have two of everything and they don't stop at the tweeter. In fact, this is where the real magic occurs. The dual Air Motion Tweeters (or transducers) are a technology invented back in 1972 but used sparingly and mostly by high-end speaker companies due to how carefully they must be implemented. Legacy used a 4" AMT tweeter to handle frequencies from 2.8 kHz to 8 kHz and a 1" AMT super tweeter to carry the air (everything above 8kHz). If you aren't familiar with AMT, it's basically a folded diaphragm that moves back and forth almost like an accordion. It's super quick, however, and it's low mass but wide surface area enables it to accurately reproduce frequencies far beyond the lower range of more conventional tweeters. There are only a handful of companies working with AMT drivers and it takes a lot of design and know-how to pull it off well. For example, Legacy folded a full 16 square inches of Kapton into the 4" long x 1" wide AMT tweeter chamber!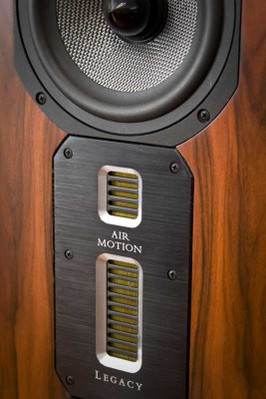 Which brings me full circle back to the Legacy Focus SE (Silver Edition) speakers themselves. At around $9,650/pair they really need to be heard to be understood. You're not going to see measurements on these speakers and learn anything significant that you couldn't already presume. These speakers are not designed to some bland spec—they're voiced to the ears of chief designer, Bill Dudleston and they take the already well-regarded Focus speakers and customize them like a West Coast Chopper...except without all the glitz and cheese, and for a lot less money. When you talk about high end speakers like the Focus SE's, you're talking about something that is designed specifically to fill a need or to satisfy an itch for a product at a particular price point that can convey a sound that only the designer realized was lacking. Those of you who will be fortunate enough to listen to a pair may never know what was missing, but you'll most certainly be showered with the sonic benefits of the resulting solution nonetheless.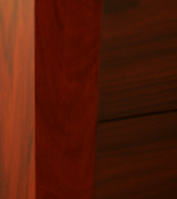 And the whole package is wrapped in a stunning enclosure that is part geometric marvel, part monolithic beauty. The towers really are imposing. After all, they house every one of those drivers on the front baffle. Our review sample came in a beautiful Rosewood finish whose baffle cuts inward from the bottom with an extruded trapezoidal pattern that belies its thickness (about 1" on the face). It's a nice way to break up what is still a rather large cabinet and give it some style. The top is pitched backwards ever so slightly so that invited guests won't be apt to set their drinks on it (seriously, though, if your guests put drinks on any of your speakers you really need some new friends). The grills also custom designed, though for the price I can't for the life of me figure out why they didn't utilize magnets or something a bit more fancy than breakable plastic pins. Everything else in the package is just stunningly beautiful.
Standard Finishes (included in $9,650 price):
Standard Natural Cherry

Standard Black Oak

Medium Oak

Walnut
Premium Finishes (add $800/pair)
Exotic Finishes (add $1,250/pair)
Curly Maple

Exotic Birdseye Maple

Exotic Olive Ash Burl
On the back you have a ginormous pair of bi-wirable, bi-ampable binding posts that can handle bare wire, pins or banana connectors, but spade lugs will have to be oversized (5/16") in order to work. Legacy makes some very nice cables that go well aesthetically with these speakers but they aren't inexpensive. Better than that, though, Legacy's user manual gives consumers a basic lessen in cable physics. It's a good read, and I loved the frankness of it. Next to the binding posts you'll find two switches. These are trim toggles for decreasing either the Treble (10kHz shelf) by -2dB or the Bass (60Hz) by -2dB. one advantage of the Bass toggle is that is also raises the impedance response of the speaker slightly in the event you a powering it with a less powerful amplifier or receiver.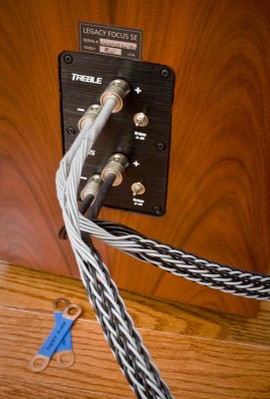 Biwiring the Focus SE speakers with Kimber Kable 8VS wires

Confused about what AV Gear to buy or how to set it up? Join our Exclusive Audioholics E-Book Membership Program!
Recent Forum Posts:
Bucknekked posts on August 11, 2021 17:31
gene, post: 962605, member: 4348
You need to sit tight. I've been working with our new loudspeaker guru/engineer (Joel Foust) and some former consultants (Mark Sanfilipo) to develop the industry's most comprehensive measurement standard. We will be publishing this standard next week and hopefully I can find time with our new writer Joel to head to Clint's house to measure these beasts before he sends them back.

Dr. Floyd Toole just ripped into our standard and gave us a bit of a bloody nose, so we are making some changes before publishing

Somehow I just love the imagery of Floyd Toole giving an audio standard a bloody nose. That's a great line.
Good to see that some heavy weights are involved.
Epsonfan posts on August 11, 2021 12:41
The sucker is heavy .
Art Vandelay posts on March 07, 2017 06:34
Sonic Guild, post: 1175682, member: 81934
Are they on the warm side or just neutral? I can't stand bright speakers, any thoughts?
I heard them at my local store which is a Legacy dealer, and really liked them.
I certainly wouldn't label them as reserved in the treble, but to my ears they're not overly bright or etched sounding, though I can still imagine them sounding a bit bright in a reflective room.
With some Legacy speakers in the past I've been aware of a slight discontinuity in the treble due to the high crossover point to the super tweeter, but with this latest SE model it was difficult to fault the treble at all.
Sonic Guild posts on March 02, 2017 15:43
Are they on the warm side or just neutral? I can't stand bright speakers, any thoughts?
Thunder240 posts on August 28, 2016 09:56
Clint, if you still have your notes from your listening sessions 3 years ago, can you compare to the Salk SS8, which the intro to your review you stated were in your house immediately prior to the Focus SEs? Also, any chance you can offer a comparison to the XTZ 100.49 Divine? These have been reviewed before on Audioholics, though I don't recall who was the reviewer.

Of course if anyone else is able to offer a comparison besides Clint, feel free to chime in.


Sent from my iPhone using Tapatalk
Post Reply