Legacy Audio Focus SE: Build Quality - More than Just Drivers Part 1
Legacy Audio Focus SE: Build Quality - More than Just Drivers Part 1
Having used or reviewed loudspeakers professionally for over 15 years now, it's always difficult to define just what is it that makes the "ultimate loudspeaker"- a product which compromises nothing and has the technical measurements to impress even the most ardent critic. And when the Legacy Focus SE speakers came in, the debate raged once more in my mind. How influenced should I be by build quality? How much should I allow myself to get excited by the sound of a truly full-range speaker that can play low enough to make a pipe organ sound authentic? Or should I be more impressed and excited about speakers with enough dynamic headroom to handle the delicacy of a five piece jazz ensemble as well as a full orchestra?
Legacy Audio Focus SE Speakers Video Review
Yes. Yes to all, dammit. And, of course, the real trouble begins when you factor in all that happens in between the lines. But I'm getting ahead of myself. And the Legacy Audio Focus SE speakers are not to be rushed...and neither will this review.
The Legacy Focus SE speakers (Focus actually stands for something by the way: "Field Optimized Convergent Source"-apparently the "U" wasn't important enough to get its own word) arrived shortly after I had gotten to spend some time with a pair of Titus 8T speakers from Status Acoustics (the same folks who design speakers for RBH Sound, but shhhhh, they don't think anyone knows!) I had also spent considerable time with Jim Salk's new Soundscape 8 tower speakers at the 2012 Audioholics Get Together event in Tarpon Springs. The Soundscape 8's feature a RAAL ribbon tweeter and Accuton midrange that give it a very airy and transparent personality. Needless to say, I was loaded for bear in terms of my expectations and what I was hoping for with these 25th Anniversary speakers.
Build Quality—It's More Than Just Drivers
Now the Legacy Focus SE is nothing like either of these speakers. But that's not the point. What I'm discovering is that each manufacturer is carving out niches in how their products appeal to the discerning listener and, more importantly, how they appeal to each person's decidedly differing tastes. Take the Focus SE's...Legacy put six drivers into each of the meticulously crafted cabinets (more on that later). It's a 4-way design, with crossovers at 8 kHz, 2.8 kHz and 120 Hz. That last one is an assisted 6th order Butterworth that sends the low frequencies to the dual 12" woofers.
When you're able to put a couple of 12" drivers into a cabinet you must be doing something either incredibly awesome or incredibly overreaching. With the Focus SE speakers it's decidedly the former. The long throw subwoofers, for that's what they truly are, feature a spun aluminum diaphragm and a totally enclosed neodymium motor with cast frame. You would never use a sub with this system and you would never miss it.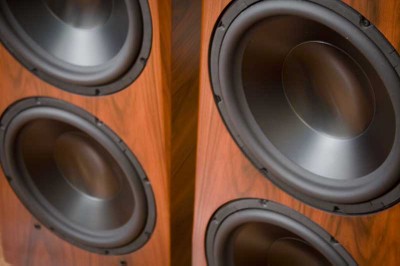 Working our way up the speaker you next encounter the mids. And it's here that I was really pleased with these speakers. The twinned 7" drivers utilize Rohacell to reinforce the silver graphite cones. Rohacell shows up as a super stiff and lightweight material in sports cars, aviation and wind turbines. High end hockey sticks are using this material. It's really hitting the market hard and for good reason: light and stiff is the name of the game when it comes to loudspeaker cones. Of course stiffness and weight are graded on a scale, and so the game is always afoot, with plastics, kevlar, aluminum and beryllium making a showing in various manufacturers' products. In either case, Legacy has chosen this route and it appears to be working well for the design.
Confused about what AV Gear to buy or how to set it up? Join our Exclusive Audioholics E-Book Membership Program!
Recent Forum Posts:
Bucknekked posts on August 11, 2021 17:31
gene, post: 962605, member: 4348
You need to sit tight. I've been working with our new loudspeaker guru/engineer (Joel Foust) and some former consultants (Mark Sanfilipo) to develop the industry's most comprehensive measurement standard. We will be publishing this standard next week and hopefully I can find time with our new writer Joel to head to Clint's house to measure these beasts before he sends them back.

Dr. Floyd Toole just ripped into our standard and gave us a bit of a bloody nose, so we are making some changes before publishing

Somehow I just love the imagery of Floyd Toole giving an audio standard a bloody nose. That's a great line.
Good to see that some heavy weights are involved.
Epsonfan posts on August 11, 2021 12:41
The sucker is heavy .
Art Vandelay posts on March 07, 2017 06:34
Sonic Guild, post: 1175682, member: 81934
Are they on the warm side or just neutral? I can't stand bright speakers, any thoughts?
I heard them at my local store which is a Legacy dealer, and really liked them.
I certainly wouldn't label them as reserved in the treble, but to my ears they're not overly bright or etched sounding, though I can still imagine them sounding a bit bright in a reflective room.
With some Legacy speakers in the past I've been aware of a slight discontinuity in the treble due to the high crossover point to the super tweeter, but with this latest SE model it was difficult to fault the treble at all.
Sonic Guild posts on March 02, 2017 15:43
Are they on the warm side or just neutral? I can't stand bright speakers, any thoughts?
Thunder240 posts on August 28, 2016 09:56
Clint, if you still have your notes from your listening sessions 3 years ago, can you compare to the Salk SS8, which the intro to your review you stated were in your house immediately prior to the Focus SEs? Also, any chance you can offer a comparison to the XTZ 100.49 Divine? These have been reviewed before on Audioholics, though I don't recall who was the reviewer.

Of course if anyone else is able to offer a comparison besides Clint, feel free to chime in.


Sent from my iPhone using Tapatalk
Post Reply