Funk Audio FW18.0 Conclusion
Funk Audio FW18.0 Conclusion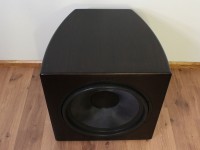 I admit at first I was curious as to whether the FW18.0 would be able to pull all of its impressive parts together into a cohesive finished product. There is no doubt that the FW18.0 is a pretty face full of high tech goodies in a sea of black cubes. The TSAD18v1 driver is a monster, the M3 amplifier is not only powerful but also intelligent and the cab is well designed, well finished and solidly constructed… But in the back of my head I wondered, how tightly matched the driver and amplifier would be, whether the limiter and compressor circuits were dialed in well, or whether there would be some hiccups along the way? This aspect of active speaker designs really is one of the little talked about things that can make or break the performance and many do not quite live up to their potential. After my time with the FW18.0 I can say that Funk Audio has obviously spent numerous hours developing this system, working with the DSP and dialing in the protection circuits because the FW18.0 was rock solid with everything I threw at it.  I was able to get it to briefly mute itself using the 10Hz CEA-2010 burst cranked up for everything it was worth while I was testing the output in room, which I subsequently mentioned to Nathan. A few weeks later he had updated the presets and DSP slightly and sent the files back to me. After I updated the DSP settings I could no longer replicate the protection cycle with the 10Hz burst signal. Perhaps it was just a fluke to begin with…I don't know. Either way how is that for service? This also illustrates how nice it is to have the usb interface with the amplifier as you can potentially get updates to the system protection settings and it will future proof the FW18.0 to a large extent. In fact I could write a few more pages just on the DSP built into the amplifier. The end result is a powerful and articulate subwoofer that measures well in all of the important metrics and sounds as good as any other subwoofer I have reviewed. Due to my previous experiences with Funk Audio I was confident that they could and would deliver a very capable product. I had no doubts that the build quality, components and materials used would all be exceptional and they were. For most a subwoofer that costs roughly $3K is certainly not considered a small purchase. However the TSAD18v1 driver in the sub alone is one thing to consider not to mention; the materials used in the enclosure, the powerful DSP possibilities, the easy to use computer interface to control the amplifier and the immense customization possibilities that will give "your" FW18.0 a good dose of exclusivity.  Consider the fact that it also delivers excellent performance in a relatively compact and attractive form factor the $3234 asking price starts to seem reasonable if not a bit of a bargain. And, it is, compared to some of the FW18.0's direct competitors. Funk audio has developed a product worthy of being included on the short list of high end subwoofers to consider.
The Funk Audio FW18.0 is a powerful high output subwoofer and meets the required output thresholds to receive the Audioholics Bassaholic Extreme Room rating. The Extreme room rating indicates that this sub is recommended as maintaining adequate headroom in rooms or spaces of over 5,000 cubic feet and/or for users who usually listen at high volume levels and require lots of headroom. For further information in how we make these recommendations see the full article here.
See: Audioholics Subwoofer Room Size Rating Protocol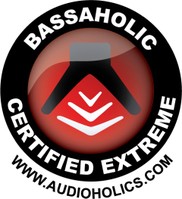 Funk Audio FW18.0 Review
MSRP: $2995 (Shipping Included)
The Score Card
The scoring below is based on each piece of equipment doing the duty it is designed for. The numbers are weighed heavily with respect to the individual cost of each unit, thus giving a rating roughly equal to:
Performance × Price Factor/Value = Rating
Audioholics.com note: The ratings indicated below are based on subjective listening and objective testing of the product in question. The rating scale is based on performance/value ratio. If you notice better performing products in future reviews that have lower numbers in certain areas, be aware that the value factor is most likely the culprit. Other Audioholics reviewers may rate products solely based on performance, and each reviewer has his/her own system for ratings.
Audioholics Rating Scale
— Excellent
— Very Good
— Good
— Fair
— Poor
| Metric | Rating |
| --- | --- |
| Bass Extension | |
| Bass Accuracy | |
| Build Quality | |
| Fit and Finish | |
| Ergonomics & Usability | |
| Features | |
| Dynamic Range | |
| Performance | |
| Value | |
See also:
Confused about what AV Gear to buy or how to set it up? Join our Exclusive Audioholics E-Book Membership Program!
Recent Forum Posts:
ralphgood6 posts on September 04, 2013 02:38
Thanks for the input.





shadyJ posts on September 03, 2013 23:29
Steve81, post: 986362
FYI, looks like Funk is offering a lower cost variant of the 18.0 in a simpler 20" x20" x 20" cabinet with rounded corners. Price is $2,550, which is a pretty substantial discount.
They actually look pretty nice, not quite as nice as the curved cabinet, but pretty sexy nonetheless.
Here are some pictures
.
Law6ren92ce posts on September 03, 2013 22:50
For me, this looks like the platonic ideal of a subwoofer. It is basically flawless
Oakley Sunglasses
Steve81 posts on September 03, 2013 21:28
FYI, looks like Funk is offering a lower cost variant of the 18.0 in a simpler 20" x20" x 20" cabinet with rounded corners. Price is $2,550, which is a pretty substantial discount.
byromxvw1 posts on August 19, 2013 21:12
I can't say for sure that this will fix




Post Reply