Speakercraft CS3 Soundbar with Built-In Subwoofer Review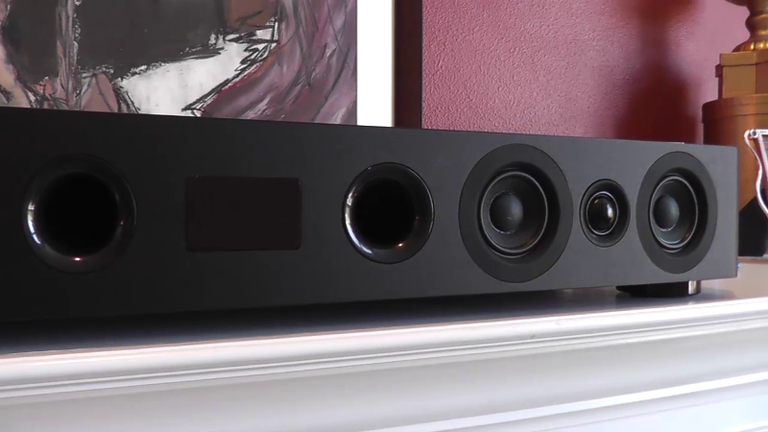 Speakercraft CS3 Without Grill
Summary
Type: 2.0 Virtual Surround System
Total System Power: 80 watts
Manufacturer-rated Frequency response: 35-20k Hz
Woofer: 2 x 5.25", Treated Paper Cone
Midrange: 4 x 3", Treated Paper Cone
Tweeter:2 x 1", Silk Dome
Finish: Black matte textured vinyl
Connections
1 analog stereo (RCA)
1 Digital Input – coaxial
1 Digital Input – optical
Bluetooth wireless
Dimensions (HxWxD) - 4" x 28" x 16.5"'
Weight: 25lbs
Weight Limit: 160lbs
Price: $599
Executive Overview
When folks are looking to add big-system sound in a small package, most reach for something in the soundbar category.  Today, however, we have something a little different.  The Speakercraft CS3, at $599, has a lot in common with many soundbars, except that instead of sitting in front of your TV or being mounted on the wall, the TV sits on top of the soundbar. This is what's known as a pedestal-style soundbar.
 Speakercraft CS3 Video Review

Overview

The 25lb CS3 is made of mdf and rated to hold a generous 160lbs.  It measures 28 inches wide and 16 inches deep, which will accommodate all but the most absurdly sized TVs.  The pedestal design also gives it a larger cabinet volume than most soundbars:  Even at only 4" tall, the total volume is around 1800 cubic inches, which is on par with many monitor/bookshelf speaker pairs. This additional volume allowed Speakercraft to pack quite the driver array into the CS3.  First, you have 2 front-ported speaker arrays, each consisting of a 1" silk dome tweeter and two 3-inch paper cone midranges. But that driver array isn't too special, it's what's underneath that counts here.
There are two 5.25" subwoofers built into a separate chamber in the bottom of the enclosure and rear-ported.  This means that there is no external subwoofer, which is great for those trying to avoid extra speakers in their room, which is the whole point of this product.  In my large/open room, the CS3 was linear to 40hz and I was able to get to the rated 35HZ at about -6db.  All these drivers are powered by 80 total watts of amplification.
The appearance of the CS3 is all about blending in with your flat panel, not standing out.  With the exception of a small silver badge, the black vinyl enclosure and black cloth grill disappear in a dimly-lit room.  And let it be said, I'm a sucker for magnetic grills.  Being able to reattach a grill with one hand and your eyes closed is just too cool, and having a clean, unmarred front baffle when running your equipment sans grill is a big win in the aesthetics column.  If someone knows of a downside to magnetic grills, other than the slight additional manufacturing cost, please let me know because I'm having a hard time seeing why you'd want to do it any other way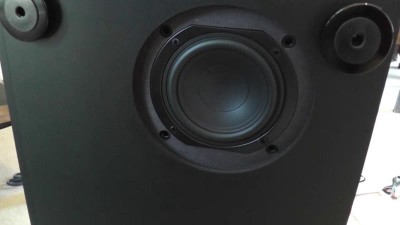 One of the 5.25" subwoofers in the bottom of the Speakercraft CS3.
There is no display on the CS3, only a dim LED that glows red when off and blue when on.  A piece of smoked plastic and the grill keeps the light dim enough not to be distracting when positioned directly below your display.  The CS3 will enter an "idle" mode after a period of time without a signal which used about 7 watts according to my meter, so you can leave the system on without dinging the electric bill too badly, or power it off for close to zero energy usage.
Setup is as simple as any audio-only soundbar.  You just connect power, and then connect you input of choice: optical or co-ax digital, analog RCA, or paired via BlueTooth.  Once paired, the CS3 remembered my Nexus, but can only be paired with one device at a time, so if you connect a visitor's device, be prepared to repeat these steps on your everyday gadget when they leave.
A word on the digital audio inputs:  as a sticker placed over them noted, the optical and co-ax input will only play back linear-PCM signals.  If your source component does not convert Dolby and DTS encoded signals to linear PCM, you'll need a separate converter device, or you'll need to just use the analog inputs.  All of my testing was done with the analog inputs, and I thought the sound was great, so don't be disappointed if you decide to go this route.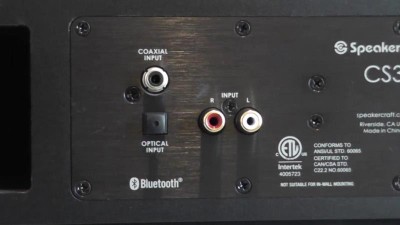 Speakercraft CS3 Input 
Speaking of buttons, there are no controls, other than a main power on/off on the unit itself.  Which means, if you lose the remote, you're hosed.  And now, if you'll allow me, I'd like to speak directly to Speakercraft and pretty much all manufacturers everywhere. 
Why you no make good remotes?  The CS3 ships with a familiar, easy-to-lose, non-ergonomic, "credit card remote" with tiny, barely tactile, identically shaped buttons and powered by a more expensive and less common button battery.  They are not alone in their shame, and probably just figure that everyone will "set and forget" their CS3, opting to run all sources through their TV and use the display's variable volume control instead.  Small, simple, inexpensive remotes can be great; just look at the remote included with the $50 roku box.  Comfortable in the hand, easy to use by touch alone, and powered by AAA batteries.  To all manufacturers everywhere: Hire me, and I will design you a good remote.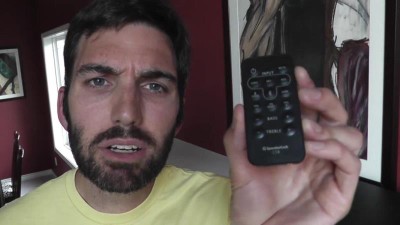 Marshall Angry, BAD remote!!
Listening Tests

In fact, the CS3 sounded really great.  It was among the loudest of the soundbar systems I've tested maxing out at 92db on pink noise from my 11' listening position.  The flying monkey attack in this year's Oz properly pushed the CS3, and while it didn't shake my seat, the low-frequency effects were appreciably tactile which is no easy feat.  Male vocals did get a little "chesty" at times, but a measurement from my listening position revealed a room mode around 100hz, so I'm placing the blame squarely on room placement  Just keep in mind, you won't be able to move the CS3 around for ideal placement in the way you would a separate subwoofer.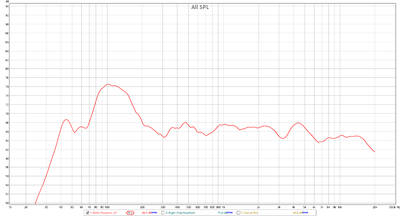 ⅓ smoothed Frequency Response at Listening Position (11')

The surround mode is one of the best I've heard.  It widened the sound field, which many similar products do, but the CS3 did so without affecting the tonality, which many other soundbars don't.  Switching back and forth, there was little to no shift in tonal balance and no hollow, cupped-hands effect.  To my ear, I would say this was achieved by sending only the higher frequencies out of phase, while leaving lower frequencies, especially those in the vocal range, untouched.  I may be oversimplifying Speakercraft's approach, but whatever secret sauce they used, it's good, even a few seats off center.  The widened image stops short of sounding like it's surrounding you, but I'd rather have a big, tonally-accurate front image than be surrounded by subpar sound.
That said, with music, the surround-effect caused the sensation of hearing tightly anchored vocals and low-frequency instruments, while cymbals and other high-frequencies instruments were warbling and hard to place on some tracks such as The Bird and The Bee's Polite Dance Song.  This wasn't always unpleasant, but it was a little distracting and occasionally took me out of the moment on my most familiar tracks.  Switching off the surround mode anchored everything properly, but collapsed the soundfield and brought me back to the physical reality that the speaker arrays were only a few feet apart.  Sitting closer than the 11' away that I was sitting will help with the surround mode off.
Also, while I didn't miss a visual input indicator on the unit itself thanks to a dedicated remote button for each input, I wouldn't have minded either a surround-mode indicator LED, or a dedicated button for enable and disable. My suggestion is to put it in surround mode and leave it there.
Conclusion
Regardless of what product category you try to squeeze the CS3 into, what Speakercraft has created is spacious, accurate, nearly full-range sound with a dead simple setup that is easy to use and takes up very little visual space.  If the form factor and audio-only design works for you, I would take the CS3 over any of the skinnier speaker-plus-sub combos that I've heard.

Confused about what AV Gear to buy or how to set it up? Join our Exclusive Audioholics E-Book Membership Program!
Recent Forum Posts:
rdv posts on April 14, 2014 14:56
And now a word from Speakercraft

Not to belabor this, but to put an informed end to it, here are my questions to Speakercraft and their response:

I've read conflicting information regarding the Speakercraft CS3 four midrange speakers: some sites claim 3", some 2 1/2". Which is correct? If 2 1/2" is their size, what (if anything) differentiates the CS3 from it's Proficient MaxTV MT2 brother?

Other than branding, there is no difference between the SpeakerCraft and Proficient versions. We just measured them to be sure and the driver assembly is 3 inches on both.
rdv posts on April 10, 2014 19:45
Duh! It's the midrange drivers … there is none so blind…
The CS3 goes for $299 at Amazon, and going on the theory that bigger MAY be better in this cse, and that it's the CS3 that got the glowing reviews, paying the extra $50 seems worth it.
Thanks for the help.
Marshall_Guthrie posts on April 10, 2014 19:28
It appears that Proficient and Speakercraft were both part of the AVC group as recently as 2012. Judging from web images of the Proficient MaxTV MT2, and having seen the Speakercraft CS3 up close and personal, I'd say they are identical, though different drivers could certainly be used and could have a real effect on the sound. That said, the Proficient MaxTV MT2 is selling for under $250 on amazon right now. Unless there is a big difference in sound quality, if you need this form facter, I call that a steal.
Steve81 posts on April 10, 2014 18:16
I have to say they look pretty much identical. The only spec that seems different is the midrange size (2.5" vs 3") and given how everything else seems to match up, that may just be an error.
rdv posts on April 10, 2014 18:03
cs3 and mt2

I've read many good things about the Speakercraft CS3, not nearly as much about the Proficient MaxTV MT2. They look the same, the attainable specs seem the match up, but the pricing differs. Does anyone know if/what is the difference? If it pertains to sound quality, I'd spring for the extra cost. If it's some advanced feature, it may or may not be one I'd opt for. Would appreciate any insights.
Post Reply