Roku Smart Soundbar Improves TV Sound With Streaming Convenience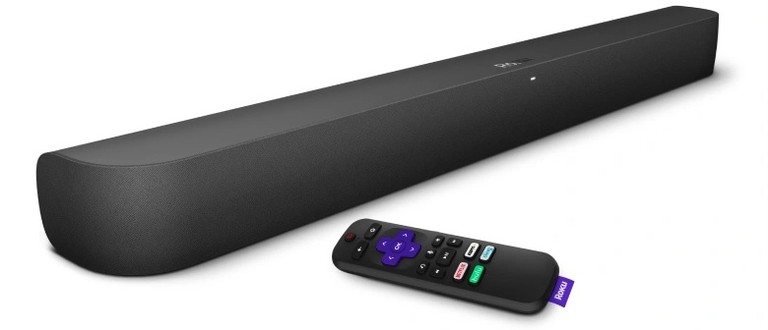 Roku Smart Soundbar
Summary
Product Name:

2.0 Channel Smart Soundbar

Manufacturer:

Roku

Review Date:

May 09, 2020 21:00

MSRP: $180 (frequently on sale for $160)
First Impression:

Pretty Cool
Speakers: Four 2.5" full range drivers
Audio Formats: PCM, Dolby Audio
Sound Modes: Normal, Reduce bass, Bass boost, Bass off
Speech Clarity: Off, Low, High
Inputs: HDMI, Optical Digital Audio, USB Type A
Dimensions: 2.8" H x 32.2" W x 3.9" D
Weight: 5.5 lbs
Executive Overview
If you're like me, you've been spending a bit more time in front of the TV in the last couple of months being confined to the house. Right before all this happened with COVID-19, our cable bill jumped up 50%! Like many people today we're looking at cutting the cord and getting rid of cable and were thinking of going strictly with Roku. We already have a Roku Express setup on one of our TVs since it carries our cable company's app which means that we don't need to pay for a box for that TV for cable. I've been impressed with the reliability of the little Roku Express. The streaming has been stable, it's easy to set up, and comes with 100's of channels like Netflix, Amazon, CBS, and Hulu (with a paid subscription).

When I saw that Roku was selling a Smart Soundbar I was intrigued.  I could get another Roku device PLUS a soundbar for around $180. Maybe it is time to officially cut the cord…

Unlike other smart soundbars like the Polk Magnifi mini or Sonos Beam, the Roku Smart Soundbar is the first of its kind that features audio with a video streaming player built-in.

Most Audioholics readers will eschew simplicity over sound quality, but if you're looking to set up a TV in another room and upgrade the sound, the Roku Smart Soundbar may be the easiest way to simplify your setup while upgrading your TV's sound and streaming.  The Roku player inside the speaker allows you to stream your favorite entertainment in HD, 4K, and HDR picture quality and will even up-convert to your TV's highest picture setting. At roughly 3" x 3" x 32" long the Roku Soundbar doesn't take up much real estate on a TV stand, and also looks to be easily mountable on a wall for an even cleaner display.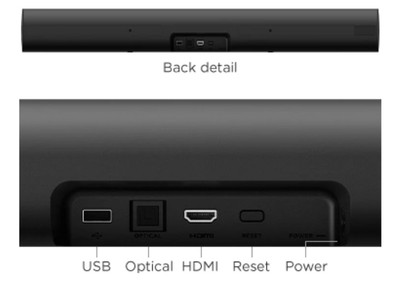 Input options on the back of the unit include USB, Optical, and HDMI. For sound, the Roku Smart Soundbar comes with four 2.5" full-range drivers and can decode both PCM and Dolby Digital audio formats.  I would have liked to have seen slightly larger drivers with separate tweeters, but this seems on par with the $180 price point.
Roku Smart Sound bar is the easiest way to add premium sound and powerful streaming to any TV. Stream brilliant HD, 4K, and HDR entertainment in room-filling sound with crisp, clear dialogue and dynamic bass.
- Roku
What we think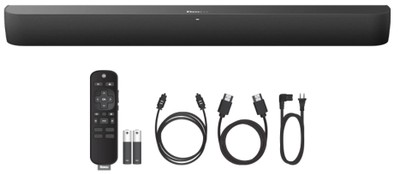 I like that Roku includes everything you need to get this soundbar up and running without making another trip to the store for additional cables. An optical cable, HDMI, batteries and remote are all included in the package. The Roku Soundbar is Alexa and Google Assistant enabled and can even play music using your phone through Bluetooth. Roku went through a lot of trouble to make this as easy to set up and run as their other devices and if it sounds any better than your TV's factory-installed speakers this seems like a no brainer for a spare bedroom, office, or small gaming area.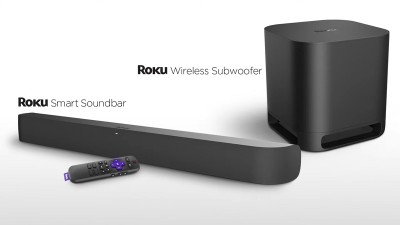 If you feel the need for more bass you can always add Roku's 10" sealed down-firing subwoofer for $180 which brings you closer to the price of mid-ranged soundbar/sub combo. Most of these budget subwoofers we've seen aren't in the same category as even the cheapest subwoofers reviewed here on Audioholics, but they do add a great deal of dimensions and low end to soundbars of this caliber. Placement is easy with this sub; as long as it's within 30ft of the Roku Soundbar it will pair and control the sub.
Just plug the sub into the wall for power.

As mentioned earlier, we would have liked larger separate midranges and tweeter drivers in a 2.0 configuration.  The single HDMI input and output (1 and 1) severely limits the usability and range of this soundbar though. The ability to hook up game consoles, Apple TVs or DVD players are limited and will have to resort to some sort of HDMI switch (which apple TVs do NOT play nice with). However, if your display has HDMI ARC capability, then simply connecting your sources to its inputs will still send the sound to the Roku soundbar making this a moot point.
Confused about what AV Gear to buy or how to set it up? Join our Exclusive Audioholics E-Book Membership Program!