MCM Custom Audio 50-908 Full Review
MCM Custom Audio 50-908 Full Review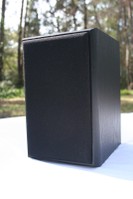 When getting into the home theater game, the biggest stumbling block for early adopters is price. Justifying a display purchase is fairly easy. People can understand a bigger screen and a clearer picture. You can see it. It requires no explanation. Speakers, on the other hand, take a little more understanding and experience. It is hard to explain to some what an effect surround can have on their TV/movie watching experience. If you don't have a friend with a decent surround system (and many don't) then that experience is hard to come by. What you need is an "entry level" speaker system. Something that will convince your significant other of the value of surround without breaking the bank. That way you can bump up to a better system once you "work on them" a bit more. MCM Custom Audio may have the solution for you
First Impressions and Build Quality
The MCM Custom Audio 50-908 speakers consist of the 50-9085 bookshelf speakers and the 50-9080 center channel. Together, the five speakers barely top $100 MSRP and you can add the 50-7660 subwoofer for just over $100 more. My personal opinion is that you should spend about as much on your sub as you do the other 5 speakers (at least at the lower price points). The price of the MCM Custom Audio is pretty much as low as you could ever expect for used speakers much less new ones.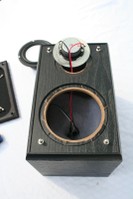 The 50-908's are constructed out of 3/8" MDF with a very thin piece of polyfil inside. The edges are glued and the exterior is covered in a black woodgrain vinyl wrap. The grills fit tightly on the chrome posts. The 50-9085 bookshelf speakers come with a metal keystone wall mount or sticky rubber feet that can be affixed to the bottom. The 50-9080 center channel only has the sticky rubber feet without the keyhole wall mounts.
The speakers are quite small, though not as tiny as some of the cube systems out there. The bookshelves are sealed (regardless of what it says on the MCM website) which should make placement a bit easier (especially useful for neophytes that don't understand why the initiated insist that you shouldn't put bookshelf speakers in a bookshelf). The center channel has shielded drivers which are actually pretty useful at this price point. Usually, I mock shielded drivers as frivolous but mostly that is because anyone spending many hundreds to thousands of dollars on a speaker certainly isn't putting them on top of a CRT. The MCM speakers are at a price point where this could certainly be the case. I took the speakers into my office and held them up to the ancient CRT monitor that I should have replaced years ago. The smaller bookshelf speakers caused visible distortion but the center did not - verifying MCM's claim.

The back of the speakers sport plastic spring clips which really only accept bare wire. You will probably be limited to 16 AWG wire though with a little persuasion and perhaps some trimming 12 AWG might work. The tweeter is mylar and the woofers are poly cones that are painted to look aluminum. The overall look of the speakers is nice especially when you consider the price. MDF is a huge step over the tiny plastic enclosures that you might see in a competitor. The drivers take up most of the real estate on the front baffle of the bookshelves and the center is wide and short which will hopefully make placement in a number of different type of cabinets easier.
Set-Up
The MCM Custom Audio 50-908 speakers were set up in a smallish room with the mains about 9' from the listening position. Stands were used for all the speakers and the center was placed inside of a Diamond Case Theater Tech TT-400 Credenza. The speakers were powered by my Denon AVR-2307CI. A Denon DVD-3910 universal player did source duties with cabling from Impact Acoustics and Blue Jeans wiring everything together. An Axiom EP-500 provided the low end - a sub that costs over 10x's the entire 5 speaker MCM set.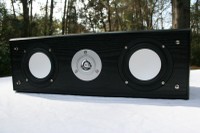 While the specs suggest that these speakers play down to 60Hz, I think you're going to want to cross them over a bit higher than that. I grabbed my trusty Rives Test CD II and played the 1 kHz test tone. I upped the volume until I had about 75dB on my SPL meter and moved down the frequency range until the response started to fall off. At 100Hz I had pretty good output which fell off by about 10-15dB at 80Hz and 63Hz. Part of this very well may be room interaction but not the totality of it. I suggest crossing these speakers over no lower than 100Hz (which is what I did).
The speakers seemed pretty indifferent to placement at least in respect to toe-in. This is a huge plus as speakers in this price range are often going to be placed non-optimally. The soundstage was flat but wide. My positioning of the speakers about 8' apart was a bit too wide and presented a "gappy" center image in two-channel mode. I'd place this speakers a little closer together (no farther than 6') for two-channel use. In a multichannel environment, I experienced none of these problems. The addition of a good sub will help with the soundstage depth but it won't be a panacea. Imaging was much better than I expected with very good movement from speaker to speaker. I found the vocals were generally well anchored in the center. To be honest, I found the imaging to be much better than I had hoped and 10x's better than I expected.
Listening Evaluation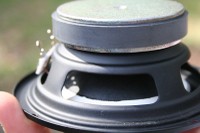 I listened to a number of albums/movies with these speakers including Yello – the eye, Michael Buble - It's Time, and movies like The Dark Knight. The MCM Custom Audio 50-908 series speakers performed admirably well considering their price point. Movies were of course by far the most forgiving especially considering the quality of the subwoofer I was working with. The high end was attenuated and the overall presentation was a bit tinny and flat. But the soundstage was wide and the imaging remarkable for speakers this size and price.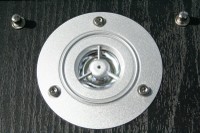 I found female vocals to be very well realized with the MCM speakers. Male vocals (at this crossover point) often dipped into the range of the sub, which meant I had a harder time evaluating the 50-908's performance. Without the sub, the speakers did an admirable job full range (but not something I'd recommend) and I heard no audible distortion or bottoming out of the drivers. This might be because of the size of the room, though, and how high I had to turn them up to be subjectively loud. In a larger room, I can easily see these having major problems. In my room, the 50-908's managed to pump out enough bass that even some of the lower bass runs which I use to torture larger speakers came through. Not strongly, mind you, but it was there. That alone is a huge success in my mind.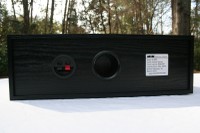 The speakers really sounded best at a moderate volume. While I was able to turn them up without catching them on fire (or melting a voice coil or something), the highs started to break up and the overall presentation was strained. While you can place these speakers in any size room you like, I'd suggest small to medium sized rooms. The larger the room, the more strain you're going to put on the speakers and the lower the quality of the output will be. In a larger room, you're going to want to use these for low to moderate volume levels. In a smaller room, you can push them harder but be careful and experiment fist. While the speakers weren't overly taxing to my amp, I did notice that they presented a harder load than even some of my floorstanding speakers. Since you won't be able to turn up the speakers too much without audible distortion, this shouldn't prove to be much of a problem in actual use.
Conclusion

As an entry level speaker, the MCM Custom Audio 50-908's blew me away. While they are obviously limited by their price point, what they do manage to do is overperform. For just over $100 you can have a 5.0 system that will not only introduce you to surround sound but not break the bank at the same time. Imaging was decent and the soundstage was wider than I expected. As an entry level "gateway" system, you can look to the MCM Custom Audio 50-908's as a good first step that will make a great hand-me-down when you decide to step up to a better system.
MCM Custom Audio 50-9085 Bookshelf Speakers
$36.95/pair
MCM Custom Audio 50-9080 Center Channel Speaker
$29.95/each
MCM Electronics
650 Congress Park Drive
Centerville, Ohio 45459
Phone: 1-800-543-4330

About MCM Electronics
MCM Electronics is a broad line distributor of electronic components, equipment and accessories for the consumer electronics industry. MCM's products include: computer hardware and peripherals, security and surveillance, wire and cable, audio and video equipment, tools, test equipment and much more. MCM is part of the Marketing Distribution Division within Premier Farnell plc.
The Score Card
The scoring below is based on each piece of equipment doing the duty it is designed for. The numbers are weighed heavily with respect to the individual cost of each unit, thus giving a rating roughly equal to:
Performance × Price Factor/Value = Rating
Audioholics.com note: The ratings indicated below are based on subjective listening and objective testing of the product in question. The rating scale is based on performance/value ratio. If you notice better performing products in future reviews that have lower numbers in certain areas, be aware that the value factor is most likely the culprit. Other Audioholics reviewers may rate products solely based on performance, and each reviewer has his/her own system for ratings.
Audioholics Rating Scale
— Excellent
— Very Good
— Good
— Fair
— Poor
| Metric | Rating |
| --- | --- |
| Build Quality | |
| Appearance | |
| Treble Extension | |
| Treble Smoothness | |
| Midrange Accuracy | |
| Bass Extension | |
| Bass Accuracy | |
| Imaging | |
| Soundstage | |
| Dynamic Range | |
| Fit and Finish | |
| Performance | |
| Value | |
Confused about what AV Gear to buy or how to set it up? Join our Exclusive Audioholics E-Book Membership Program!
Recent Forum Posts:
NohemiMoore posts on July 13, 2009 05:36
When getting into the home theater game, the biggest stumbling block for early

NohemiMoore posts on July 13, 2009 05:30
When getting into the home theater game, the biggest stumbling block
alexsabree posts on July 13, 2009 05:22
R-Carpenter, post: 570364
I suspect that at this price level this speakers are just about as good or may be surpassed by a "white van" models. Good deal is great but don't we all know that you get what you pay for? I cannot stop seeing "blew me away", "great for the money" and so on. Call the things what they are.
Just because they are extremely budget friendly speakers. Does not mean that they are crap. Obviously they aren't going to sound superb, but for $40 a pair, could you expect any better?
R-Carpenter posts on May 21, 2009 22:43
I suspect that at this price level this speakers are just about as good or may be surpassed by a "white van" models. Good deal is great but don't we all know that you get what you pay for? I cannot stop seeing "blew me away", "great for the money" and so on. Call the things what they are.
audioholic212 posts on May 21, 2009 10:38
I have this whole set and I can tell you that the 105 dollars you pay for the whole 5 speaker system is totally worth it. I am just a beginner though. But, for 105.00, I can tell you, you won't be making a mistake.
Post Reply