Polk Audio MagniFi Mini Sound Bar and Wireless Subwoofer Preview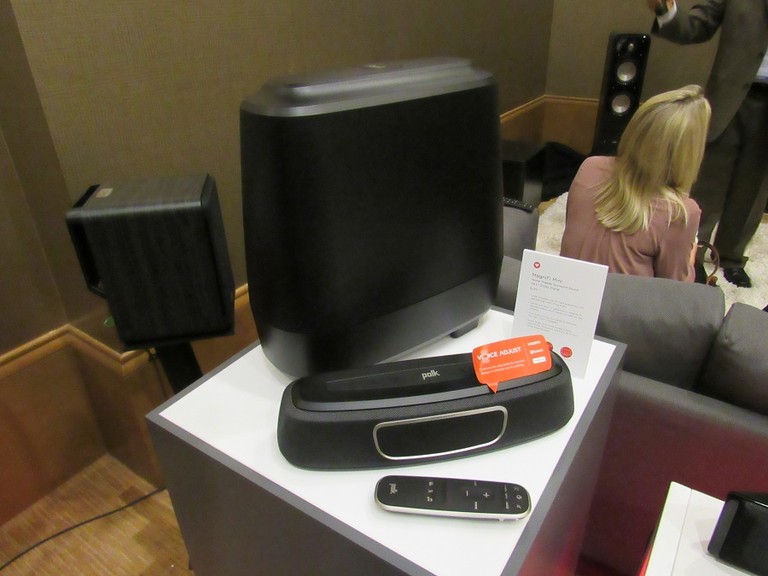 Summary
Dimensions Subwoofer - Depth 14.4" (366mm) x Width 7.4" (188mm) x Height 14.5" (368mm)

Dimensions SurroundBar - Depth 4.25" (108mm) x Height 3.11" (79mm) x Width 13.4" (340mm)

Driver Complement Full Range SurroundBar - Quantity 4

Driver Complement Tweeter - Quantity 2

Electrical - Inputs HDMI and Optical input for TV audio—AUX 3.5mm, Bluetooth, Google Cast, and Ethernet inputs for music.

Total Frequency Response 40Hz-24kHz

Installation - Mounting Options Wall Mountable

Warranty - Speaker Warranty Limited 2 year
Polk Audio was eager to show us their newest product at CEDIA, in Dallas, Texas, their MagniFi Mini Soundbar and wireless subwoofer.  This ultra compact home theater soundbar is designed for smaller rooms where audiophiles still want great sound.  The 5.1 Dolby Digital system uses Polk's patented Voice Adjust technology, for improved vocal clarity. Additionally, the MagniFi Mini is capable of wireless music streaming directly from a smartphone, tablet or other compatible device leveraging Google Cast or Bluetooth, making it a convenient sound bar for home entertainment.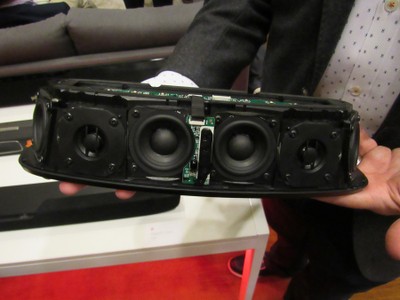 Good Things Come in Small Packages
Despite its small stature, standing at only 13.4 inches long and 3.1 inches tall, the MagniFi Mini packs four 2.25 inch drivers and two 12mm tweeters into its compact frame. I do have to admit, I was surprised at how much sound came out of this tiny duo. We watched the opening scene of Guardians of the Galaxy.  A great blend of action/adventure and the Redbone song "Come and Get Your Love" made this a great 5 minute demo that truly tested this micro unit.  The included slim wireless subwoofer did a great job on the lows and although a bit loud for my ears, the slim soundbar replayed the scene with ease.
"In-step with Polk Audio's tact for innovation, the MagniFi Mini delivers the performance of sound bars more than twice its size. It's also the only compact sound bar that comes standard with a wireless subwoofer, HDMI, Google Cast, and Polk's patented Voice Adjust and SDA surround sound technologies."
Michael Greco, global brand director of Polk Audio
The new system features Polk's patented Voice Adjust technology, which is designed to emphasize vocals, independent of program material and volume level. The sound bar also features Night mode, dropping the low frequency response of the sound bar and sub's driver array, reducing the amount of sound that carries, so sleeping roommates or family members are less likely to be disturbed. Additionally, the MagniFi Mini offers several one-button preset EQ settings, including Movies, Music and Sports, optimizing the sound bar and subwoofer to provide the clearer dialogue, surround sound and bass.
We liked the addition of Google Cast integration where you have the ability to control music from an array of Cast-compatible audio apps on mobile devices and have them play through their MagniFi Mini. Additionally, with the advent of Google Cast's multi-room audio, the MagniFi Mini can be paired with any Google Cast-enabled speaker around the home for an ad hoc whole-home audio system.
MagniFi Mini will be available in October at Polkaudio.com as well as Amazon, Crutchfield, and other national retailers for $299.  We'll be getting one in soon so stay tuned for an in depth review of this unique soundbar and sub and we'll let you know if this is the one to beat.

Unless otherwise indicated, this is a preview article for the featured product. A formal review may or may not follow in the future.