LH Labs Inspire 5 Soundbar and Sub 5 Subwoofer Preview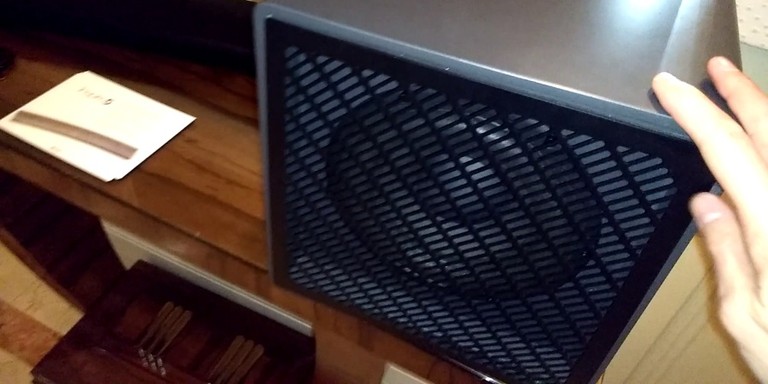 LH Labs Sub 5 Subwoofer
Summary
Inspire 5 Soundbar
Two 3" high efficiency mid bass drivers
Two 1" silk dome tweeters
Dual tuned guided bass ports
5 proprietary digital modes that can be easily switched via remote
Bluetooth 4.0
Silicone Image video processing, Texas Instruments Audio Porcessing
Rated 60 Hz - 24 kHz
Sub 5 Subwoofer
Dual 8" Drivers
500 Watt AB Amplifier
Variable crossover and phase controls
Stereo RCA Input and Output
Wireless connection to Inspire 5 Soundbar
Rated down to 36 Hz
70lb
Available in High Gloss Red and Grey
Light Harmonic, the high-end audio company responsible for the premium sound system in the Tesla S,  has teamed up with Starke Sound, the high-end audio company that was demoing a $100,000 Atmos system at CES 2016 and who helped design several Sonos products, to create a wireless Soundbar/Subwoofer combo that retails for under $800 ($399 each for the soundbar and sub).  The Inspire 5 soundbar and Sub 5 subwoofer promise to take the luxury engineering of these companies and apply it towards creating a capable, compact, and easy to use solution for better sound in your home.
 LH Labs Inspire 5 Soundbar and Sub 5 Subwoofer, plus Starke Sound Halo Series Speakers at CES 2016

The Inspire 5 soundbar is designed to make a visual impression first with a sleek silver or black finish, rounded corners, and a fluid curved shape.  That curve also claims to add improved listening experience by allowing for a greater dispersion of sound.  On the functionality side of things, the Inspire 5 features HDCP 2.2 (listed on website as 1.4 but we were told at CES that is was 2.2) 4K and 3D ready HDMI inputs to handle the switching of all your inputs and make operation more simple.  We can't say that we're a fan of renaming the Optical Audio Input a "Game" port and the Coax digital input a "DVD" port (standards exist for a reason), but audiophiles will quickly ascertain what's what, and it might save you a few troubleshooting calls from a less adept family member.  The inspire 5 also features five digital DSP modes designed for application ranges from Party to Movie that do a certain amount of EQ tailoring for clearer dialog or stronger bass and to create a more dynamic and broader sound image including pseudo-surround.  Bluetooth 4.0 makes it easy to connect audio from mobile devices.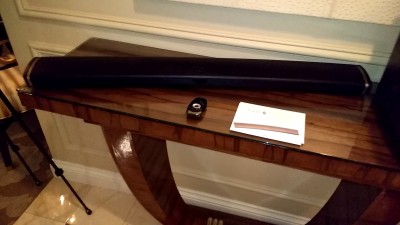 LH Labs Inspire 5 Soundbar at CES 2016 in Black
The $400 Sub 5 Subwoofer is designed to connect wirelessly to the Inspire 5 Soundbar, but also has all the necessary features to use in any stereo or home theater application including variable crossover and phase controls, as well as stereo RCA inputs and outputs.  Frankly, the Sub 5 has the potential to be a great value subwoofer in any system.  The two 8" drivers provide nearly the same displacement as a single 12" driver, but with the added benefit of running in a dual-opposed configuration to reduce directional cabinet forces.  Those drivers are mated with a 500 Watt Class AB amplifier and tucked into a package that weighs a stout 70 lbs indicating a solid cabinet and sturdy driver construction.  Like the Inspire 5 soundbar, the SUB 5 looks to make a bold visual statement with a modern design, gloss red and grey finishes, and pronounced silver legs.
LH Labs Sub 5 Subwoofer at CES 2016 in Grey - Front
We were eyes on with both the subwoofer and soundbar at CES 2016.  They were setup in a passive display which means that we couldn't go ears on, but we were able to hear the bigger cousin to the Sub 5, the Starke Sound SUB36 which retails for $3500, and that demo sounded fantastic.  The pedigree of the LH Labs Inspire 5 and Sub 5, matched with specs that seem quite generous for the $400 price tag, have us very anxious to hear the full Inspire 5 system one it hits final production.  Until then, pre-orders are available at the LH Labs website.

Unless otherwise indicated, this is a preview article for the featured product. A formal review may or may not follow in the future.