Building a Moderately Priced HT - Want My Job?
Building a Moderately Priced HT - Want My Job?
Building a new reference room sounds like the greatest opportunity in the world, right? I'll tell you what, we'll have some fun. You come over to my house and take a piece of paper. On it write the dimensions of the room, all of the equipment that is needed for a full AV experience, the necessary room acoustic treatment, and the full accompaniment of cables required to make everything work together (and still be flexible enough to allow for additional product reviews without tearing the room apart). Then prep and paint the room; make everything work together; complete the full install of cables, equipment and acoustics; and clean it all up. I'll supply the pencil, tools and soft drinks. OK, so it is sort of fun. The fact that this is a dedicated theater room (where I also conduct and write reviews) helped quite a bit - especially since it took several months of hard work and design time to get from start to finish.
In writing this article I decided to attempt to document the tips, tricks, and shortfalls I ran into during the course of turning my former 13.3 x 16 office into Reference System 2. It is my hope that perhaps some of my experiences will lend some help to those looking to enjoy the same result - a complete home theater system that will dazzle guests and satisfy even the most hard core music and movie lovers.

Planning, Planning, Planning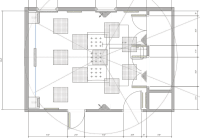 When starting in on a project of this scope, it's important to fully plan your adventure. Even if things change along the way (and they will) if you have a written plan, you can get a good handle on things and where you stand in the process (not to mention control your costs). My particular project plan included the following:
• Room dimensional drawing & room mode analysis
• Speaker placement diagram
• Identify compromises and design constraints
• Complete AV and power wiring diagram
• Equipment list (existing and required purchases)
• Room acoustics drawing and evaluation (provided by Rives Audio)
Room Dimensional Drawings & Room Mode Analysis
While the first two items were taken care of early on by myself and Rives Audio, it was very important to get the room dimensions and room mode analysis correct in order to proceed with the full room design. The reason we start here, of course, is to determine the room modes (which will be significant and present in any small room) and determine the best location for seating. While Rives keeps the room mode analysis to themselves and simply provides the final room recommendation, we'll go ahead and show you the calculations here. The formula for calculating room mode frequencies is:
F = m 1130/2D
Where:
F = frequency of the resonance mode in Hz
m = mode harmonic (first = 1, second = 2, third = 3, etc)
D = distance between two parallel surfaces in feet
1130 = approximate speed of sound in feet/second
So in the case of Reference System 2:
| | | | |
| --- | --- | --- | --- |
| Room Mode | 16.0 (L) | 13.3 (W) | 9.0 (H) |
| First | 35.3Hz | 42.5Hz | 62.8Hz |
| Second | 70.6Hz | 85Hz | 125.6Hz |
| Third | 106.9Hz | 127.4Hz | 188.3Hz |
| Fourth | 141.3Hz | 169.9Hz | 251.1Hz |
As you can see by this chart, there are some second and third harmonic room mode issues to be taken into consideration at approximately 126Hz. Overall, we did well with these dimensions - especially considering this room was pre-existing and not new construction. We mapped out the seating accordingly and made sure to position the theater chairs in a position that avoided the worst of these modes for all seating positions. Every home theater room is going to have to deal with these types of issues to some extent. Depending upon your budget, you can all but completely eliminate the effects of room modes on the main listening positions, or you can work to ensure that at least the biggest problems are avoided.
A full Level 2 Room analysis from Rives Audio (for existing or new construction) costs $2,250 but may be the most important aspect of your home theater design. In level 2, one of Rives' dealers or representatives takes actual acoustical measurements of the room. The acoustical measurements gives them valuable information such as actual frequency response, reverberation times, and energy time functions. While these terms may seem foreign to some people, these measurements increase the precision in designing the listening room.
After completing the application form, Rives will call to get a complete understanding of your needs and limitations. Some people have to integrate the listening room into a family room and do not want unsightly room treatment. Others, may have the luxury of a dedicated room and don't care about the aesthetics, but want the best possible sound at a reasonable price. Rives Audio works well with both scenarios.
Rives develops a concept plan which includes the likely treatments that will be used. Once approved, calculations and a full schematic are generated. These have complete assembly drawings and a report giving objectives of the sonic benefits they expect to achieve. Most of their designs use standard building materials, where the material cost is relatively modest. Construction can be done by the individual in or a contractor.
The biggest challenge in designing a room is achieving the right balance of all the devices. This is where having a company like Rives do the designs makes sense. Since Rives Audio does dozens of designs a month and hundreds a year, their engineers have over 30 years experience in the business. This insures that reverberation times, frequency response, and energy held in the room can be a systematically and intelligently handled and factored.
Confused about what AV Gear to buy or how to set it up? Join our Exclusive Audioholics E-Book Membership Program!