Pro8100 Features and Build Quality
Pro8100 Features and Build Quality
It strikes me as odd any time I see a projector of any significant price lacking features such as power Zoom & Focus and Lens Shift. With higher cost projectors I've become an unfortunate victim of the establishment. I've come to expect less in the way of features. Now along comes ViewSonic with its Precision Series Pro8100 LCD projector. It has powered Zoom & Focus, in addition to powered Lens Shift. It also features Silicon Optix Reon-VX video processing. Oh, and it's priced at just $4,995. I have a feeling some other manufacturers are going to have to get off their laurels and start bringing their 'A' game very quickly.
What I Like About You
In a giddy display of feature-envy, I poured over the many functions and systems present on the Pro8100 projector. It was almost ridiculous what this product was offering for the price. I could only hope that its performance lived up to the vast array of goodies this projector offered to consumers:
Power Everything
Older users of this projector will experience the same feeling they did when they bought their first vehicle with power windows. It's like coming home. When you set up a higher priced projector you really don't want to go climbing around and bumping into it as you set the Zoom, Focus, and align the image using its Lens Shift function. With the Pro8100 you don't have to.
Silicon Optix Reon-VX Video Processing
Good video processing means that both standard definition content (like your DVD player or CableTV analogue channels) and HD content (like Blu-ray and your HD cable channels) will look flawless - or at least as flawless as the source content allows. Silicon Optix' HQV technology has proven to be a straight shooter and one of the better video processing systems available on the market.
Quiet Fan
The Precision Pro8100's 23dB fan gets high marks, but its Economy mode, which puts the fan down to around 18dB is absolutely amazing. We never once heard this fan, apart from the high speed cool-down cycle once it was powered off.
2.35:1 Anamorphic Mode
If you want to use every available pixel in your Epson C2Fine LCD panel you can engage anamorphic mode and use an external lens to capture the best this projector has to offer. Anamorphic squeezing, for whatever reason, isn't available on most projectors without an external scaling device - ViewSonic has it built in.
Side Access for Lamp Replacement
One of my pet peeves has been assuaged by the presence of a side access door for lamp replacement. This means that users won't need to remove their projectors from a ceiling mount when replacing the bulb. Four screws (two in the cover, and two in the lamp assembly) are all that it takes to replace the bulb and get your projector back to perfect working order. In Economy mode (highly recommended for home theater use) the lamp is expected to last around 5000 hours - another bonus.
Out of the Box and Into My Theater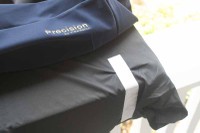 I have never seen such care taken with regard to projector packaging in my entire professional reviewing career. The ViewSonic Pro8100 came in not one, not two, but three different "wrappers" to protect it from harm - not including the boxes and foam surrounds. Upon removing the projector from its box I found the unit wrapped snugly in plastic. Removing the plastic I saw a dark blue velvety sheath which laid atop a soft black cloth (complete with stitched Viewsonic Precision logo) that was taped tight and securely covered the projector. I stuck my head back in the box to double check for a t-shirt or cap that I might have missed. Maybe I got some sort of deluxe model intended for the President of the company? Turns out, this kind of care is given to all Pro8100 units that ship out from ViewSonic. I like the red carpet treatment - and the unit didn't have a fingerprint on it, let alone any scratches. After a few moments of gazing at the beauty of the thing - for it really does look nice - I proceeded to get it installed into my system
In setting up this projector it's good to view a 16:9 throw chart to see how your particular room stacks up in filling your screen and ensuring you don't place the projector too far away (or too near) the screen:
Throw Chart for Distancing the Projector from a 16:9 Projection Screen
Screen Size
Diagonal (inches)

Size (Inches)

Distance (Feet)




width

height

wide

tele

80

69.7

39.2

8' 2"

13' 3"

90

78.4

44.1

9' 3"

14' 11"

100

87.2

49.0

10' 3"

16' 7"

110

95.9

53.9

11' 3"

18' 3"

120

104.6

58.8

12' 3"

19' 10"

130

113.3

63.7

13' 4"

21' 6"

150

130.7

73.5

15' 4"

24' 10"

170

148.2

83.3

17' 5"

28' 2"

200

174.3

98.1

20' 6"

30' 9"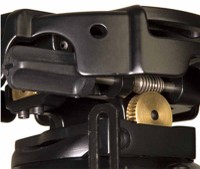 precision-gear.jpgI love my projector mount. It's tough, universal and has tons of controls - allowing me to tilt, pan and twist the projector to my heart's delight. It's a PRG-UNV Precision Gear mount from Peerless and it features a gear system that allows me to perfectly align any projector to the screen without much hassle. Within minutes I had my mount's spider off the base and was screwing it into the Pro8100's three mounting points. Three? Yeah, that's what I said. So far some of the heaviest and largest projectors I've installed have three mounting points vs. four - which makes absolutely no sense to me. I understand that they likely expect you to use one of their custom plates, but a four point system just seems so much more secure to me. After I connected the spider I re-mounted the projector to the PRG-UNV base and made my connections.
Connections
The Pro8100 has plenty of inputs. Dual HDMI and a pair of component video inputs take care of any potential HD sources you might encounter, while a single composite and S-video input are present for people who like to spend $5,000 on a projector but are too cheap to buy new versions of their VHS movies... yes, those people.

The system has RS-232C control as well as a 12V trigger output. There is also a largely undocumented 5VDC terminal, presumably for powering an active HDMI cable/device or some other 5V source. A USB port is present on the rear panel, however it is designated for service use only (for firmware updates.) Finally, an RGB input takes care of any legacy or PC-generated sources you may require.
Confused about what AV Gear to buy or how to set it up? Join our Exclusive Audioholics E-Book Membership Program!
See also:
Recent Forum Posts: