Epson Home Cinema 720 LCD Projector Review
Epson Home Cinema 720 LCD Projector Review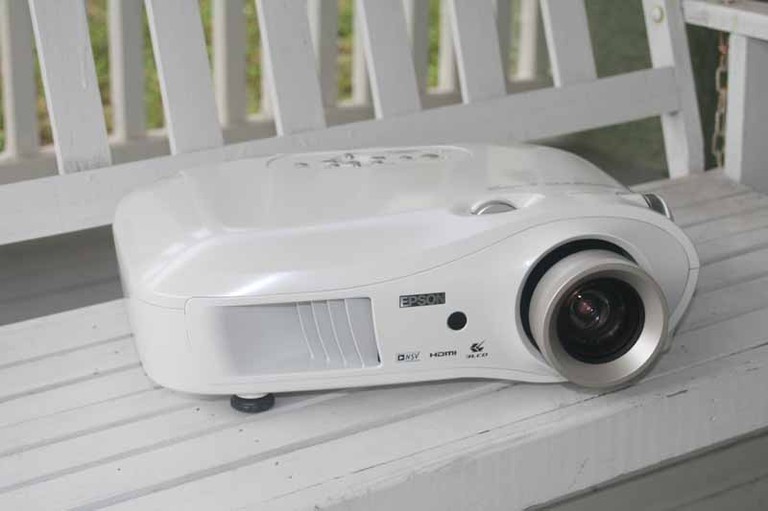 Epson Home Cinema 720
Brightness: 1600 ANSI lumens (Dynamic mode)
Contrast: Up to 10,000:1 (full on/off)
Resolution: 1280 x 720 native HD resolution
Aspect Ratio: Widescreen native 16:9 aspect ratio (4:3 resized)
LCD Panel: 3 x 0.7" poly-silicon TFT active matrix
Optical System: Dichroic mirror separation and prism combine method
Video Inputs: HDMI 1.3, component, composite, S-video, and PC/RGB (HD15)
Video Processing: Pixelworks
Control: RS-232C, IR remote, 12 VDC trigger output
Projection Lens: F/2.0 – 3.17, manual focus & zoom (1 - 2.1)
Lens Shift: Vertical and horizontal (100% vertical, 50% horizontal)
Lamp: 170 W UHE (Ultra-High Efficiency); 3000 hours
Power Supply: 100-120 volts, 2.7A


Power Consumption: 245W (high); 200W (low); 4W (standby)
Operating Temperature: 32 – 104 degrees F (0 – 40 degrees C); 20-80% humidity (no condensation)
Fan: 33dB operation (in low mode)
Remote Control: Backlit w/batteries included
Standard Accessories: Power cord, Wireless remote control unit, batteries for remote control

Warranty: 2 year parts and labor limited warranty, 90-day lamp warranty, including overnight replacement services and exclusive Epson PrivateLine toll-free technical support (U.S. and Canada only)

Dimensions: 4.9" x 16" x 12.2" in (124 x 406 x 309 mm)
Weight: 11.9 lbs (5.4 kg)
Pros
720p for under $1300!
Excellent contrast & color saturation
Excellent performance "out of the box"
Backlit remote
Interpolated 1080p/24/60 support
HDMI 1.3 with 480i support
Cons
Only 1 HDMI input & 1 Component input
Doesn't pass below black signals
Tedious menu system
Introduction
I got an email the other day from a friend I hadn't heard from in a long time. We caught up with each other about a few things, and then he asked me: What's the best projector out there for under $1500? Wow, that's a good question, isn't it? A couple of years ago the level of quality you'd be able to expect from that price was much different. Today, it's almost amazing what consumers are getting for their money. I told him I was reviewing the Epson Home Cinema 720 LCD projector and that if it even remotely resembled its "bigger brother" the 1080 or 1080UB it would be high on my list. As I launched into the review process I found that some consumers might just do very well to eschew 1080p - especially if they are using smaller screens or sitting back more than 2x the screen width.

Confused about what AV Gear to buy or how to set it up? Join our Exclusive Audioholics E-Book Membership Program!
See also:
Recent Forum Posts:
klk posts on October 10, 2008 09:35
When I factor the bulb in though, the Epson is $350 less than the Panasonic!
BMXTRIX posts on October 09, 2008 17:00
I would still be hard pressed to recommend this over the AX200, but it's just so marginally close it seems between projectors these days. Hands down, the issue is that there are to many EXCELLENT choices out there, and this one is not really different. That is, the projectors is top notch and likely blows away projectors from just a few years back that were ten times the price.

What are we talking though… $6 in price difference between the Panasonic and the Epson… Yep, that's going to be a harder decision to make. The Panasonic I've actually put up on a Carada 160 BW screen and was shocked at how bright the image was at that size. So, while the Epson is solid, if you do want the killer bright, it may still be better to go with the Panny.

On the other hand, what are the odds we'll see 1080p dip below $1,500 this year since the Sanyo and BenQ models are basically near $2K already? Heck, the new Sanyo is $1,799… Gotta wonder how solid that model is for only about 500 bucks more.
klk posts on October 09, 2008 12:56
I am really torn between this and the Panasonic PT-AX200U. I am leaning towards the Epson, but have a single concern - Fan Noise. I have read that the Fan is quite loud in the brightest modes (which I would be using most of the time to watch Hockey in a room with lights on.). Is the fan noise that bad in living room or dynamic mode? Thanks.
hifisyd01 posts on July 02, 2008 14:12
I own an HC720 and could not be happier. Granted, I'm a projector noob, but the perforance to value ratio on this unit is off the charts in my opinion. I'd recommend it without hesitation!
ivseenbetter posts on June 11, 2008 20:33
I was looking at this projector to buy for my room. I read a lot of reviews and I really enjoyed this one. Ultimately I decided to go with the Mitsubishi HC1500. The Epson has better placement flexibility but I am more than happy with my choice.
Post Reply