Panasonic PT-DW7000U Cinema DLP
Panasonic PT-DW7000U Cinema DLP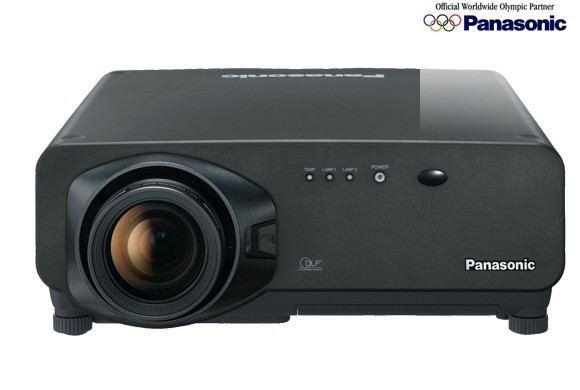 Panasonic PT-DW7000U 3-Chip DLP Projector
Optical System: DLP 0.85" DMD (x 3), 16:9 (1,366 x 768)
Lamp: 300 W UHM lamp x 2 (BriteOptic Dual Lamp System)
Brightness: 6000 lumens (dual lamp mode); 3000 lumens (single lamp mode)
Contrast ratio: 4000:1 (stated)
Resolution: 1366 x 768 pixels (native)
Lens: Not included (uses ET-D75LE1, ET-D75LE2, ET-D75LE3, ET-D75LE4, ET-D75LE5, or ET-D75LE8)
Lens shift: +/-30 horizontal; +/-65% vertical shift
Screen size: 70" - 600" diagonal
Component signal: 480i, 576i, 480p, 576p, 720/60p, 1035/60i, 1080/60i,1080/50i, 1080/25p, 1080/24p, 1080/24sF, 1080/30p
Video signal: NTSC, PAL, SECAM, M-NTSC, PAL60, PAL-M, PAL-N
Terminals: BNC
VIDEO IN: BNC
VIDEO OUT: BNC
S-Video IN: Mini DIN 4-pin
RGB1/YPBPR IN: BNC x 5
RGB2 IN: D-sub HD15-pin

Optional board slot: Yes (1)
RS-232C/422 IN: D-sub 9-pin female
RS-232C/422 OUT: D-sub 9-pin male
REMOTE 1 IN: M3 jack
REMOTE 1 OUT: M3 jack
REMOTE 2 IN: D-sub 9-pin female (parallel)
Optical axis shift: Powered; horizontal +/-30%, vertical
Keystone correction range: +/-65%; +/-40 degrees  (with ET-D75LE2)
Installation: Front/rear, ceiling/floor, (menu selection)
Power cord length: 2.5m (8.2')
Power supply: 220-240 VAC, 50/60Hz
Power consumption: 800W/800VA (15W during standby)
Dimensions (W x H x D): (20-7/8" x 7-7/8" x 21-9/32") (without lens & lens hood)
Weight: 48.5 lbs (22 kg)
Pros
Extremely flexible lens options
Ultra bright output for larger screens
Dual lamp system allows for excellent black levels
Expandable inputs via optional board
Cons
Expensive for home cinema use
No standard HDMI inputs
Introduction
Prepare to be amazed. There is no denying that when you finally witness a 3-chip DLP projector up close and personal, the effects are nothing short of mind-blowing. The Panasonic PT-DW7000U takes all of the rainbow-free advantages of a traditional 3-chip LCD system and combines it with the excellent black levels the DLP chip is known for. It does this, and fits it into the lightest 3-chip large venue package currently on the market. The results, to be brief, are quite stunning.

See also:
Confused about what AV Gear to buy or how to set it up? Join our Exclusive Audioholics E-Book Membership Program!
Recent Forum Posts:
BMXTRIX posts on December 03, 2008 20:14
Bluesmoke, post: 491184
How does a $25000 projector in late 2008 get 5 stars for features without having HDMI..
I'm not totally sure I would have an issue with the 'features' being 5 stars, but I do agree that the lack of standard digital input - which is becoming VERY common on almost all decent projectors in bothe the business and residentail settings, is poor form. Likewise, the fact that this isn't a 1080p projector is a real issue to me.
Don't get me wrong, there are value leaders in a lot of categories, but I have to wonder if this is a 'value' leader really? It is crazy bright, but it isn't 1080p, so I would not be looking to it for any digital cinema or home theater setup… it is dated. Instead I would lean towards the less bright 1080p single chip models… or even the similarly priced, brighter single chip…
http://www.projectorcentral.com/projectiondesign-cineo30_1080.htm
But, there's no doubt that ultra bright HD projectors are in incredibly short supply in the market, so it SEEMS like a deal to get it for 25 grand.
I think it's ridiculous personally. It's NOT a deal - it is NOT a value. It is extremely over priced for what you get, and they are ripping consumers off instead of finding a way to put it together for a reasonable price.
3 Panasonic AE2000 projectors? $7,500, and you can stack them… and they are probably quieter.
3 BenQ W5000s? $7,500 street.
I know it sounds negative, but I have seen ultra bright projectors from Projection Design and others, and while they do look very good, they are an incredibly long ways from 'value'. They also tend to have limited zoom range within any lens, a lack of ultra short throw lenses, limited zoom range, and a requirement to buy the lens separately which immediately adds $1,000 or more to the projector price… Don't forget the grand for the digital input also.
I get it, but I definitely don't agree. If you all are psyched on it, great. But, I think there is room to be a fair bit more critical of projectors that come across the desks.
Clint DeBoer posts on December 03, 2008 12:28
It's not really targeting you as a consumer and there are optional input cards available. The features that matter are the lens options, dual lamps, powered lens shifting/zoom/focus, calibration, etc.
Bluesmoke posts on December 02, 2008 23:15
How does a $25000 projector in late 2008 get 5 stars for features without having HDMI..
Post Reply