Optoma HD80 DLP Projector Review
Optoma HD80 DLP Projector Review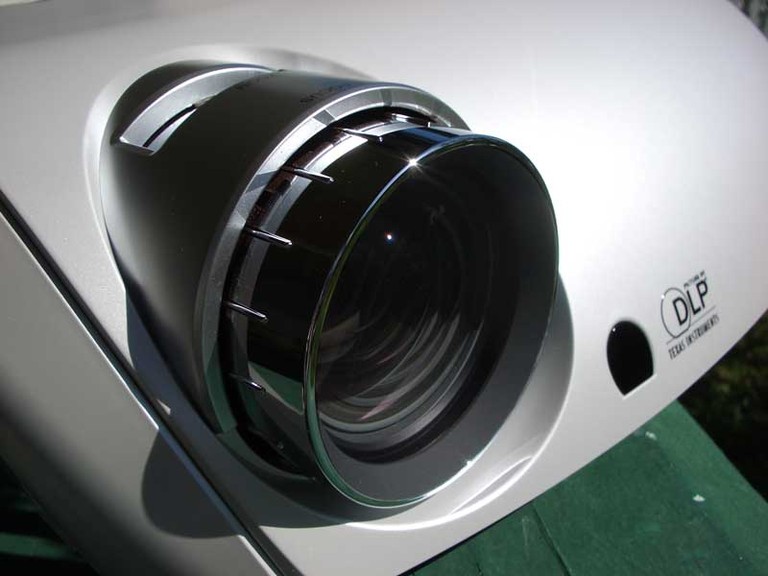 Optoma HD80 DLP projector
Brightness: 1300 ANSI lumens (high power mode)
Contrast: Up to 10,000:1 (full on/off) 518:1 (ANSI)
Resolution: 1920 x 1080 native HD resolution
Aspect Ratio: Widescreen native 16:9 aspect ratio (4:3 compatible) 1.85 – 2.22:1 throw ratio
Supported Screen Size: 30-300 inches diagonal (theoretical)
DLP Technology: Single 0.95" DarkChip2 DMD
Optical System: 6x speed (180Hz) 7-segment color wheel (RGB, RGB, W)
Iris: 16-step ImageAI-II auto iris (defeatable)
Offset (of vertical height): 136%
Computer Compatibility: SXGA, XGA, SVGA, VGA Compression; VESA Standards; PC and Macintosh Compatible
Scanning Formats: 480i/576i/1080i and 480p/576p/720p/1080p
Video Inputs (projector): 2 x HDMI, 1 x DVI-D, component video, s-video, composite
Misc Connections: RS-232C, +12V trigger, service port
Projection Lens: 1.2x Manual Zoom and Focus; F = 2.6 ~ 2.82, f = 39.12 ~ 46.94mm

Lamp: 300W UHP; 3000 hr life
Keystone Correction: +/- 5 degrees vertical (digital)
Power Supply: 90-264 volts, 50-60Hz
Power Consumption: 430 watts (maximum) ; <12W standby
Operating Temperature: 41 – 95 degrees F (5 – 35 degrees C); 80% max humidity (no condensation)
Fan: 32dB noise level
Projection Method: Front/rear/ceiling mount/table-top
Uniformity Ratio: 90% (center-to-corner)
Remote Control: Backlit IR remote Control with source selection, AA x 2 batteries
Standard Accessories: AC Power Cord, Composite Video Cable, RS-232 Cable, Remote Control, Batteries for Remote, Lens Cap, User's Manual, Warranty Card and Quick Start Guide
Optional Accessories: Anamorphic Lens/Sled Kit, Ceiling Mount, GrayWolfII™ Series Screens and Gold Service Warranty
Dimensions (projector): 16" x 4.6" x 12.2" in (406 x 117 x 310 mm)
Weight (projector): 10 lbs (4.5 kg)
Warranty: 2 years limited parts and labor; 1 year lamp
Pros
One year lamp warranty
Decent after-calibration performance
Plethora of inputs
Ergonomic backlit remote
Cons
Outrageous 36% vertical offset
High default color temp (even at Warm setting)
Poor green color response
Poor initial RGB levels (grayscale uniformity)
Prominent fan noise (even in Normal mode)
ImageAI-II Auto-Iris a tad noisy and slow
No discrete on/off on remote
No lens shift
Weak 1.2x zoom
Introduction
The Optoma HD80 is a leaner, trimmer, HD81, without the outboard processing, but with plenty of performance and inputs to make a home cinema enthusiast ecstatic to nab a 1080p DLP for under $3000.

Confused about what AV Gear to buy or how to set it up? Join our Exclusive Audioholics E-Book Membership Program!
See also:
Recent Forum Posts:
Clint DeBoer posts on September 25, 2007 12:01
BMXTRIX, post: 308722
Why is this so hard for the DLP models to achieve?
Let's ask an even better question: Why can I buy THREE decent single-chip DLP projectors for a grand total of $3000, but I
can't
buy a SINGLE three-chip DLP projector for less than $10,000?
That's the question I want answered.
erick.s posts on September 25, 2007 11:49
Agreed. In all honesty the only reason I haven't bought this projector is the ridiculous offset. I saw it at a dealer and it's perfect for me except for this one thing.
BMXTRIX posts on September 13, 2007 20:28
Thanks for putting the image offset right at the top as one of the cons. It's the first specification that I check on projectors. Since I have a motorized screen which only gives me 12" of drop, it completely blows my mind that these IDIOTS continue to design DLP projectors that have no lens shift and anything more than just a few inches of offset.

My old AE300 projector from Panny, with no lens shift, sits about 5" above the top of my screen and works great.

Why is this so hard for the DLP models to achieve?
Post Reply