2009 Consumer Excellence Award Winners
2009 Consumer Excellence Award Winners
by
Bertica Molinares-DellaSala
—
February 24, 2010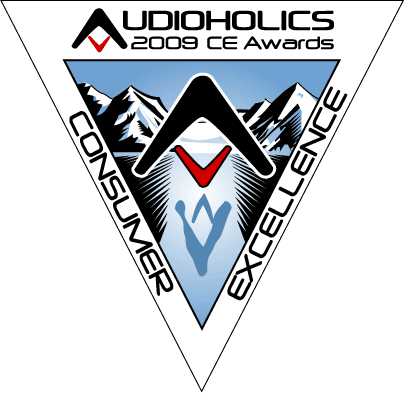 2009 Audioholics CE Logo
Despite the sluggish economy of 2009, manufacturers still managed to innovate and release new and improved products. With competition getting more fierce, the consumer wins by having a larger product base to chose from with the latest features and technologies that only a few years ago were largely unaffordable at these prices.
The prestigious Audioholics Consumer Excellence (CE) Awards program recognizes the most advanced and forward-thinking products in crucial CE categories submitted for consideration by the industry's leading manufacturers. Awards are given to products which serve consumers directly and also those products which serve to improve the business and success of the custom installer. The CE Awards is a clear benchmark award for the products which will make an impact in 2010 and beyond.  Here are our winners for 2009 based on our criteria for judging.
Category: Loudspeakers
Speakers > Subwoofers
Company: Axiom Audio
Product: EP800
MSRP: $2,350
According to Axiom, the EP800 plays louder than most live performances reaching an amazing 125 dB Sound Pressure Level! After personally hearing this sub at their facility almost 2 years ago, we have little doubt about these claims.  The Intelligent DSP is said to virtually eliminate distortion. Instead, it tightly controls the signals to the 800-watt power amplifier and two massive 12-inch aluminum drivers  with dual 3-inch voice coils to provide you with peak performance making the EP800 virtually unbreakable!  With a 13Hz extension, you won't miss any LFE effects.  Available in upright configuration or a convenient horizontal configuration that is perfect for under screens or behind couches. If you want the ultimate in pure, subterranean bass, the Epicenter EP800 Intelligent DSP Subwoofer delivers.  It's built to last with a 5 year manufacturers warranty to back it up.
Speakers > Compact Subwoofers

Company: Aperion Audio
Product: Bravus 10D
MSRP: $799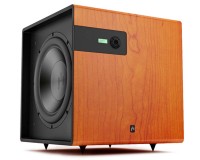 The Aperion Bravus 10D subwoofer completes the Home Theater system by providing accurate low frequency reproduction, ranging from smooth musical bass tones to the immersive low end rumble that many movie enthusiasts expect from a much larger enclosure.  The Bravus 10D's design incorporates dual 10-inch custom aluminum drivers that enable the performance of a typical 12-inch driver and cabinet design in a much smaller package. The subwoofer's easy to use EQ presets, and user customizable EQ settings, with a remote control, let the music and movie enthusiast adjust the settings to quickly make up for differences in the content without leaving the listening position.  Given its size and value, a serious bass head can easily integrate 2 or 4 of the Bravus 10D subwoofers to ensure every seat in their theater room provides an equally good tactile experience. 
Speakers > Digital Speaker

Company: Yamaha Electronics
Product: YSP-5100
MSRP: $2,199
www.yamaha.com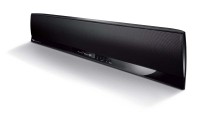 Ideal for smaller spaces and secondary zones, Yamaha's YSP-5100 employs the company's proprietary technology to provide true surround sound from a single speaker. Forty audio beam drivers, two tweeters and two woofers deliver center channel sound directly, while sounds from other channels are heard reflecting off the walls around the listener. Ideal for placement beneath the latest flat screen TV models, the YSP-5100 provides HD Audio decoding (Dolby TrueHD, DTS-HD Master Audio, Dolby Digital Plus and DTS HD High Resolution) and four 1080p-compatible HDMI inputs to achieve the best possible sound from Blu-ray disc players and all other digital sources. Yamaha's proprietary technologies include yAired for wireless iPod and iPhone audio playback and UniVolume for keeping the sound of TV programs and commercials and different sources at the same volume level.
Specialty > Youth Wireless Headphones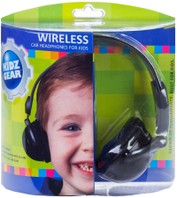 Company: Kidz Gear
Product: IR68KG02 Headphones
MSRP: $34.99
www.gearforkidz.com
For the last several years, US automakers have offered consumers in-car DVD and video systems, the majority of them using what is called IR wireless technology.  Unfortunately, the headphones provided by the automaker are not made with the number one consumer of this technology in mind – Kids! Kidz Gear has been focused for several years on developing products that are made with, function like and last as long as adult products but are specifically designed with children in mind.  The uniquely sized ear-cups, headband and comfortable padding have made the Kidz Gear products currently the number one selling headphones for children.  Now, Kidz Gear has done it again with their NEW Wireless Car Headphones For Kids! The IR68KG02 headphones are designed with features like automatic power off when not in use, independent volume control on the ear-cup and a super comfortable design.

Category: Displays & Televisions
Displays & TVs > Projectors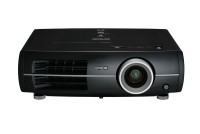 Company: Epson America
Product: Pro Cinema 9500UB
MSRP: $3,699
www.epson.com
The Epson PowerLite Pro Cinema 9500UB offers custom installers the ultimate 1080p package.  This projector ensures exceptional picture quality in a home theater environment, perfect for the discerning home entertainment enthusiast. Boasting a contrast of up to 200,000:1 and Epson's new Super-resolution technology, combined with new real color reproduction and refined frame interpolation, this projector delivers sharp, clear and vivid images.  Equipped with an anamorphic lens mode, and a suite of professional-level color tools including, ISF calibration, color isolation and pre-set color space selection, the Pro Cinema 9500UB offers the ultimate home entertainment experience.
Displays & TVs > Projector Screens > Dual Format

Company: Elite Screens
Product: Osprey
MSRP: $1999
www.elitescreens.com
The new Osprey Dual format 2.35:1 / 16:9 tandem projection screen is for today's latest projectors with dual-mode anamorphic stretch capabilities.    This motorized home cinema projection screen features a dual screen format running a native 2.35:1 and a 16:9 screen in tandem with the push of a button while maintaining a centered image coordinated to the projector's lens memory. It utilizes Elite's CineWhite 1.1 gain tensioned front projection material with wide diffusion uniformity. As is customary with Elite's electric screens, a full control package is included with internal IR and RF receivers, IR and RF remotes, and  an RJ45 port for 5-12 volt triggers and external wall boxes.  When other manufacturers are charging extra for such features, Elite Screens include these as standard accessories and features to our customer at no extra charge.
Displays & TVs > Projector Screens > Perforated

Company:
Seymour A/V
Product:Center Stage XD Fixed Frame Screen
MSRP: from $945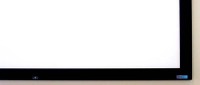 At the 2008 Audioholics SOTU, Seymour AV's Center Stage acoustically transparent screen was exhibited in a retractable format.  In 2009 they redesigned the material, called Center Stage XD, which is now also available in a fixed frame.  With the fine-weave XD, Seymour AV tripled the hole density to 1,500 holes per square inch (for comparison, perforated vinyl screens have around 75 to 200), increased the gain to 1.2, and improved the acoustical transparency by +0.5dB.  The new fixed frame screen features a 3.3 inch by 1.6 inch heavy-wall extruded aluminum frame wrapped in thick Fidelio velvet.  The attachment method uses grommets around the screen, which are then attached using O-rings to posts preinstalled into the frame.  This method doesn't need special tooling and creates a trampoline-style tensioning system. The fixed frame Center Stage XD screens are available in image widths ranging from 85 inches to 170 inches.  Pricing runs from the single-layer H085XS at $945 to the F170XB at $2359 which includes the black backing.
Category:  A/V Receivers and Media Systems

Receivers & Media Systems > Media Controller

Company: Yamaha Electronics
Product: YMC-700 neo HD Media Controller
MSRP: $799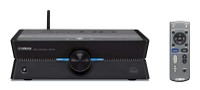 The YMC-700 neoHD Media Controller provides the HD audio and video performance essential to true HD entertainment experiences and total control of all home and Internet components and sources connected to a home AV system. Using a simple remote to drive an intuitive menu-driven on-screen display, neoHD makes it easier than ever before to navigate and access all audio and video content in the home, regardless of where it is stored. neoHD has WiFi/Ethernet compatibility and can control up to six other AV components, such as TVs, Blu-ray disc players and set-top boxes, through its remote control and three IR outputs on the Media Controller's back panel. Remote control codes for the AV components from most manufacturers are embedded into the neoHD Media Controller for immediate compatibility and control. The codes for components that are not embedded can be quickly learned by the Media Controller.
Receivers & Media Systems > A/V Receiver

Company: Marantz America
Product: SR6004
MSRP: $1,249
www.us.marantz.com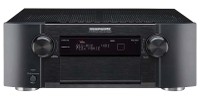 At only $1,249, Marantz offers you Bluetooth, four-in/two-out HDMI connectivity, an array of Audyssey technologies, 110 watts per channel x 7, and the décor-pleasing cosmetics Marantz is justly famous for.  Best of all the new SR6004 boasts the latest post processing decoding from Dolby labs called Dolby Prologic IIz which adds optional front height channels which can be powered off the receivers surround back channels.  Thus you can either run a full 7.1 with surround backs, or 7.1 with front height channels or 5.1 to bi-amp the front channels or power a second zone.  Unlike many competitors at this price class, Marantz's has a more audio centric focus which is obvious when picking up this baby weighing in at nearly 30lbs.  A space-efficient and well regulated EI-core transformer pairs with an array of custom 20,000 microfarad capacitors to provide instantaneous current delivery when a demanding source calls for it.  Marantz claims the SR6004 achieves "Separates" quality sound in a single chassis.  Based on the high apparent build quality of this receiver, one would have a hard time arguing their point. 
Category:  Amplifiers & Preamps
Amplifiers & Preamps > Mono Block Amplifier
Company:
Emotiva
Product: XPA-1
MSRP: $999
www.emotiva.com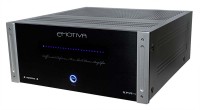 The ultimate audiophile's dream is to have fully balanced mono block amplifiers powering each of their speakers.  For most, this is usually an unaffordable goal.  Enter Emotiva, the hottest online company offering the best bang for the buck amplifiers we've seen to date. The XPA-1 is a 500 watt (8 ohms) / 1000 watts (4 ohms) continuous rated powerhouse that is fully differential from input to output.  Most amplifiers in this class simply don't provide balanced outputs because of the added components and complexity of such designs.  The benefits include lower distortion and noise not achievable in most single ended designs.  The XPA-1 sports 24 output devices, a 1.2kVA transformer, 120,000uF of storage capacitance and weighs in at a hulking 75lbs.  Each XPA-1 has power meters, fault protection and its serial# laser etched into the chassis.  At this price, its not unrealistic for an audiophile to put together a fully balanced monoblock solution for their 5.1 or 7.1 systems at the same price or less than many of Emotiva's single chassis multi-channel amplifier competitors. 
Amplifiers & Preamps > Stereo Preamp
Company:
Emotiva
Product: USP-1
MSRP: $399
www.emotiva.com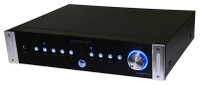 In the era of multi channel surround, Emotiva respects the audiophile  purist by offering a dedicated two analog channel preamp.  The USP-1 has extremely linear frequency response from 5Hz to 80kHz with a mere 0.05dB deviation.  Turntable lovers aren't forgotten with the USP-1's phono input with moving magnet/coil capability.  The USP-1 has a surprise rarely found in this type of product; bass management.  They take it a step further by offering variable crossover adjustments from 50Hz to 250Hz.  You can even bypass the bass management circuitry and send full range signal out of the dedicated subwoofer channel while still benefiting from trim settings.  The USP-1 comes with a remote control so you don't have to get off your Lazy Boy recliner to adjust the volume or change the input.  Emotiva enables the audiophile to enjoy analog bliss at down to earth prices.
Category:  BD/DVD & CD Transports

BD/DVD & CD > BD Player
Company: Oppo Digital
Product: BDP-83 | Buy It Now
MSRP: $499
www.oppodigital.com

The OPPO BDP-83 is a universal Blu-ray Disc player that supports "Profile 2.0 (BD-Live)" Blu-ray playback, DVD-Audio, Super Audio CD (SACD), HDCD, CD and up-converts DVD to near-HD quality.  Based on and expanded upon the acclaimed OPPO up-converting DVD players, the BDP-83 delivers first-class video quality for both Blu-ray and DVD. Utilizing the VRS by Anchor Bay video processing solution, it supports all the high-end video features including 1080p/24Hz output, HDMI 1.3 with Deep Color, Source Direct output, and many other picture control and enhancement options.   This player is so good that other high end manufacturers are shoehorning it into their own chassis and selling it for up to 7x the markup. 
BD/DVD & CD > CD Player
Company:
Emotiva
Product: ERC-1
MSRP: $399
www.emotiva.com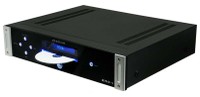 For two channel audiophiles wishing to assemble a high quality sound system on the cheap wish to do their CD collection justice, Emotiva has your answer with the ERC-1.  Born from all high quality parts, including a torroidal power transformer, high end Analog Devices DAC's,  and framed around a rigidly constructed transport, the ERC-1 sum of its parts bellies its meager $399 asking price.  Balanced outputs are included for those wanting to make the cleanest signal connections possible to their balanced analog preamps.  Emotiva boasts an impressive 100dB SNR and 95dB crosstalk and flat frequency response to 20kHz with only a +-0.1dB deviation.   Whether you're using the ERC-1s analog or digital outputs, you are sure to get the most out of your CD collection that you simply can't get with a $50 Walmart special.  
Category:  Accessories

Accessories > TV
Company: Gefen
Product: GTV-VolCont
MSRP: $179
GefenTV Volume Stabilizer with Dolby enables a smooth transition and a consistent level of volume when listening to different CDs, television programs, movies, and commercials. It automatically equalizes audio from different sources to ensure a steady volume control; all audio is heard at the same intensity, making for a more enjoyable listening experience. The GefenTV Volume Stabilizer supports Dolby encoded formats and is very easily installed. The device comes equipped with both analog (L/R) and digital (TOSlink, S/PDIF) audio inputs and outputs, allowing it to work with most audio devices on the market today. The unit has a small selector that determines which audio input is stabilized. Users simply connect the volume controller in between the audio/video source and the output to speakers, a receiver or a flat panel display. Once connected, the GefenTV Volume Stabilizer automatically levels the audio so users can enjoy consistent sound on their home entertainment systems.
Accessories > Power Conditioner

Company:
Panamax

Product:
MX5102
 MSRP: $649
www.panamax.com

A hybrid UPS/power management product, the MX5102 combines power management features such as Linear Filtration, surge protection, and battery back-up for home theater systems all in a single unit. This product offers 10 surge-protected outlets— including two application specific battery-powered outlets — ensuring uninterrupted operation of connected equipment during a temporary power failure, while resettable circuit breakers provide optimal overload protection. The MX5102 also features IR Control Link for shutting down IR controlled devices properly (such as lamp based displays). For audio equipment, the MX5102 features 2 non-backed up high current outlets for amplifiers and subwoofers.
Accessories > Surge Protector
Company: APC AV
Product: P6GC
MSRP: $19.99
www.apc.com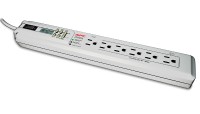 The APC Power-Saving Surge Protector w/ LCD Timer is an energy efficient surge protector with five timer settings allowing users to select various automatic on/off times.  This saves energy by only distributing energy to connected components at the selected 'on' times.  The surge protector can be set to turn on or off at any preferred time on any selected day with as many as five scheduled settings.  For example, users can program a charging station to power on upon arrival home from work to recharge a cell phone and then program to power off the next morning once the user departs for work.  The LCD timer's flexibility allows multiple users to set a variety of on/off times for all of their energy needs.  Assuming three hours of daily use and the national average of $0.11 cents a kilowatt/hour, APC estimates annual equipment standby power draw savings of $60.
Accessories > Wireless > PC to HDTV

Company:
Atlona Technologies

Product: AT-HDAir
MSRP: $219
www.atlona.com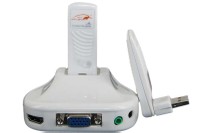 The Atlona AT-HDAir is a wireless, USB-based system that can take signal from a laptop or desktop PC and send it to a remote projector or television.  It is designed to connect any Windows Based computer to either your HDTV or Computer Monitor wirelessly though VGA or HDMI Connections. The HDAiR is based on a powerful UWB technology, allowing users to extend high resolution content up to 30ft away. Atlona adapter is capable of supporting resolutions up to 1400x1050 or 720p. The AT-HDAiR is features with dual video (HDMI and VGA) and dual Audio (HDMI-Audio and 1/4" mini stereo) outputs. Both outputs are active simultaneously. Providing both HDMI interface, common in flat TVs, and VGA interface, common in projectors and computer monitors—the HDAiR provides users with the flexibility. Both HDMI and VGA output connections are active at the same time, therefore HDAiR receiver could be used to power up 2 displays at the same time with identical content.
Accessories > Wireless > IR

Company:
Niles Audio

Product: MS220 Wideband IR
MSRP:$139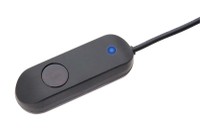 Niles' High-Fidelity Wideband IR Sensor is the first of its kind to utilize high-fidelity wideband amplification to ensure compatibility with virtually all current and emerging infrared code formats, including the new Philips RC-MM structure.  This unique sensor design passes the low duty-cycle, high data-rate IR signals found in many new multi-media components (HD cable boxes, satellite receivers, etc.). Until now, passing these high data-rate IR signals, and subsequent poor IR performance, has been an industry-wide problem. Paired with Niles' patent-pending Universal Noise Suppression technology, which implements 17 different methodologies to ensure effective operation in a multitude of "noisy" environments (sunlight, fluorescent lighting, LCD and plasma TVs, etc.), Niles' MS220 Surface-Mount IR MicroSensor provides a universally capable IR sensor for any application.
See also:
Confused about what AV Gear to buy or how to set it up? Join our Exclusive Audioholics E-Book Membership Program!
AcuDefTechGuy posts on February 25, 2010 23:04
sholling, post: 691238
That I'd like to read. Even better a shootout between the 802D and the flagship RBH. I can't afford either but I can dream.
I hear you, man. I agree 100%.
sholling posts on February 25, 2010 18:52
AcuDefTechGuy, post: 690985
Well, what would happen if Audioholics objectively reviewed the $23K B&W800D & Revel Ultima Salon and they didn't do any better or even worse than the RBH flagship?
That I'd like to read. Even better a shootout between the 802D and the flagship RBH. I can't afford either but I can dream.
AcuDefTechGuy posts on February 25, 2010 11:52
GO-NAD!, post: 690954
What's up with that? Are they all afraid that their products will be reviewed objectively?
Well, what would happen if Audioholics objectively reviewed the $23K B&W800D & Revel Ultima Salon and they didn't do any better or even worse than the RBH flagship?
GO-NAD! posts on February 25, 2010 11:11
gene, post: 690682
Yes. No loudspeaker companies submitted products for consideration of this award.
What's up with that? Are they all afraid that their products will be reviewed objectively?
gene posts on February 24, 2010 18:18
I'm surprised there were no speakers on the list. Is there any reason why no loudspeakers were included on the list?
Yes. No loudspeaker companies submitted products for consideration of this award.
Post Reply