Theory Audio Design Debuts Weatherproof Loudspeaker & New Architectural Subwoofers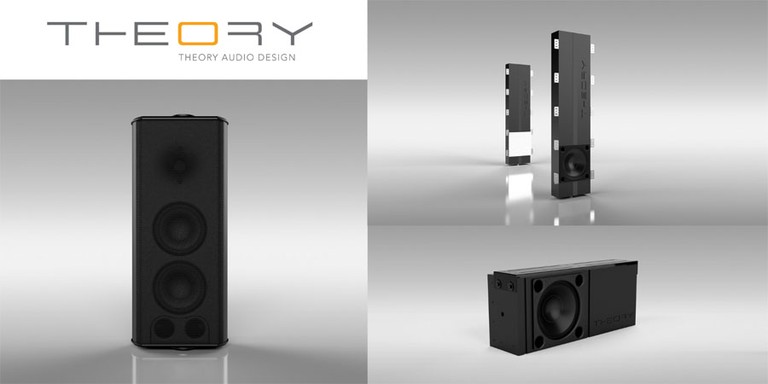 Theory's New Outdoor Speakers and Architectural Subwoofer
Summary
sb25aw All-Weather Multi-Use Loudspeaker
Bandwidth: 54Hz -23kHz, -6dB; 46Hz-24kHz, -10dB
Nominal Impedance: 4-ohms; Hi-Z (70V/100V) Selectable
Sensitivity: 94dB (LF); 108dB (HF) SPL/2.83V/1m
Dimensions: 21.5" H x 9.5" W x 3.8" D
Weight: 24.5 lbs
iws12-9 Subwoofer (for In-Ceiling, Surface Mount or Flying)

iws12-6 Subwoofer (In-Wall Model for 2x6 walls)

Bandwidth: 24Hz -125Hz, - 3dB
Nominal Impedance: 8-ohms
Sensitivity: 95.5 dB
Dimensions iws12-9: 34" W x 14" H x 9" D
Dimensions iws12-6: 60" H x 14" W x 5.9" D
Weight: 49 lbs each
Paul Hales of Theory Audio Design was at CEDIA 2023 putting on his reliably impressive demonstrations with the brand's relatively compact (yet often shockingly powerful) loudspeaker systems. Theory's gear is designed to work together as a complete system, including the processing, amplification, and loudspeakers. This approach ensures infallible performance and a consistent sonic signature from any Theory installation, according to Hales. New for this year is an intriguing speaker called the sb25aw, an all-weather, 4-ohm or 70V/100V version of the company's remarkable sb25 indoor surface mount loudspeaker. Over the last few years, the compact sb25 has earned a reputation for excelling in almost any application: home theater, distributed audio, Hi-Fi stereo, gaming — the sb25 can seemingly do it all.  This high-output, bass-reflex design with dual 5-inch woofers made quite an impression on Audioholics founder Gene DellaSala at CEDIA a few years back:
We sat down for a demo of this system at CEDIA 2019. The first thing we noticed was how impressive just the two sb25 speakers sounded on their own with two-channel music.
— Gene DellaSala, President of Audioholics
Like the sb25, the new sb25aw is a wide-bandwidth, high-output multi-use loudspeaker, perfect for a variety of indoor/outdoor applications, from hotels pools and outdoor shopping centers to outdoor seating at restaurants — an area that grew exponentially during the height of the Covid 19 pandemic. But the sb25aw isn't just for commercial installs. The speaker is just at home… at home. Even before Covid, the market for residential outdoor custom installation gear had been growing for the better part of a decade. And since 2020, that trend of building outdoor entertainment spaces has only been on the rise. But the elements can be hard on speakers and electronics. Wind, rain, snow, and sun can all wreak havoc. (I know a guy whose outdoor speakers stopped working because spiders had nested inside an amplifier, presumably because they were attracted to the heat it put out.) The sb25aw is reportedly designed to withstand the slings and arrows of outrageous weather, thanks in part to a powder-coated and anodized extruded and machined aluminum enclosure. The speaker is reportedly all aluminum and stainless steel, and should never rust. The "fully weatherized" design offers mounting options to meet "every possible installation need," according to Theory Audio Design. Porches, patios, pool decks, backyards, and even yachts are potential targets for the sb25aw. The speaker incorporates a durable perforated stainless steel grille, and a water-tight entry point for speaker cables. Underneath the grille you'll find a pair of custom-designed 5-inch carbon fiber woofers and a custom 1.4-inch "AdvancedPoly" high-frequency compression driver with a 125-degree axisymmetric waveguide providing ultra-wide conical coverage. Theory says the sb25aw is "capable of astonishing range and output" (maximum 117dB/1m). From an enclosure just 3.8 inches deep, that spec is impressive indeed. Selectable hi-z or low-z operating modes provide additional flexibility for system design. Theory Audio Design says the speaker is "a jack of all trades and will have you rethinking how you incorporate sound in your next high-value project."
Theory's raison d'etre is to deliver pro-level performance from products that are small enough (and attractive enough) to be on display without inciting violence from the interior designer. To that end, the sb25aw boasts a slender enclosure with a premium finish. Theory says that the speaker's sculpted curves "allow it to virtually disappear into the architectural background while looking surprisingly handsome in environments where it's easily seen – stealth and pretty at the same time." It can be mounted flat to a wall using the included z-clips. Alternatively, the back panel has mount hole patterns for several high-quality third-party speaker mounts. Further installation flexibility is provided by an optional yoke mounting bracket, which is both surface-mountable and pole-mountable. The Universal Mount Adapter allows the speaker to be mounted to a pole, to any 75mm or 100mm VESA mount, or to a variety of pan-and-tilt wall and ceiling mounts from Adaptive Technologies. Finally, the optional tabletop stand accessory allows the sb25aw to stand up on flat surfaces, such as speaker stands, mixing desks, consoles, tabletops, and bookshelves. It works for both vertical and horizontal orientations.
There has never been a more compact and capable loudspeaker in the integrator system design toolbox. Capable of astonishing range and output, and at less than 4-inches in depth, the sb25aw is a virtual acoustic Swiss army knife and will have system designers rethinking how they incorporate sound into their high-value projects. We expect that they will quickly learn to use this highly capable little speaker everywhere.
— Paul Hales, CEO of Theory Audio Design
Like the entire Theory product ecosystem, the sb25aw promises to combine the performance qualities of professional audio products – effortless dynamics, high efficiency, and rugged durability – with the sonic delicacy, detail, and resolution that audiophiles expect from high-end Hi-Fi products. One of the keys to delivering on this promise is Theory's intelligent full-system design approach, which includes automatically-tailored loudspeaker DSP. Therefore, the sb25aw must be used with one of Theory's Loudspeaker Controllers in order for it to perform as it was designed to. The sb25aw is available for pre-order now, and will begin shipping in Q4 2023. The tentative pricing of $1,350 each may change before shipping begins, according to the company.
Theory Audio Design Architectural Subwoofers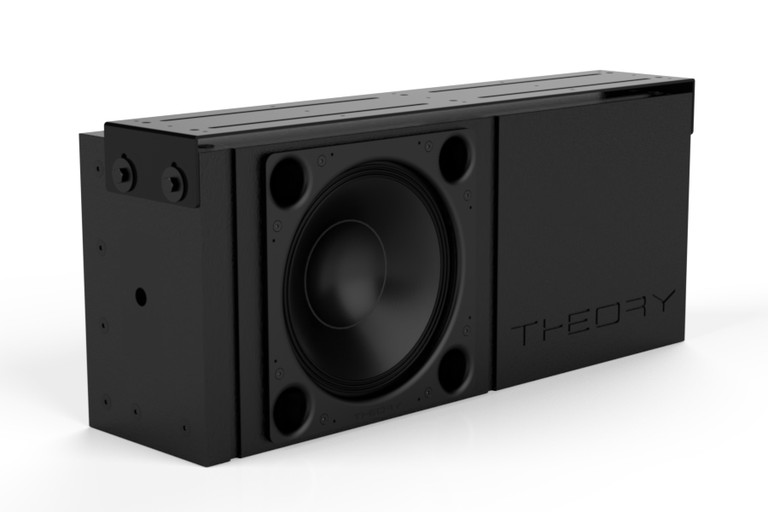 Theory has also introduced its first architectural subwoofers, the iws12-6 ($1,900 each) and iws12-9 ($2,050 each). Both subs utilize a 12-inch long-throw woofer with a 4-inch voice coil, and the two models offer identical performance, but in different form-factors. This allows the customer to deliver high-performance bass in any installation environment, according to Theory. In-wall, on-wall, in-room, and ceiling-mounted options are all covered. These subs, therefore, eliminate the need for the customer to allocate floor space for large subwoofer cabinets. While these are passive designs without onboard amplification, they can be (and in fact, must be) driven by one of Theory's Amplified Loudspeaker Controllers.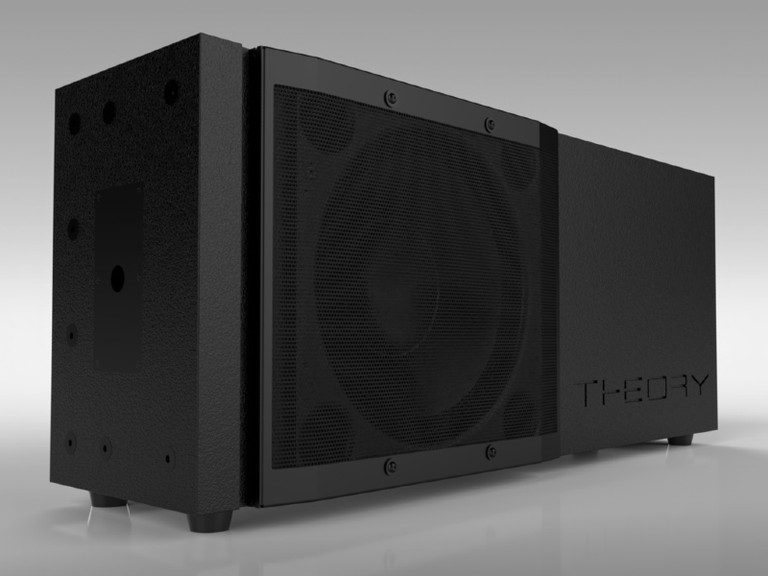 According to Theory Audio Design, the iws12-6 and iws12-9 subwoofers deliver "deep, visceral bass that belies intuition, extending deeper and with more authority than seems possible from their ultra-compact enclosures." In addition to playing loud and digging down low (-3dB at 24Hz), the subs promise "tight, tuneful expression." The iws12-6 is designed to be installed flush into 2x6 stud walls. It can also be installed as an on-wall, and is just 5.5 inches deep. But at 14 inches wide and five feet tall, the iws12-6 does require a fair amount of real estate as an on-wall. When installed in a wall, only the (optional) low-profile and paintable perforated grille needs to be visible. The iws12-9 is a very different shape, at 34-inches wide, 14-inches high, and only 9-inches deep. With its optional smart yoke bracket, it can be wall-mounted, ceiling-mounted, or flown (suspended from the ceiling via a special rig). In circumstances where floor space is available and installation simplicity is the goal, the iws12-9 can simply be placed on the floor, using the included feet. The specs are the same for both the iws12-6 and iws12-9 — the two subs only differ in their form-factors and intended installation types. Both promise up to 124 dB of output (measured at 1 meter), with a frequency response of 24Hz – 125Hz ±3dB. Usable bass extension digs down to 18Hz (-10dB). The subs offer impressively high sensitivity at 95.5dB, and 700 watts of power handling. But Theory customers needn't worry much about these specs, since the subs will undoubtedly be used as part of a complete Theory-branded system, in which all guesswork has been removed.
The iws12 subwoofer driver is no consumer or car-stereo woofer with an oversized surround stuffed in a sealed box proportioned to fit in a wall. The driver at the core of the iws12 models is a professional-duty, high-efficiency, 1,400W (700W AES) twelve-inch woofer with massive four-inch voice coil. The driver was developed specifically for architectural applications and placed in an optimally-tuned bass reflex enclosure. The iws12's power-handling, output, visceral impact, and tonality are unmatched by consumer-grade subwoofers.
— Paul Hales
Both models are available now for pre-order and will begin shipping later this fall.
More information: Theory Audio Design

Unless otherwise indicated, this is a preview article for the featured product. A formal review may or may not follow in the future.