In-Wall Subwoofer Options for Deep Bass Without the Big Box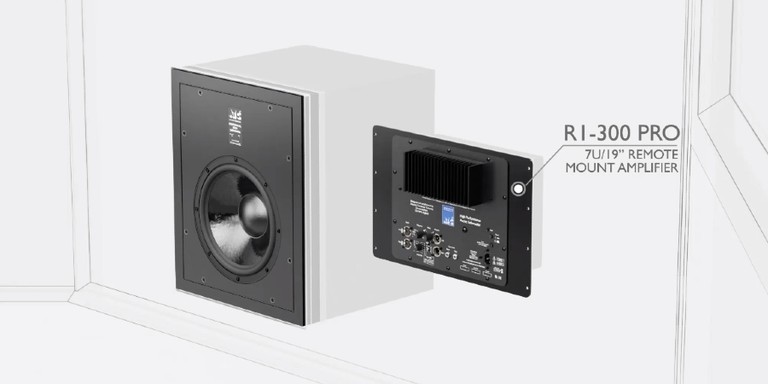 NEW In-Wall Subwoofers
Summary
Product Name:

ATC SCS70iW Pro, SVS In-Wall 3000 Subwoofer, KEF Ci250RRb-THX

Manufacturer:

ATC, SVS, KEF

Review Date:

January 17, 2023 00:15

MSRP: $1,500 - KEF Ci250RRb-THX,$1,300 - $2,000 - SVS In-Wall 3000 Subwoofer, ATC SCS70iW Pro - Price TBD
First Impression:

Gotta Have It!
Executive Overview
In-wall subwoofers have been around since the 1980s, but they haven't always been worth getting excited about. For a long time, they were seen as a necessary but ultimately unsatisfying compromise. A typical customer might say something like, "This isn't great, but it's better than nothing." To be fair, however, in-wall subs are tough to pull off. There's a reason why the best subs usually come in large boxes. Some manufacturers just avoid the category altogether. For example, Goldenear Technology offers some superb in-wall and in-ceiling speakers, especially considering their relatively reasonable prices. But if you've ever attended one of the company's impressive in-wall demos at CEDIA, for example, you'll have noticed that there's always at least one ordinary box-style subwoofer off in a corner. That's because Goldenear has never offered an in-wall sub, despite the great success of its other custom-install products. Luckily, other manufacturers have begun taking in-wall subs more seriously in recent years, and this is great news for those bass-heads who aren't able to put refrigerator-sized subwoofers in their rooms. There are, of course, a few reasons why someone might consider going for stealthy subwoofers. The most obvious concern is aesthetics. If you're putting together a dedicated cinema-style home theater, you might be aiming for a clean design, fit for a feature in Architectural Digest. Or if you're installing a system in a living room or bedroom, you (or your spouse) might put as much value on style as on audio performance. Chief Audioholic Gene DellaSala is clearly no stranger to large speakers and subs, but he chose a pair of JL Audio Fathom ICS-SYS-208 8-inch in-ceiling subs for the primary bedroom in the Audioholics Smart Home. In his words, "They rock!" JL Audio also makes some excellent in-wall subs, but the mention of in-ceiling subs leads me to another big reason why it might make sense to go with stealth subs over in-room boxes. Proper placement of subs is critical for getting the best sound, and sometimes the ideal location(s) might be impractical for placing a large box in your room. Maybe that perfect spot is in the middle of a walkway, or maybe it's already taken up by seating or other furniture. If there's some reason why you can't place a box sub where it works best sonically, in-ceiling subs in particular can be a great solution. They provide essentially the same loading as putting the sub on the floor, and you can put them practically anywhere in the room. With all of this in mind, I put together a short list of three new subwoofers that might be of interest to folks who think bass should be heard (and felt!) rather than seen. 
Invisible Klipsch 5.1.2 Dolby Atmos System Blends Room Decor w Great Sound
ATC SCS70iW Pro (Price TBD)
ATC got its start in the 1970s making professional studio monitors, and the company still makes gear found in some of the world's best pro audio facilities. Although the British manufacturer now also makes speakers and electronics for the home audio market, the new SCS70iW Pro is really intended for studio use. But that doesn't mean that it wouldn't make a killer home theater sub, especially when you consider that it's destined to be used for mixing and mastering immersive audio formats such as Dolby Atmos. The SCS70iW Pro is an in-wall active subwoofer with an included outboard amplifier and a custom-built 12-inch driver. At almost 20 inches deep, this is obviously not a drop-in solution for an existing home theater, but if you're in the fortunate position to be designing a home theater from scratch in a relatively large space, the new ATC has a lot to offer. The 12-inch driver was designed in-house, and features a 30mm magnetic gap, 50 percent longer than any other offered by ATC. The sub's long-gap and short-coil configuration is the ultimate implementation of a long-standing ATC design feature, and promises to both minimize distortion and deliver the high linear excursion required to produce accurate and dynamic reproduction of the lowest four octaves of the audio band. The long-gap/short-coil configuration also ensures that the voice coil is always surrounded by the steel motor structure. This reportedly maximizes cooling, reduces power compression, and improves reliability. According to ATC R&D Manager Richard Newman, "Generating a high level of magnetic flux over such a long gap required extensive FEA computer modeling, and the resultant 6-inch N48M Neodymium magnet is the most powerful ever assembled by ATC and a first for the company." A large, flared vent running through the middle of the motor structure minimizes turbulent air noise within the driver and increases voice coil and motor cooling. Like the impressive REL HT/1510 Predator recently reviewed by James Larson, the ATC SCS70iW Pro eschews DSP and electronic equalization, relying instead on transducer engineering and a relatively large cabinet. The result should be a reduction in phase shift and group delay. ATC says this leads to "a more balanced and coherent experience for the listener, extending the low-frequency response without masking details or changing the tonal character in the upper bass/lower mid-range." The sub is powered by an outboard 300-watt class AB amplifier that has been optimized to the requirements of the driver. Dual balanced inputs and outputs provide connectivity for both stereo and multi-channel audio systems, and allow for daisy-chaining multiple subs. The amp plate can be installed in-wall near the subwoofer, or in a separate equipment rack. Both the sub and the amp are hand-built in England, and covered by a 6-year warranty. When the subwoofer was first announced last summer, ATC's American distributer had this to say:
Billy and his team have meticulously engineered this sub from the ground up, including a brand-new driver with a neodymium motor and matched amplifier to give the active ATC SCS70 the same kind of brutal honesty in the sub frequencies that ATC is so famous for in the midrange.
— Brad Lunde, founder and president of TransAudio Group
Lunde is referring to Billy Woodman, who founded ATC in 1974. Just a few days after the SCS70iW Pro was announced in July of 2022, Billy Woodman passed away at the age of 76. The new sub was one of the last products he worked on. His son Will Woodman is now Managing Director of the company. Lunde told me via email that the SCS70iW Pro will be available in the US early next year. Price is TBD, but I expect it to be in the $5K range.
SVS In-Wall 3000 Subwoofer ($1,300 - $2,000)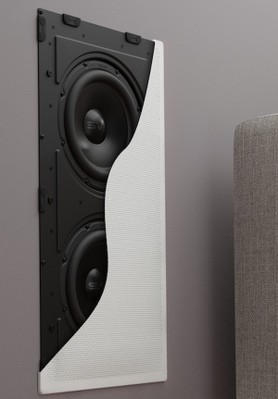 Although the SVS In-Wall 3000 Subwoofer was announced at CES in early 2022, it drew major attention more recently at CEDIA, thanks to an active demonstration that impressed attendees despite the noisy environs. The In-Wall 3000 Subwoofer is the first-ever "architectural series" sub from SVS, though I expect the company will be expanding its in-wall offerings with additional speakers sooner rather than later. Like the aforementioned ATC sub, the SVS In-Wall 3000 is a two-piece system, comprising an in-wall subwoofer with dual 9-inch drivers and a separate rack-mountable amplifier unit with built-in DSP and crossover controls. The settings for volume level, crossover frequency, and many other adjustments can be controlled by the full-featured SVS app when the unit itself is out of reach. The amp is conservatively rated at 800 watts RMS, with a peak power of 2,500 watts, according to SVS. The amplifier platform combines Class D efficiency with the high-current output of discrete MOSFETs, all controlled by an Analog Devices DSP. According to SVS, the amp has no trouble sustaining high-current output without clipping or bottoming out, so even difficult low-frequency playback sounds effortless. SVS says that the In-Wall 3000's amplifier is not only powerful, but also unusually versatile. It can deliver all 800 watts to a single in-wall sub with its dual 9-inch drivers, or it can be configured to split that power between a pair of in-wall subs, delivering 400 watts to each. We always recommend using multiple subs to get the most even bass response across a wider listening area, and SVS's flexible amplifier makes doing so easier and less expensive. A single In-Wall 3000 with the included amplifier is priced at $1,300 and that certainly seems like a fair price, but $2,000 will get you a pair of the subs plus the amplifier. That means you can get two amps and four in-wall subwoofers for less than you'd spend on a pair of the company's popular SB16-Ultra or PB-4000 subwoofers. Sure, those big-box subs might offer more output in the very lowest frequencies, but they're also visually obtrusive and very heavy. And if you're more concerned about even bass response than infrasonic rumble, a quad-pack of In-Wall 3000 subs might be the smarter choice, as well as the more style-friendly one.
The SVS 3000 In-Wall subwoofer has been in development for quite some time… because SVS engineers were never content with anything less than reference performance for this important category. An architectural subwoofer that delivers truly breathtaking output with astonishing depth and accuracy, plus sophisticated tuning and control is a first. No more compromises for clients who want reference quality bass without taking up floorspace. Plus, it's easy to install in any room and provides unmatched versatility.
— Gary Yacoubian, SVS President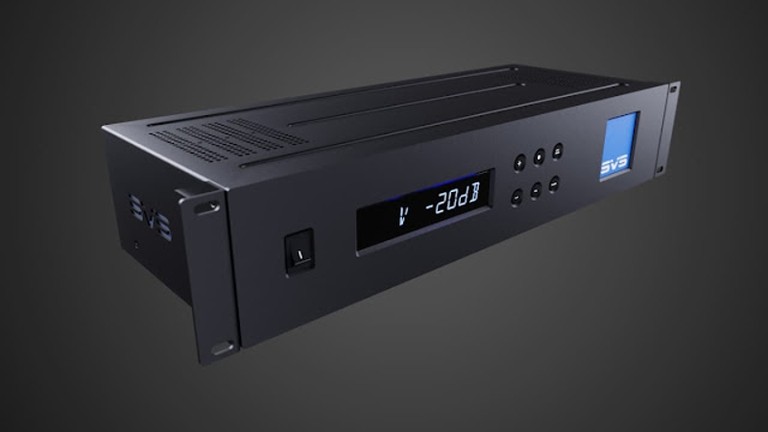 The In-Wall 3000 Sub's dual 9-inch woofers are housed in a sealed aluminum and MDF enclosure that fits into a standard stud bay, making it an easy choice for both retrofit installations and new-construction home theaters. SVS says that the enclosure is virtually resonance-free, ensuring clean low-frequency output with low distortion. The sealed box features dog-leg clamps for fast and easy installation, and also has screw holes for direct mounting to a stud. A user template is provided for making a precise cutout of the mounting hole in existing drywall, while an optional pre-construction kit takes the guesswork out of installations in new construction. The SVS In-Wall 3000 will be available to order early next year, and should begin shipping during Q1 of 2023.  
KEF Ci250RRb-THX ($1,499.99)
The KEF Ci250RRb-THX is billed by the British company as "The Extreme Architectural Subwoofer." This in-ceiling sub is "engineered to deliver incredibly accurate and powerful bass… (with) exceptional depth, with the accuracy needed for an epic music, movie, or gaming experience," according to KEF. The Ci250RRb-THX features an extra-long-throw 10-inch bass driver with a massive 150-oz magnet, promising both tremendous power and the ability to reproduce fine detail. Thanks to that enormous magnet and custom-designed motor system, the Ci250RRb-THX digs all the way down to 20 Hz (-6dB) and has a maximum SPL of 109dB. As its name would suggest, the Ci250RRb-THX is certified THX Ultra. But to meet this certification, the user must install a 4-pack of the subs. And since the Ci250RRb-THX is a passive design, a separate amplifier is required. KEF recommends its own KASA500 ($1,100), a powerful, DSP-controlled Class-D dual 250-watt amplifier. A single KASA500 can power four Ci250RRb-THX subs, with the whole system meeting the THX Ultra standard. When the amp is used to power just 2 of the subs, the performance meets the THX Select standard. The KASA500 offers both line-level and speaker-level inputs with optional high pass filters for installations where bass management isn't being handled by a preamp/processor. Perhaps the most impressive thing about the Ci250RRb-THX is just how small and visually inconspicuous it is. In-ceiling subs don't have to be quite as shallow as their in-wall counterparts in order to be retrofitted into existing spaces, but the Ci250RRb-THX is still just 6 inches deep. What's more surprising is that the sub's circular footprint is only about 13.5 inches, and the hole you need to cut in your ceiling to accommodate one is just 11.8 inches in diameter. Furthermore, the sub features what KEF calls a paintable UTB (Ultra-Thin Bezel), which essentially means that the rim around the speaker is as slim as possible and casts virtually no shadow. The magnetic grille is also paintable. The Ci250RRb-THX is even IP64 certified, meaning it can withstand occasional splashes and resists the ingress of dust. Looking for the perfect in-ceiling subwoofer for your pool house? Neither am I, but KEF has you covered just in case. The Ci250RRb-THX was only just announced at the end of September 2022, and is currently on backorder on KEF's US website. However, it appears to be available to order from Best Buy, of all places.
What We Think...

These are hardly the only in-wall and in-ceiling subwoofers worth your consideration. They are simply new offerings, from trusted brands, that caught my attention over the last few months. As I mentioned at the start, JL Audio's in-wall and in-ceiling subs are fantastic. And our friends at Audio Advice also carry in-wall subs from JBL Synthesis and Revel, both of which should offer impressive performance. Perlisten Audio CEO Dan Roemer recently mentioned that his company is working on in-wall subs, and you can pretty much bet that they will be outrageously good, if relatively expensive. Do you have experience with in-wall subwoofers? Would you rather hide your bass power, or put it on display for all to see? Share your thoughts in the related forum thread below.
Unless otherwise indicated, this is a preview article for the featured product. A formal review may or may not follow in the future.
gene posts on January 17, 2023 01:40
In-wall subwoofers have traditionally been thought of as sonically compromised. But in recent years, manufacturers have started taking in-wall subs more seriously. While big-box subs still offer the most room-shaking low frequencies, some of the best in-wall and in-ceiling subs have taken the art of invisible bass to new heights — or new lows. Here we look at 3 new in-wall and in-ceiling subs that look promising for different types of installations.
59660
Read:
3 New In-Wall / In-Ceiling Subwoofers for Great Bass and No Box
Post Reply
Confused about what AV Gear to buy or how to set it up? Join our Exclusive Audioholics E-Book Membership Program!