Perlisten's Game-Changing, THX Dominus In-Ceiling Speakers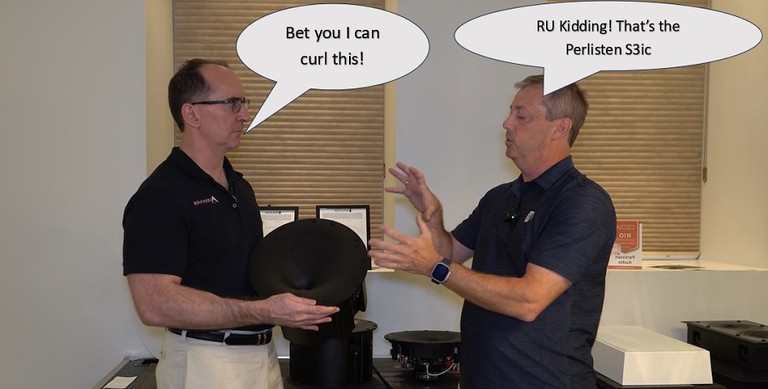 Perlisten THX In-Ceiling Speakers
Summary
NEW Perlisten Subwoofers & Speakers | BIG 18" Sub, Best Atmos Speakers?!?
S3ic
Frequency Response: 57 - 30kHz (-6dB)
Typical In-Room Bass Extension: 48Hz (-6dB)
Response Linearity: 100 Hz - 20 kHz (± 1.5 dB)
Sensitivity: 89.7dB / 2.83v / 1.0m
Impedance: 4 Ω nominal / 3.2 Ω min
R3ic
Frequency Response 59 - 30kHz (-6dB)
Typical In-Room Bass Extension 51 Hz (-6dB)
Response Linearity 100 Hz - 20 kHz (± 1.5 dB)
Sensitivity 88.8dB / 2.83v / 1.0m
Impedance 4Ω nominal / 3.0Ω min
R2ic
Frequency Response 44 - 27kHz (-6dB)
Typical In-Room Bass Extension 32 Hz (-6dB)
Response Linearity 100 Hz - 10 kHz (± 1.5 dB)
Sensitivity 86.0dB / 2.83v/1.0m
Impedance 6Ω nominal / 3.6Ω min
There seems to be no stopping Perlisten. The relatively new company launched its first products just three years ago, but has already accumulated more awards and accolades than many more established brands. As I began work on this article, it was announced that Perlisten had earned two more prestigious awards from EISA, the Expert Imaging and Sound Association. Last time around, the brand's S-Series loudspeakers and D215s subwoofer won coveted awards from this illustrious group, comprising reviewers and journalists from 22 countries. Now for the 2023/2024 period, Perlisten's R7t has been recognized as the top Premium Floor Standing Loudspeaker, and the Perlisten D212s has won the EISA award for best Home Theatre Subwoofer. Having launched a comprehensive offering of in-wall speakers at CEDIA 2022, Perlisten is back this year with the next piece of the puzzle: the world's first THX Certified Dominus in-ceiling speakers. In true Perlisten fashion, the launch includes not one, but three all-new models, which the company calls "perfect… for any advanced home theater installation featuring Dolby Atmos, DTS-X, and/or AURO-3D audio formats." As with the in-wall speakers, the in-ceiling speakers are expansions of Perlisten's S-Series and R-Series, and feature proprietary technologies as seen throughout those existing product lines. The result is "true timbre matching," according to the company — something you can't always count on when using a mix of in-room, in-wall, and in-ceiling speakers. These new in-ceiling speakers were reportedly engineered utilizing advanced Comsol acoustical modeling, and Perlisten calls them "some of the most technologically advanced in-ceiling loudspeakers available," all tested to the highest standards, following the company's strict engineering principles. They are certainly unlike anything we've seen before from an in-ceiling design.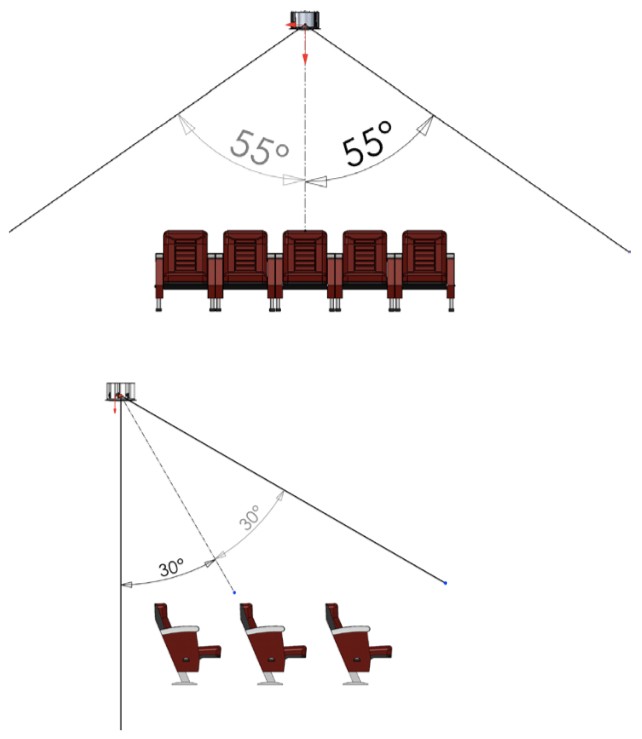 For users of Perlisten's S-Series, the new S3ic ($3,495 each) is the flagship offering. The R3ic ($2,195 each) promises similarly incredible performance for R-Series users. Both the S3ic and R3ic are three-way designs, and both are THX Certified Dominus Surround, Ultra LCR. The two-way R2ic ($1,295 each) is THX Certified Ultra Surround. The S3ic and R3ic measure 13.5 inches in diameter, with a depth of 7.7 inches. Both are housed in sealed aluminum enclosures, and feature newly-developed, proprietary waveguides to control directivity and ensure a consistent frequency response over a broad range of listening positions. The R2ic is an infinite baffle design, with a rear enclosure available as an option. Perlisten's insistence on keeping frequency response consistent over a larger listening area led to the development of a next-generation patent-pending Directivity Pattern Control (DPC) waveguide, with a reference axis at 30 degrees and a broader listening window of +/- 30 Vertical and +/- 55 Horizontal degrees. This allows the company's new in-ceiling speakers to deliver unprecedented performance while increasing placement flexibility. Perlisten says the design allows for ideal coverage for most listening spaces — something ordinary in-ceiling speakers simply can't offer. The new waveguide DPC array promises "amazing accuracy, smoothness, and directivity control to handle the critical vocal range and delicate treble," according to Perlisten. The speakers are optimized for in-ceiling applications where a 30-degree reference axis is desired, but they provide an unusually large listening window in the direction towards the listening space. This design makes these speakers extremely versatile — Perlisten says they can even be used as L,C,R, and surround channels in addition to height channels and wide channels. (Using in-ceiling speakers for bed-layer channels is not ideal and should generally be discouraged, but when that's necessary, these speakers promise to perform better than most.) Needless to say, all of the transducers were developed from the ground up by Perlisten's world-class engineering team.
With the introduction of our new in-ceiling products, this truly makes us a 'complete partner' to the custom integration channel. Our offering is nearly as complete as possible and again we are taking the lead presenting something extraordinary with our new flagship in-ceiling model S3ic. It marks the first time a manufacturer is able to achieve THX Certified Dominus in an in-ceiling model, especially one designed for the largest private theaters of up to 6,500 cubic feet (184 cubic meters).
— Dan Roemer, Chief Executive Officer, Perlisten Audio
Perlisten S3ic ($3,495 each)
The flagship S3ic is a three-way acoustic suspension design. The new DPC array designed for this speaker includes a 1.1-inch Beryllium dome tweeter and a 1.1-inch Textreme TPCD (thin-ply carbon diaphragm) ultra-lightweight dome midrange driver, helping it to match the timbre of other S-Series speakers. The woofer is a 6.5-inch Textreme TPCD cone with an aluminum frame. (If you need a refresher on TPCD, it's a broad weave of carbon fibers that has the strength of metal diaphragms but without the total material uniformity at every point in the construction. This is an advantage in that it doesn't bend as sharply at higher frequencies.) Below are some key specs for the S3ic.
Frequency Response: 57 - 30kHz (-6dB)
Typical In-Room Bass Extension: 48Hz (-6dB)
Response Linearity: 100 Hz - 20 kHz (± 1.5 dB)
Sensitivity: 89.7dB / 2.83v / 1.0m
Impedance: 4 Ω nominal / 3.2 Ω min
Perlisten R3ic ($2,195 each)
The R3ic a 3-way acoustic suspension design similar to the S3ic, but using R-Series driver materials, which sound slightly different and are somewhat less expensive. The new DPC array in the R3ic includes a 1.1-inch silk dome tweeter and a 1.1-inch silk dome midrange driver. The 6.5-inch woofer has an aluminum frame and a cone made of HPF pulp. (HPF stands for Hybrid Pulp Formulation. This is a mixture of long and short fibers as well as bamboo, for a stiffener, and wool, for damping. HPF is a light and stiff cone composition that can hold a response out to a very high frequency.) The specs for the R3ic are as follows:
Frequency Response 59 - 30kHz (-6dB)
Typical In-Room Bass Extension 51 Hz (-6dB)
Response Linearity 100 Hz - 20 kHz (± 1.5 dB)
Sensitivity 88.8dB / 2.83v / 1.0m
Impedance 4Ω nominal / 3.0Ω min
Perlisten R2ic ($1,295 each)
Finally, the R2ic is a simplified, two-way infinite baffle version of the R3ic. An optional rear enclosure is available. The DPC Array is centered by Perlisten's 1.1-inch silk dome tweeter. Here again, the woofer is a 6.5-inch HPF pulp cone with an aluminum frame.
Frequency Response 44 - 27kHz (-6dB)
Typical In-Room Bass Extension 32 Hz (-6dB)
Response Linearity 100 Hz - 10 kHz (± 1.5 dB)
Sensitivity 86.0dB / 2.83v/1.0m
Impedance 6Ω nominal / 3.6Ω min
Discussion with Perlisten CTO Erik Wiederholtz
I had the opportunity to learn about these new in-ceiling speakers directly from Erik Wiederholtz, who became Perlisten's Chief Technical Officer in the spring of 2022. He has a fascinating background in audio. Before joining the Perlisten team, Wiederholtz worked for 11 years at Knowles Corporation, a company that manufactures micro-acoustic transducers for hearing aids and many of the world's best in-ear monitors. Previously, he worked as a loudspeaker product manager at Russound, a company that focuses on distributed audio and in-wall/in-ceiling speakers. He has also worked as an acoustical engineer for Altec Lansing and Mitek Corporation. During our conversation, I learned that Erik also served as a contributor of CEDIA RP22.
Side Note about CEDIA RP22:
CEDIA and the Consumer Technology Association (CTA) teamed up to form R10, a cross-industry group,  tasked with creating standards and recommended practices for the installation and integration of technology into primarily residential environments. The group has no commercial or licensing ties, and all participants are volunteers. R10 consists of more than 130 volunteer integrators, manufacturers, protocol suppliers, content creators, and members of other associations, including The Society of Motion Picture and Television Engineers. Within the R10 group, there are sub-groups for RP (Recommended Practice) in different areas. RP22 is the recommended practice for the design of immersive audio within private entertainment spaces. The group set out to create a comprehensive update of the CTA/CEDIA CEB22 Recommended Practice from 2009. RP22 discusses and defines objective performance targets for both audio systems and room design.
I asked Erik Wiederholtz about the development process behind the new in-ceiling speakers. Naturally, the company wanted in-ceiling speakers to build out its lineup, so that installers could offer customers a complete Perlisten speaker package with coherent sound and superb performance. But Perlisten also saw an opportunity to create something unique within the in-ceiling loudspeaker market. "People have the mindset that an in-ceiling is just an in-ceiling, and that's good enough," Wiederholtz said. "And it's not." As I understood it, the biggest problem with most in-ceiling speakers is that they simply don't offer an ideal frequency response in the listening position. And those that manage a decent frequency response in one seat might sound abysmal just a few seats away in any direction. "You could take Typical in-ceilings in the marketplace, and they may sound great and maybe have some great drivers in them, but the response is not even remotely close to being anything that we would call ideal," said Wiederholtz. "We could just throw a coaxial in there, and it would have been a hot mess. There's no way we could have achieved a response and an integration and power response… all those metrics would have just been thrown out the door. We view that as not good enough," he said.
Jacob Green (Audioholics):  What were Perlisten's goals in creating its own in-ceiling speakers?
Eric Wiederholtz (Perlisten):  It was really about having a great frequency response that's still withheld to all of our standards: having a flat frequency response, still great off-axis power response, but also directing the sound properly to get more coverage over more seats. 
Sounds simple enough, but getting there wasn't easy. Wiederholtz explained some of the valuable insights he learned from his involvement with RP22. In order to achieve the highest level of audio performance as defined by the CEDIA standard, excellent frequency response in the main listening position isn't good enough. It's all about how even the response is throughout the entire listening area, creating a truly cinematic effect for every seat.
(Regarding) immersiveness and imaging, on that same RP22 standards group there were guys from Dolby and Lucasfilm — people who are on the recording side, who may not know that much about loudspeaker design. It was really interesting to understand how they truly mix, and how they design channels, and where that information comes from, and how it should sound to be cohesive. So that was really important. And again, frequency response is a really key metric. …An in-ceiling is a really difficult situation… it wasn't an easy project. It's not easy to get a great response in that situation, in that application. But if you spend some time doing it, you can do it. And I think that's really what we set out to do, and achieved.
The Cure for the Common In-Ceiling Speaker?

One thing I often hear repeated about in-ceiling speakers is that they're a sonic compromise compared to on-ceiling speakers. After all, big cinemas have speakers mounted to the ceiling — not installed inside the ceiling. And most recording/mixing studios use active monitors for all channels, so if you look up, you'll see box speakers with built-in amplification mounted to the ceiling for the height channels. In-ceiling speakers certainly offer an aesthetic advantage over on-ceiling speakers, but what are the advantages and disadvantages when it comes to sound? According to Erik, in-ceiling speakers actually offer significant sonic advantages over on-ceilings. "Having a flat surface, i.e. an in-ceiling, is ideally the best acoustic situation you can ever have," he explained. When the speakers are truly flush with the ceiling, "there's no diffraction; there's no reflections back off the wall/ceiling." On-ceiling speakers can't avoid reflections off the ceiling. "Once (sounds) are reflected, they're out of phase with the direct wave coming out of the speaker," he said. With in-ceiling speakers, "you solve all those problems," he said. "An on-wall (or on-ceiling) will always have that problem… there's always going to be some comb-filtering effects. That's the biggest problem you're actually solving with an in-ceiling speaker."
While having the ceiling act as a flat baffle helps an in-ceiling speaker achieve an ideal frequency response, having the speaker inside the ceiling has potential disadvantages when it comes to the possibility of leaking sound into neighboring spaces. That's one reason why the S3ic and R3ic have such over-engineered back enclosures. 
Here's what Erik had to say on the subject:
The S3ic and R3ic have a back box — it's four millimeters thick. And it's bituminously damped. It's got damping so it doesn't vibrate. The shape is uniquely strong because it is round, and an extruded aluminum piece. There's a lot of advantages of not sending sound into other environments. Upstairs could be a bedroom, a living room, a neighbor's apartment. It could be whatever.
 --Erik Wiederholtz, Chief Technical Officer, Perlisten Audio
The back enclosure not only helps reduce sound leakage into neighboring environments, it also helps ensure predictable frequency response regardless of the (often varying) space and materials located behind the speakers inside the ceiling. And of course, it also makes the whole structure of the loudspeaker itself more stable. The R2ic doesn't have a back box as standard, and that allows it to be installed in ceilings with shallower depths, and/or in situations where sound isolation isn't as important as total cost.
By far the coolest thing about Perlisten's in-ceiling speakers is the next-generation Directivity Pattern Control (DPC) waveguide, which is what enables these speakers to achieve such extraordinary performance both in terms of frequency response, and in terms of providing a broader listening area.
We designed the whole front baffle as a waveguide, so it's truly integrated. A lot of the stuff I learned when I was designing hearing aids about acoustic impedance (came into play). And a lot of characteristics about having the woofer… hidden behind a grille. Actually, the midrange driver is also hidden behind a grille. And those grille designs are all acoustically impedance-matched. So the tweeter doesn't 'see' the environment that it's in. Normally, let's say you took the grille off the woofer. There's a giant chamber behind there, and if we took that grille off, the tweeter would 'see' it, and it would cause diffraction, and it would make the frequency response more jagged because we'd have cancellation and summation at certain frequencies. (We designed) the grille on there with an acoustic impedance — because it's got thickness and depth. The woofer actually sees it as low impedance, so it has perfect transmission out of that cavity. And the tweeter, from the other direction, sees it as a high impedance, and it just looks like a smooth waveguide surface to the tweeter. And it's the same with the grille on the 28mm midrange driver as well. That grille is specifically designed for its high impedance for the main tweeter. It looks like a perfectly smooth waveguide to the tweeter. But the midrange driver sees it as a very low impedance, and it's got perfect acoustic transmission in the band that we need. So those are some really intelligent things that we put in to help the tweeter benefit as much as possible, to make sure it has a smooth response. Like I said, in-ceilings are a difficult situation and so it took a lot of development and time to make sure we got the best response we could.
— Erik Wiederholtz -Chief Technical Officer, Perlisten Audio
Jacob Green (Audioholics):  What is the importance of THX Dominus certification for an in-ceiling speaker?
The SPL output capabilities aren't always needed, but again it's really about overhead. It's the ability to maybe be used in larger systems in larger rooms as well, but it's also about having that clean, clear dynamic range. When you reach a peak and it's low distortion, there's something more that's really added to the system, and that's really critical. Many listeners have never heard a complete system with such low distortion, and when you do for the first time, it really transforms your experience.
Conclusion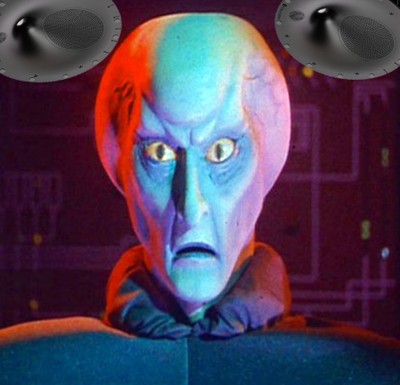 I first heard about these speakers from Chief Audioholic Gene DellaSala, who got a sneak peak from Erik Wiederholtz at Audio Advice Live 2023. After learning about Perlisten's "Top-Secret alien technology that may revolutionize your Dolby Atmos listening experience," Gene asked me to follow up and write about what he described as "radically new" in-ceiling speakers. "This is unlike anything we've seen for Atmos speakers," Gene said. I'm glad I had the chance to do a deep dive, because after speaking with Erik, I think it's clear that Perlisten is pushing the boundaries of what can be achieved by an in-ceiling speaker. Doing a formal review of in-ceiling speakers comes with obvious challenges, but I hope we'll see and hear more about these speakers in the future. All that remains is to wait with anticipation for Perlisten to announce its forthcoming in-wall subwoofers, which will complete the lineup for a fully stealth Perlisten home theater. I'm told that such an announcement is imminent, and might even arrive in early 2024. Stay tuned.

Unless otherwise indicated, this is a preview article for the featured product. A formal review may or may not follow in the future.