Wii to get Rock Band – Finally!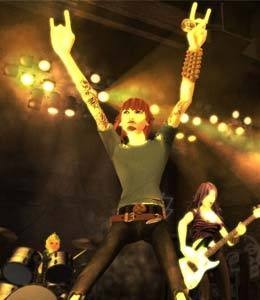 It's finally safe to use the title of that old Queen song in a video game news headline because - Wii will soon Rock You! After months of denial game developers Harmonix and EA have finally announced a release date for Rock Band on Wii.
It was only in January that a Rock Band microphone hit the market that stirred speculation that a Wii version of the game was coming soon. The list of consoles the mic was compatible with included the PS2, PS3 and Xbox 360 which all have versions of the hit game Rock Band. But the product also listed Wii.
EA quickly denied any rumors saying there is no forthcoming Wii version of Rock Band, for now. But the largest games company in the known universe has posted a press release announcing the game will hit US and Canada on June 22, 2008.
It's the game that lets up to four players perform in a virtual band. Using plastic peripheral instruments gamers simulate playing in a rock band. Think - an addictive version of karaoke taken to the next level.
Rock Band for Wii will be sold as a bundle for $169 that will include the software, drums, microphone and a wireless guitar. But you'll also be able to buy individual instruments at launch time, just in case you want to build your Rock Band one musician at a time.
Wii Rock Bands will get 63 songs and that will include four exclusive bonus tracks specifically for Wii.
Rock Band for Wii is a just a no-brainer. One of the hottest video games to unite hardcore gamers with a new breed of casual gamers will finally come home to the console that did the same thing.
See also:
Recent Forum Posts:
WndrBr3d posts on March 26, 2008 19:07
He was just THAT excited
Wayde Robson posts on March 26, 2008 18:47
typeo of the month I think… I meant the headline to read…

Wii to get Rock Band - Finally!
Post Reply