Wii Are the Champions My Friends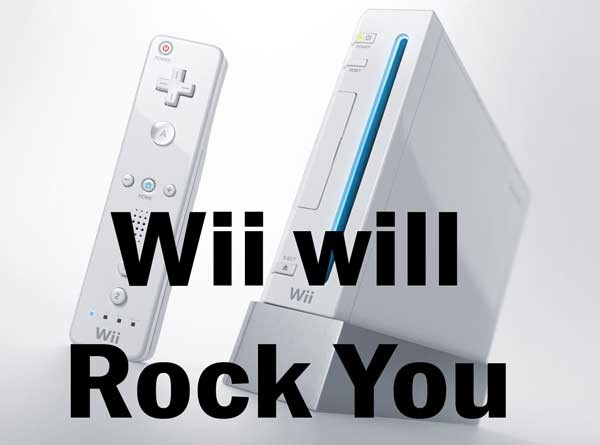 Wii will Rock You
Nintendo's Wii outsold Sony's PlayStation 3 again at a nearly 4-to-1 margin in Japan this month according to Enterbrain, a Japanese game magazine publisher. The Wii sold 331,627 units during February 2008, compared with 89,131 units of the PS3 (Microsoft's Xbox 360 sold just 14,000 units). Those who stated that the Wii might be ready to wane as new titles flooded the market for Playstation 3 and Xbox 360 may have to revise their thinking.
Now, one month does not a trend make, however this is certainly not the first time the Wii console has shown up it's Japanese rival in the console battle for supremacy. Domestically-speaking, the Wii holds the crown in recent 2007 sales, but not by so high a ratio. Also if you factor in the overall sales, the jump-start Xbox 360 had, while facing massive erosion is still keeping them as the leader in terms of highest "current-gen" console penetration:
Video Game Console Sales 2007
Nintendo DS - 8.5 million

Wii - 6.3 million
Xbox 360 - 4.6 million
PlayStation 2 - 4 million
PSP - 3.8 million
PlayStation 3 - 2.6 million
Game Boy Advance - 1.1 million
All-time Video Game Console Sale Stats
PlayStation 2 - 41.1 million
Game Boy Advance - 36.2 million
Nintendo DS - 17.6 million
PSP - 10.5 million
Xbox 360 - 9.1 million
Wii - 7.4 million (closing the gap quickly)
PlayStation 3 - 3.2 million (struggling to keep up)

Currently, the Wii's lead on the PS3 (in Asia) appears to be widening since, in January, the game console outsold Sony's by a ratio of almost 3-to-1. In Japan, Nintendo's "Super Smash Bros. Brawl" for the Wii became the best-selling software for the month in Japan, with over 1.3 million units sold. The "Wii Fit" home fitness game came in second, selling more than 300,000 units in the four weeks.
In Japan, the Wii has been consistently winning the console war since its introduction, beating the PS3 and completely slaughtering Microsoft's Xbox 360 in terms of sales. Will the magical motion-based controller lose its mystery and attraction over the next several months? We'll have to see, but so far it seems to be very steady and shows no signs of slowing down.
Nestor posts on March 01, 2008 21:24
Why is the Wii so popular?

My parents are in their 60's, with my mom celebrating her 60th last week. I flew in to see them at my aunt's place.

They brought their Wii for everyone play.

If a pair of seniors can enjoy a gaming console, Nintendo must be doing something right.
MUDSHARK posts on March 01, 2008 18:05
The Tiger Woods Golf game is also terrific.
Jack Hammer posts on March 01, 2008 12:18
I have several friends who purchased the wii system for their kids this Christmas who have been playing it themselves quite a bit lately. I haven't played yet, but I keep hearing how much I'm missing out, especially on the tennis and bowling games.

Jack
MUDSHARK posts on March 01, 2008 11:38
Nothing surprising in those sales reports. The Wii is the much more appropriate gaming system for families.WE have young grandchildren playing it as well as us older types. Xbox is for the on-line gaming crowd and PS#3 for the HD people. I would expect PS2 is still the number 2 system for the masses. Unless one has the lightning reflexes of a 10-14 year old the Wii is the way to go.
ivseenbetter posts on March 01, 2008 10:49
Sarcasm and truth mixed together ever so delicately.
Post Reply