Wii-ercise Debunked Go Get Some Real Exercise!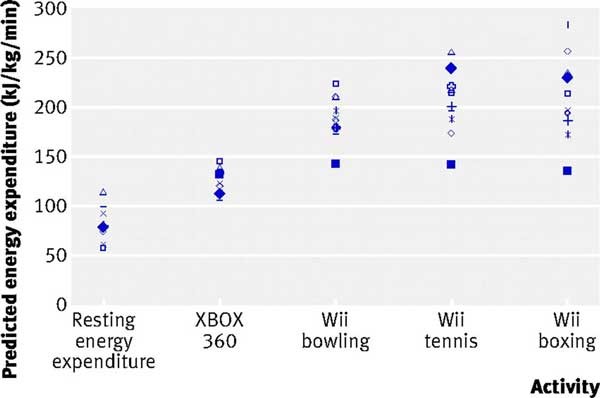 50% more of almost nothing is still almost nothing
British study shows you still have to get off of your fat a** for real exercise.
The popularity of the Wii has been somewhat of a surprise to other players in the gaming industry. The novel motion based control system has been cited as a likely factor in attracting non-gamers to the Wii and current popular opinion is that using the Wii may actually constitute some sort of exercise. But despite the anecdotal aches and pains reported by couch potatoes it is not real exercise according to some real research.
Ars Technica discusses a peer reviewed MedPage Today report concerning a clinical study entitled Comparison of energy expenditure in adolescents when playing new generation and sedentary computer games: cross sectional study, and is being published in the Dec. 22 issue of the British Medical Journal.
The research comes out of the Research Institute for Sport and Exercise Sciences, Liverpool John Moores University, Henry Cotton Campus, Liverpool, England and was authored by Lee Graves, postgraduate research student; Gareth Stratton, Ph.D., professor in paediatric exercise science; N D Ridgers, research fellow; and N T Cable, professor in exercise physiology.
The study, funded by the marketing arm of Nintendo UK, Cake, consisted of eleven test subjects, six boys and five girls aged 13-15 years who were fitted with devices to monitor and predict energy expenditure. The subjects played four video games for 15 minutes each to compare calorie expenditure between a sedentary Xbox 360 game, Project Gotham Racing 3 and three active Wii Sports games: bowling, tennis, and boxing.
For Project Gotham Racing 3 mean energy expenditure: 125.5 kJ/kg/min.
For Wii Sports bowling mean energy expenditure: 190.6 kJ/kg/min.
For Wii Sports boxing mean energy expenditure: 198.1 kJ/kg/min.
For Wii Sports tennis mean energy expenditure: 202.5 kJ/kg/min.
The results showed energy expenditure was at least 65.1 kJ/kg/min (51%) greater when playing active video games than when playing sedentary video games.
On the other hand, 50% more of almost nothing is still almost nothing.
The researchers concluded that Wii sports use far less energy than the actual activities the game simulates. Overall, the Wii makes a negligible contribution to the recommended daily exercise required for children.
Discussion Predicted energy expenditure was at least 51% greater during active gaming than during sedentary gaming. This equates to an increase in energy expenditure of 250 kJ (60 kcal) an hour during active gaming compared with sedentary gaming. In a typical week of computer play for these participants, active gaming rather than passive gaming would increase total energy expenditure by less than 2%; although this figure is trivial it might contribute to weight management. Active gaming used less energy than authentic bowling, tennis, and boxing, and the exercise was not intense enough to contribute towards the recommended amount of daily physical activity for children. Nevertheless, new generation computer games stimulated positive activity behaviours—the children were on their feet and they moved in all directions while performing basic motor control and fundamental movement skills that were not evident during seated gaming. Given the current prevalence of childhood overweight and obesity, such positive behaviours should be encouraged.
British Medical Journal 2007;335:1282-1284 (22 December)
Conclusions Playing new generation active computer games uses significantly more energy than playing sedentary computer games but not as much energy as playing the sport itself. The energy used when playing active Wii Sports games was not of high enough intensity to contribute towards the recommended daily amount of exercise in children.
British Medical Journal 2007;335:1282-1284 (22 December)
So while playing the Wii is healthier than playing the types of sedentary games available on an Xbox 360 or Playstation 3, it is certainly no substitute to the real thing, actual exercise.
But at least playing the Wii may spark interest in sedentary gamers for the real activities that do provide exercise.
Recent Forum Posts:
Matt34 posts on December 22, 2007 00:51
Can't wait for my wife to open "her" Wii. She managed to get Wii Play, Super Mario Galaxy and Lego Star Wars.
gene posts on December 22, 2007 00:37
If you sit on the couch and just use your wrists to do the motions of the game, you wont break a sweat, but if you get up and do real motions of punching, ducking, etc, you will get a good workout. I walked away from boxing a bit winded and tired and I exercise regularly. Wii rocks!
Sheep posts on December 21, 2007 22:14
I agree.. the boxing game really works the shoulder muscles. I'd rather play with my Wii then my SEXBOX.

SheepStar
NeverSeen posts on December 21, 2007 21:52
These guys never played Wii I guess??

EVERY time someone comes over and plays tennis or boxing at my house I notice they are tired, winded, and sweaty. For that to be happening they would need to be burning calories… How is it not exercise?

I'm not talking fat couch potatos. My friends are all active 20 somethings. When my cousins come over the results of the Wii are the same and they are highly active 5-12 year olds.

Sounds like $ony and Micro$oft paid someone off to make up for thier own failures??
Post Reply