TiVo HD XL with 150 Hours of HD Record Time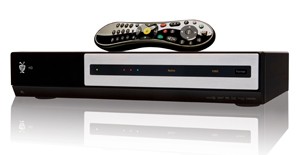 TiVo has just upped the PVR service ante with its new HD XL set-top-box. The new TiVo machine not only carries an improved capacity, enough for 150 hours of HD programming, but it's also THX certified. That means your new TiVo box can carry the same stamp as your new THX certified doors.
You have to love the little PVR company even if it's from a distance as a non-subscriber. TiVo put PVR into our consciousness at a time most electronics companies feared crossing the mighty content providers. But we've rooted for the little company as it struggled through some unprofitable years because let's face it – TiVo is the consumer electronics embodiment of rock and roll! The company has been sticking it to the man by keeping fair use alive and well. 
Besides the capacity tweak and THX certification the HD XL has all those other features that make TiVo a top shelf service – you'll get Season Pass, Universal Swivel, Search, WishList as well as access to online content from YouTube and Rhapsody. The TiVo HD XL is for the discriminating couch potato and there's no need to wait for a far off, soon-to-be-delayed release date… The XL is available now on the company's website for a cool $600.
I have to admit to using a far inferior PVR I bought outright from my my cable provider. I will remain a fan of TiVo from a distance for some time, mainly because I hate the idea of yet another monthly fee. Sure, the services are convenient but I'd rather suffer the inconveniences like having nails pulled from my fingertips than be forced to choke down another monthly bill. I'm the kind of person that would gladly pay one of TiVo's prepaid plans. The company offers an annual ($129), three-year ($299) and a lifetime ($399) plan.
Recent Forum Posts: