TiVo Takes to Court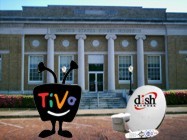 TiVo announced last Thursday that it has won a $73.9 million dollar legal battle with Echo Star. TiVo took its patent infringement case over its PVR technology to a U.S. District Court in Texas. A ten member jury came to a decision in about two hours when they decided EchoStar, parent company to Dish Network, infringed on nine sections of TiVo's patent for Digital Video Recorders (DVR). $73.9 million awarded to TiVo is almost all of the $87 million TiVo sought in lost profit including a reasonable sum for royalties.
The decision marks the end of one phase of what has been years of legal struggle between the two companies. Last year EchoStar filed a counter suit that accuses TiVo of using its technology that was patented between 1998 and 2003.
Echo Star has replied to TiVo's legal victory saying it's confident they'll eventually win appeals as well as its own suit against TiVo. EchoStar made this statement:
"Among other things, we believe the patent - as interpreted in this case - is overly broad given the technology in existence when TiVo filed its patent."
TiVo said its next move would be to seek a permanent injunction against EchoStar Communications Corp's DVR production. If last week's victory continues to hold through EchoStar's appeals TiVo will likely start collecting deals with other communications companies for the use of its intellectual property. Cablevision and Time Warner are prime targets. Both cable companies use set top boxes that include Digital Video Recorders.
DirectTV and Comcast will avoid TiVo's legal sting with licensing deals of their own. In fact the legal victory was announced only one day after news that DirecTV had signed a three year extension with TiVo. TiVo provides the software to DirecTV DVR receivers enabling DirecTV subscribers to use TiVo services. The deal was reportedly off last year as DirecTV found another DVR service but that separation of DirecTV and TiVo has been pushed back at least three years. Comcast struck a deal with TiVo late last year.
TiVo's stock had climbed 18% by Monday morning.
Special Thanks to Gizmo Cafe
Confused about what AV Gear to buy or how to set it up? Join our Exclusive Audioholics E-Book Membership Program!