TiVo Desktop Plus 2.6, Video That's Everywhere You Want to Be!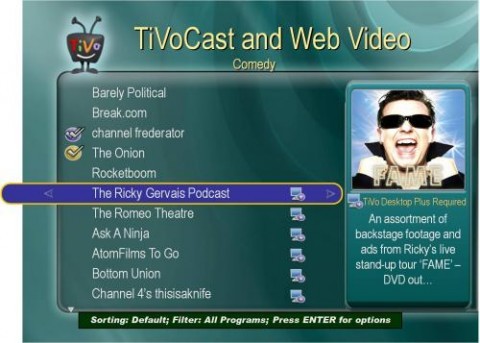 TiVo everywhere, baby!
Already bored with network TV since the writer's strike has ended? Who isn't!
The latest version of TiVo Desktop Plus for your PC is now available for download. Version 2.6 brings the long awaited feature that allows viewing of web-video on your PC through your TiVo on the big screen.
All it takes is the new version 2.6 of TiVo Desktop Plus installed on your PC. Sorry Mac users, the program is available for Windows only. With TiVo attached to your home network, any video on your PC can be viewed over your home entertainment.
TiVo the Web – 2 Easy Steps
1 - Download the video to your PC automatically via RSS subscription.
2 - TiVo's Season Pass feature will monitor the PC's folder that stores the web-video and automatically transfer and transcode the videos to TiVo.
So, if you're looking for a more cerebral viewing experience than VH1's Rock of Love this season – now you subscribe to College Humor Television and enjoy it from the couch instead of your office chair.
Desktop Plus costs $24.95 but it's free to upgrade to version 2.6 if you already have the software. The new version may also be of interest to portable gadget-heads who want to use the TiVo ToGo feature.
Desktop Plus (using the TiVo ToGo feature) will transcode an array of online video formats to MPEG4 or H.264. This allows the video files compatibility to other devices like iPod/iPhone, Sony PlayStation Portable (PSP) or any video-capable cell phone.
Whether kicked back on the couch with a beer in one hand, remote in the other or rubbing elbows in the subway plugged into your earbuds - now you can consume your entertainment wherever and whenever you want.
See also:
Recent Forum Posts:
Clint DeBoer posts on March 22, 2008 19:21
No way - they are CHARGING? Unbelievable. Sometimes I think no one understands how to capture the mass market (or even dramaticaly increase their own). There are tons of companies that break out new features with a niche-market mentality unstead of going for broke.

How many new subscribers would have considered jumping into a TiVo system when the service included remote viewing as a perk?
brikelly posts on March 21, 2008 16:29
Considering how much I pay TiVo every month for service, I wish this was free and not $24.95.

I'm sticking with TiVoDotNet for now…
Post Reply