The Scarlett TV Series Hoax by LG Electronics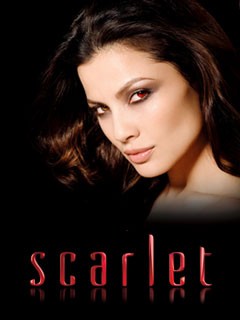 Scarlet - more than meets the eye
Want to market your new flat panel TV? Why not consider creating the concept for a new TV show, getting it placed into the imdb.com, drumming up a full release party with 500 invitees, bring them to a theater for a swanky screening...

And then tell them it's a big hoax. Yeah, that'll sell tons of TVs!

On Monday night, about 500 people planned to gather at the Pacific Design Center in Hollywood for a full-blown release-style screening of Scarlet, a new TV series from director David Nutter that was supposed to star Natassia Malthe.
Except that the premier never happened. In fact, the show never truly existed in the first place (imdb.com has since removed the page).

While it had all the exterior appearances of a new TV show screening, including a red carpet and catering by Wolfgang Puck, the event was actually a massive contrived marketing ploy by LG Electronics. "Scarlet" was not a new TV series, but actually just a new series of LG TVs with a red back panel.
Wow. Those South Koreans really know how to party. The ruse turned out to be part of a $100 million global advertising and marketing campaign for LG Electronics.
Kwan-Sup Lee, vice president of brand marketing at LG Electronics, said the hardest part of the campaign was selling it internally. LG is in many ways a traditional Korean company, he said, and doing something this outrageous "wasn't part of its DNA." The "Scarlet" ads are LG's largest-ever campaign for a single product.

LG's "premiere" topped off a three-month worldwide viral-marketing effort to promote the fake TV show. For the past few weeks, a teaser commercial for Scarlet has been running on TV and online, with no mention of LG. The action-packed trailer features Ms. Malthe, a sexy brunette, in several action scenes, including one in which she crashes through a plate-glass window and uses her karate skills against four masked men. "Things aren't always what they seem," a voice-over chimes in at the end of the teaser.
LG even had Ms. Malthe drum up publicity by attending red-carpet events, including Fashion Week in New York, the Bafta awards in London (the British equivalent of the Oscars), and several film premieres in Los Angeles. A story in the City Times in Kuwait carried the headline: "Sexy Natasha Malthe to star as title role in renowned Hollywood director David Nutter's new project titled: Scarlet." Even IMDb, the Internet movie-database site, included a mention of "Scarlet," a "TV miniseries," under Mr. Nutter's bio.
This may be one of the most successful, though not as highly publicized, practical jokes to hit the marketing scene since Taco Bell "bought" the Liberty Bell in 1996.

Unfortunately, moves like this - which play on public deception - can also backfire. Many people were scrutinizing the trailer and holding discussions online in order to find out what exactly the series was about - and some indeed correctly predicted that the new series was a promotional stunt. Some consumers already are expressing anger. "It's not a TV series, it's a series of TVs. Bite me." writes "joebua" on YouTube.
LG is the third-largest flat-panel maker behind Samsung Electronics and Sony and hasn't spent nearly as much on marketing (about half of Samsung, and over 25% less than Sony). The stunt is designed to give LG more oomph behind its marketing dollars and help it to rise above the commodity-style market of the flat panel TV industry.

The gig was up on Tuesday, when LG began airing new versions of its ad which reveal that Scarlet is a series of TVs - not a new TV series.