PlayOn Adds Amazon On Demand and Revision3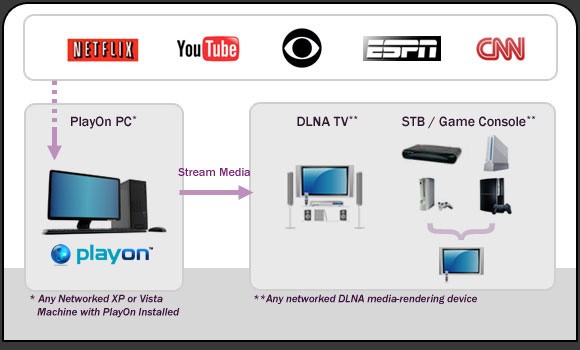 PlayOn, your next cable provider?
If you are a listener of AV Rant, you've heard the name PlayOn before. PlayOn is a $40 (was $30 until a week or so ago) program for your computer that allows you to access online streaming services such as Hulu.com and YouTube in your home theater via your PS3 or XBox 360. Recently, Roku strove to maintain the viability of their $99 Netflix box by announcing a partnership with Amazon On Demand. A few days later and PlayOn does the same, but this time adding Revision3 to the mix.
Currently, PlayOn gives you access to Hulu, CBS.com, ESPN.com, CNN.com, YouTube, and Netflix (a real boon for those PS3 owners that have been jealous of all those Xbox 360 owners with Netflix access). Amazon On Demand adds 40,000 movies/shows to be rented or purchased while Revision3 adds original content that can only be found on the Internet. Much higher quality than YouTube, Revision3 has a number of shows much in the same vein as stuff you'd see on the G4 network - hip, cutting edge, and subtly or overtly geeky.

But that's not the endgame of PlayOn. Currently, they are trying to secure ABC.com for streaming which would pretty much give them the trifecta of primetime programming.On top of that, PlayOn is looking to expand their console support to the Wii - a console that many hardcore users like to shun. It will be harder to relegate the Wii to the status of "toy" when it can stream Netflix and Hulu just like the big boys. COO of MediaMall Technologies (who makes PlayOn) Tracy Burman responded when we asked, "We hope to have many more content offerings through PlayOn and to support more devices. Our focus will be to make PlayOn content-rich, reliable, and easy-to-use. We regularly solicit customer feedback to help us prioritize the development queue. Right now, ABC.com and Wii are high on the list. Supporting local (PC resident) content is also up there." The only potential downside is that their CBS lineup is sparce at best. Hopefully ABC.com will have more on tap than CBS.
PlayOn is striving to offer a real viable alternative to cable and satellite providers. With a $40 one time charge and a 14 day free trial, it is pretty much a no brainer even if you are satisfied with your current TV provider. With a decent Internet connection and a wired connection, we've experienced somewhere between standard definition and DVD quality picture. Audio is still limited to 2.0 however. We've found the interface to be slightly simplistic. Burman commented, "The interface is determined by the DLNA client. We actually have no control over that for the XBOX360 or Playstation3. However, for the Wii, we will be building a new, unique interface for PlayOn…coming in April!" Sounds great for Nintendo's console killer. Maybe you have to shake the controller to change the channels?
This can't be making the cable and satellite providers happy. In fact, Time Warner announced that they'd provide "TV Anywhere" in an attempt to keep their paying customers on board. But the question is whether or not people will stick around at the high monthly charges just because they can access programming online. The obvious advantage is that HD and multichannel audio is available in the living room. But in these trying economic times, will people look to services like PlayOn with the reduction in video and sound quality to save the literally $100's of dollars a year in monthly fees?

The new version of PlayOn with Amazon On Demand and Revision3 support will be released on Friday for free download to current customers. A 14 day free trial is available for new users with the full program costing a one-time fee of $39.99. PlayOn is only compatible with PCs.

The following are the minimum requirements for the PlayOn PC software.
Microsoft Windows XP (Service Pack 2 or later), Windows Vista, or Windows Server 2003/Windows Home Server (Service Pack 1 or later). 64-bit versions of Windows are also supported
Windows Internet Explorer 6 or later (7 is highly recommended, 8 not yet tested)
Windows Media Player 11.0 or later (click here for assistance on Windows Server 2003 and WHS)
"Internet Explorer Enhanced Security Configuration" is recommended to be disabled on Windows Server 2003 and WHS
Installation includes the Microsoft .NET Framework 2.0 (Service Pack 1) if needed
Minimum 1.5 GHz x86 processor1
512 MB RAM1
100 MB of available disk space for installation, plus recommended 4-5 GB extra space on the same drive where Windows is installed
Internet broadband connection of at least 1.5 Mbps, and home network with wired, powerline, or 802.11n connections (for wireless home networks with 802.11g, either the PC or device should be on a wired connection)2
Third-party security software must be configured to allow full local and online network access to C:\Program Files\MediaMall\MediaMallServer.exe3
1 If your PC is at or just above the minimum specifications for CPU and RAM, you may have trouble streaming videos, unless your PC is used as a dedicated PlayOn server. Make sure you first try out PlayOn to verify that your PC is capable of realtime transcoding without maxing out your processor or causing playback buffering.
2 Wireless home networks are often unreliable. Make sure that you adequately test PlayOn through your wireless setup before committing to purchase a license. We highly recommend wired connections to avoid potential video streaming interruptions.
3 The path to C:\Program Files\MediaMall may vary, depending on international versions of Windows, or which drive partition PlayOn is installed on.
See also:
Recent Forum Posts:
ivseenbetter posts on March 09, 2009 08:01
What's the point of downloading movies from Netflix if you can only listen to them in 2.0?
Post Reply