Roku Debuts Amazon Video On Demand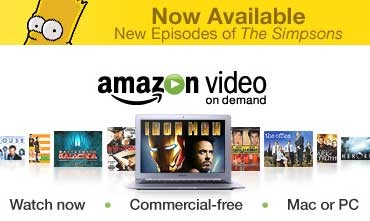 Roku adds Amazon Video on Demand
Roku has now made it official. In a few weeks they will update their "Netflix Player" box to handle Amazon Video On Demand. Today, owners of their Netflix Player box (which we can only assume will be renamed to the Roku Media Player, or something) received the following email:

Dear Clint,


Your Roku digital video player keeps getting better. Today, I'm excited to tell you two great new benefits of your player. First, you can now watch, in high definition (HD), the hundreds of movies and TV episodes offered in HD instantly by Netflix. Second, an incredible 40,000 movies and TV shows from Amazon Video On Demand will soon be available to choose from on your Roku player.


Things may already look a little different on your Roku home screen. And don't worry -- if they don't now, they will soon. There's nothing you need to do, and there's no need to call us. An automatic, free update will reach your player in the next several days. Just be patient and leave your player plugged in and connected to the Internet. (You'll know you've received the update if, when you press the UP button from the Netflix Instant Queue, you see the purple and white Roku Home screen with icons for Settings, Netflix, and What's New.)


A second update, again free and automatic, requiring no action from you, will arrive in a few weeks. You'll have instant access, from your couch, to over 40,000 commercial-free movies and TV shows for rent or purchase from Amazon Video On Demand. Hits like The Dark Knight, Pineapple Express, Get Smart and others will be available the same day they release on DVD. Rentals range from 99 cents to $3.99 for a 24 hour viewing window and require no monthly subscription fee.

Amazon is just the start. More announcements of new things to watch and enjoy on your Roku player are in the pipeline for 2009.


Happy new year, and thank you again for being a Roku customer.


Tim Twerdahl
Vice President, Roku

You can check your software version by navigating to Settings, then Player Info on your Roku player. The Netflix HD update software is version 1.5. You can also manually initiate a software update for your player by navigating to Settings, then Player Info and choosing the Check for Update button.
Roku is opening up the player to additional content providers. While they haven't announced their next target, it;s exciting to see Amazon Video On Demand showing up as their first new content partner after Netflix.
Currently HD is only supported on Netflix, and there are hundreds of choices in HD (a full list can be seen at http://www.netflix.com/WiHD).
JJMP50 posts on January 15, 2009 07:27
Roku Rules

Having owned a Roku Soundbridge for over 2 years and loving it I will definately pick up one of these. Initial set-up with the soundbridge was a bit of a pain, but once you get the hang of it, no problem. Utilizing Yamaha's Music Enhancement Mode cleans up the "MP3" issues nicely. I looked at netflix's website and could not find a directory of what is available. I'm so tired of Comcast's lame choices. I'm not about to pay $5.00 to watch My Cousin Vinny when TBS will broadcast it for free.
rupertoooo posts on January 15, 2009 07:13
This is fine news, but I would rather Netflix invest all their time and resources into making the video and audio quality their top priority (I would sure like to see 5.1 made available soon and of course more HD content).
Post Reply