Pixar Movies Go 3-D Next Year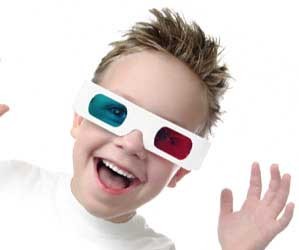 Disney Movies are Going to 3-D
Walt Disney reported this week that all of its new Pixar's movies, starting with next year's Up, will be released in 3-D. The announcement was made by none other than Pixar's John Lassiter at a New York presentation of their upcoming films - which covered all the way through 2012. The lineup from Walt Disney Animation Studios also includes the November release of Bolt, the story of an actor dog who believes he has super powers; Rapunzel, a retelling of the fairy tale set for release for Christmas 2010; and the modern-day fantasy King of the Elves, set for release for Christmas 2012. These films will be released in both 3-D and two-dimensional formats.
Folks can look forward top seeing some "new" old favorites in 3-D as well with the release of Toy Story 3 in June 2010 and Cars 2 in Summer 2012. Newt is a 3-D love story (due Summer 2011) centered around the last remaining blue newts on the planet. The Bear and the Bow is a "Scottish fantasy" arriving Christmas 2011. Toy Story 1 and 2 will also be re-released in 3-D - something that is not terribly difficult (just resource-intensive) given the digital nature of the film.
For those not aware, Disney acquired Pixar animation studios in May 2006 for $7.5 billion in stock. Since Disney is putting a lot of money into 3-D, while continuing to move away from the hand-drawn format of animation, it's obvious that this might be a way to recapture some of the consumer interest that has waned in recent years due to the burgeoning home theater market. Last month Disney, 20th Century Fox, Paramount, and Universal Pictures got together to help finance and equip around 10,000 3-D movie screens in the U.S. and Canada. The changeover, which will be done as retrofits to exiting big screen theaters, will cost around $700 million and take nearly three years - just in time for many of these releases.
Unfortunately, movie theaters are working off numbers that show people will pay a premium for 3-D entertainment. This means that, instead of becoming an evolutionary step in moviegoing, 3-D is being positioned as some sort of high-end alternative entertainment with certain films. This gamble might work, or it might end up making already expensive movie tickets even more ridiculous - driving away consumers and upsetting the economic predictions of the studios. We'll have to wait and see.

Audioholics posts on April 14, 2008 15:07
They are talking about the theater. The new 3D TVs would have to either lose 1/2 resolution to pull it off, or they'd need to come from a PC (PS3?) source to provide 120Hz refresh rates.
GlocksRock posts on April 14, 2008 12:03
Are these movies just for the theaters, or will you be able to take advantage of the 3D at home with some 3D glasses using your tv. And will it have to be HD for you to see 3D, or will it work with regular dvd?
Audioholics posts on April 14, 2008 10:13
Polarized of course.
GlocksRock posts on April 14, 2008 10:08
I just want them to release Finding Nemo, Toy Story 1 and 2, and The Incredibles on blu ray, I don't care about 3D animated movies, or any 3D movies for that matter.
jeffsg4mac posts on April 14, 2008 09:56
What I want to know is are these one for home going to use the good process with the polarized glasses or the old process with the red and green lenses The old process STINKS and gives you a headache.
Post Reply