Nokia Wants Piece of Apple iTunes Pie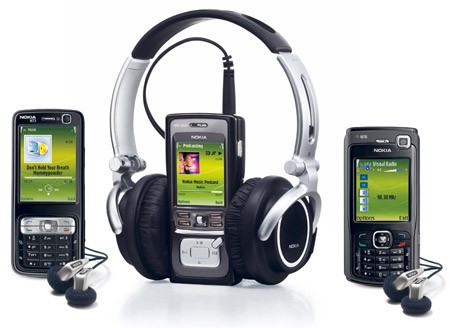 The Finnish cell phone giant is determined to kick its way into the content market. Nokia has already bought handheld operating system Symbian and made deals for a Social Online Network collaboration with Facebook. Now it's making serious inroads to taking a slice of Apple's pie in the online music service biz.
Nokia is trying to erect its own online music service, similar to Apple iTunes. It's now got Warner Music Group hooked into the deal as the third major label that has agreed to sign up for the up-and-coming music service. The only major holdout now is EMI.
Nokia's online content service sounds like it was named by Lakota of Sioux Indian fame. If you were discovered by a tribe of Sioux and just happened to have the ability to download unlimited songs from participating recording labels (stored on your handset or PC forever) – they might call you: Comes With Music.
If you were discovered dancing around the prairie with a wolf that helped keep you sane as you wintered alone in an abandoned Army camp they'd probably have a different name for you.
Nokia plans to launch Comes With Music officially later this year. The no-limits approach to downloads is Nokia's hook that it hopes will draw converts from Apple. The musical floodgates are open for one year when you buy select Nokia music-phones. You're then allowed to download all the music you like from its service for one full year. Then it turns into a subscription based service.
Exact pricing is yet to be determined. But the service sounds suspiciously like the same subscription based service that incorporates Microsoft's Janus or DRM-10. This was used for Yahoo! Music, Napster and others. It's proven to be a failure when it comes to competing with iTunes, the market has proven that consumers don't like subscribing to music even though they appreciate DRM even less.
Comes With Music might be hoping to make a difference with that first year to get users hooked. But if history is any indication Nokia is in for a tough road when it comes to extracting any of Apple's online music market-share.
See also:
Recent Forum Posts: