Think Tank Dreams up a Portable Xbox
Think Tank Dreams up a Portable Xbox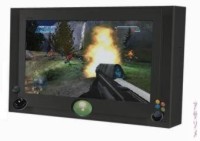 The Diffusion Group is a media analyst think tank that believes Microsoft could be biding its time before diving into the portable games platform . "Microsoft has been waiting on the sidelines until its gaming console and software business reaches sustainability…" says Thomas Wolf of The Diffusion Group. The group's contention is that Microsoft might be waiting for the Xbox console and especially the exclusive software titles that drive it to become a staple in the public imagination. Meanwhile the software juggernaut out of Seattle Washington could be studying how the existing portable game console war is panning out.
The Diffusion Group believes Microsoft is likely to make its bid as the third big wheel in the handheld games platform within the next two years. The company's foray into mobile gaming could be simply as an operating system licenser. Letting other companies manufacturer the hardware with their software on board is a familiar business model.
This highly competitive market space has already tossed aside another would-be giant of a player from the CE industry in Nokia and its N-Gage platform. The Diffusion Group believes that cell phone games are still a long way from competing with dedicated portable game systems.
Why did Nokia fail to make a legitimate run at the market dominated by Nintendo ? Analysts say a complete lack of any recognized exclusive games. Nobody has more widely loved game franchises than Nintendo. In portable consoles more than their home counterparts brand recognition earns more sales than an updated chipset and superior graphics technology. What else explains why Nintendo's original GameBoy is still the best selling portable game platform ever at over 120 million units sold worldwide?
Does Microsoft have the goods to compete in this market run by the favor of children rather than adults with HDTVs? Could this market be tilting to a slightly older crowd? As the newer portable game systems become more complex by introducing features like wi-fi multiplayer gaming and even a new movie disk format as Sony has done in UMD, the platform could be maturing with the rest of us.
According to The Diffusion Group, Microsoft will be watching the releases of upcoming exclusive titles closely. New games like Halo 3 and Gears of War could hold more than just record sales for Xbox360. Microsoft could be planning to branch these franchises out to a whole new mobile audience.
Read more about The Diffusion Group .
Confused about what AV Gear to buy or how to set it up? Join our Exclusive Audioholics E-Book Membership Program!