Bluesound Node X, PSB Alpha iQ, Radical NAD M66 Streaming Preamp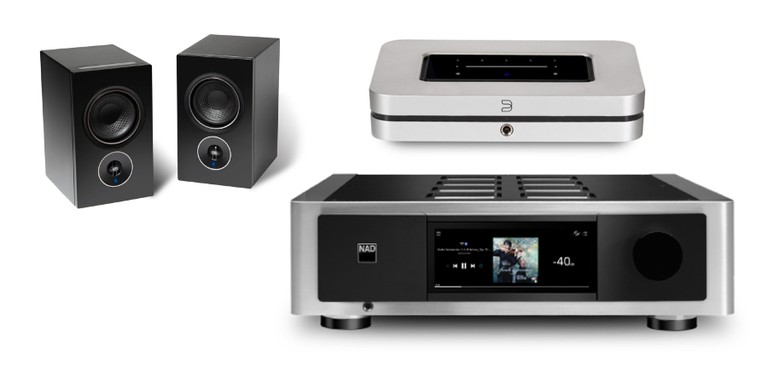 Bluos Streaming Products
BluOS, the music management platform first introduced for Bluesound wireless multi-room systems, got a big update this year in the form of a new and improved mobile app. The BluOS 4.0 update includes a redesign of the interface, which was already one of the better options out there (if you don't want to pay the big bucks for Roon). BluOS 4.0 offers "a cleaner layout, easier access around its navigation and menus, and customization options to suit individual listening needs," according to parent company Lenbrook International. These days, BluOS isn't just limited to Bluesound devices; it can also be used to control wireless streaming speakers from Dali, Monitor Audio custom installation amps, and upcoming Peachtree Audio products. But BluOS is most prominently featured in products from Lenbrook's own companies: NAD Electronics, PSB Speakers, and, of course, Bluesound. Today we'll look at three of the newest and most interesting products from these companies, across a range of price points. These products might appeal to different types of customers, but I can also imagine scenarios in which a typical audiophile might use all three in different audio systems around the house.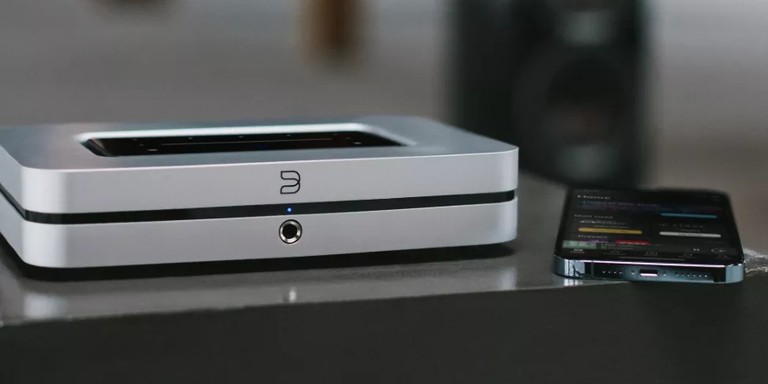 The current Bluesound Node ($599) was introduced in 2021 and remains one of the most popular streaming devices out there, thanks to its unique combination of features and value. It offers multi-room capabilities (including Roon), both analog and digital outputs, HDMI eARC, and bass management that can be adjusted in the BluOS app. It's powered by a Quad-Core 1.8GHz ARM Cortex A53 processor, so it's snappy and responsive. The built-in DAC, built around a 32-bit/384 kHz Burr-Brown 5242 DAC chip, is perfectly serviceable, especially at this price point. The Node offers dual-band Wi-Fi, Gigabit Ethernet, and support for 2-way aptX HD Bluetooth, plus a 3.5mm headphone jack. This list is hardly exhaustive. Now, to celebrate Bluesound's 10th anniversary, the company has introduced a special limited-run anniversary edition of the Node called the Node X. Easy to spot thanks to its silver finish, the Node X offers upgraded components and superior performance for those willing to pay an extra $150.

The two biggest upgrades go to the DAC and headphone amp, both of which benefit from much more expensive parts in the Node X compared to the regular Node. The DAC chip used in the Node X is the ESS 9028Q2M Sabre DAC, chosen for its ultra-low noise, wide dynamic range, and near-zero levels of clock jitter. Meanwhile, the headphone output in the Node X uses the innovative THX AAA (Achromatic Audio Amplifier) technology, which can be found in some expensive purpose-built headphone amps. THX AAA tech uses patented feed-forward error correction to achieve "infinitesimally low levels of noise, distortion, and power consumption," according to Bluesound. To reflect the fact that this headphone jack can handle serious audiophile cans, the Node X has a larger 1/4-inch headphone jack instead of the 3.5mm jack found on the regular Node.
When we thought about how to celebrate a decade of audio excellence and leadership in wireless hi-res streaming, we knew we had to start with the Node. The Node X re-imagines some of the best parts of the critically acclaimed, iconic Node's product design – our most popular model – and takes 'just add streaming' to new performance levels for the next generation of audiophiles. I'm particularly excited to see how our customers use the Node X with their favorite pair of performance headphones.
— Matt Simmonds, Product Manager of Bluesound
The Bluesound Node X is available now from authorized Bluesound retailers, like our friends at Audio Advice.
PSB Alpha iQ Streaming Powered Speakers ($1,499/pair)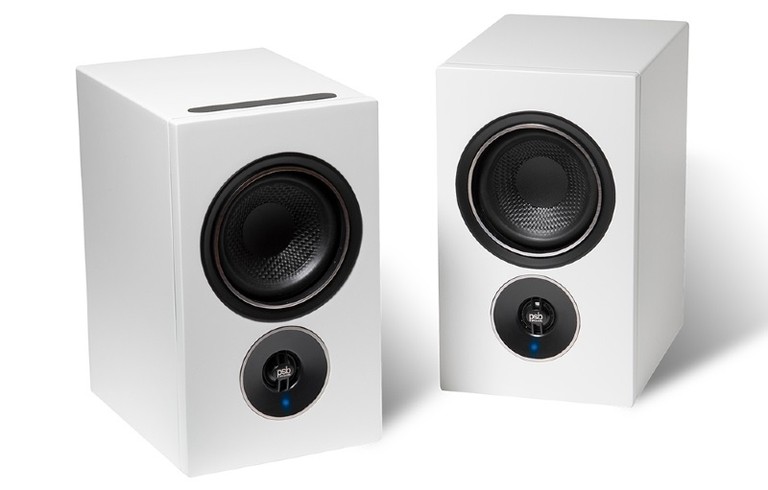 Although Bluesound has been around for a decade now, its sister-company PSB has only recently launched its first product to take advantage of BluOS, the PSB Alpha iQ streaming powered speakers. First showcased at last year's CEDIA expo, the Alpha iQ is "an all-in-one audio system that sets a new benchmark for modern, tangle-free, audiophile-grade listening," according to PSB. The system looks similar to many other pairs of powered bookshelf speakers, but only a handful of costlier competitors (such as the KEF LS50 Wireless II) can offer a comparable user experience. Like the Node, the Alpha iQ speakers offer built-in two-way aptX-HD Bluetooth, support for Apple AirPlay 2, and access to more than 20 streaming services via the BluOS app. The built-in amps, DAC, and streaming functionality make the Alpha iQ a complete system, perfect for folks (like my brother, Dan) who want Sonos-level simplicity, and don't care about audiophile tweaks and customization. But I can also see the Alpha iQ becoming a popular choice for serious audiophiles looking for an easy setup for a bedroom, office, or vacation home — especially if they already use other BluOS devices elsewhere.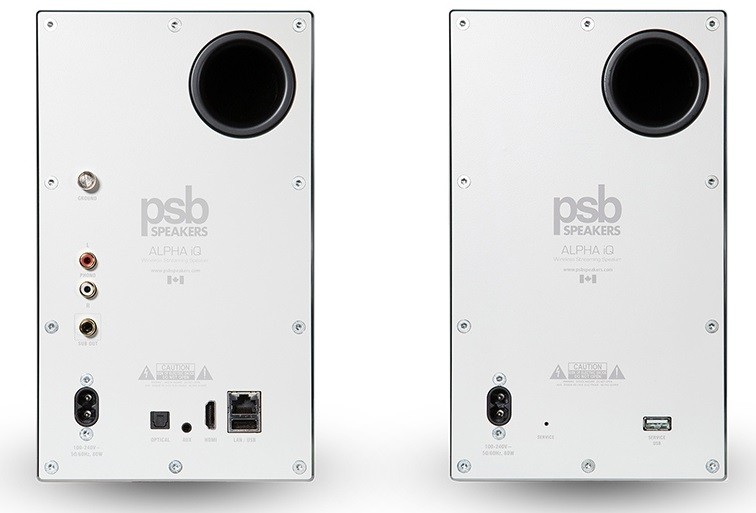 The left and right speakers must both be plugged into a power outlet, but there's no cumbersome umbilical connecting them to each other. Instead, they communicate via a wireless link that promises to keep music "synched and clear regardless of speaker placement," according to PSB. These compact speakers use 4-inch polypropylene mid-bass drivers with steel baskets and rubber surrounds. The 3/4-inch aluminum dome tweeters feature neodymium magnets and ferrofluid damping. Each woofer is powered by its own 60-watt class-D amplifier, while each tweeter has its own 30-watt class-D amp. Despite the speakers' small size and relatively modest 4-inch cones, PSB says that the 180 watts of system power, tuned bass ports, and DSP-enabled low-frequency extension work together to deliver a surprising level of bass output. The DSP-based active crossover works with PSB's "upside down" driver arrangement (in which the tweeter is placed below the woofer) to ensure that the blend between the two drivers remains consistent whether the listener is seated or standing up. The internal DAC supports resolutions up to 24-bit/192kHz. Should you decide that the bass output is impressive but nevertheless insufficient to requirements, there's a subwoofer output. When it's in use, the BluOS app automatically engages a low-pass filter for the sub and a high-pass filter for the main speakers.
The Alpha iQ has both an HDMI ARC port and a built-in MM phono preamp located in the primary speaker, along with an optical input, a 3.5mm auxiliary input, and a USB port for connecting an external drive. Should you wish to integrate the Alpha iQ into your smart home, drivers are available for Control4, Crestron, ELAN, RTI, and URC. The PSB Alpha iQ speakers are offered in satin white and satin black finishes, and are available now from the PSB website and authorized PSB dealers.
The Alpha iQ is a perfect choice for music-lovers who want a sophisticated all-in-one system that delivers great sound without the fuss of cables and multiple components. We think of it as beautiful sound made simple.
— Joe de Jesus, product manager, PSB Speakers
NAD Masters M66 BluOS Streaming DAC-Preamplifier ($5,499)
Just introduced at the High End show in Munich, the new NAD Masters M66 is one of the coolest pieces of audio gear I've seen in some time. It's a streaming DAC and preamp, kind of like a Bluesound Node X with even more features and performance upgrades up the wazoo. But that description doesn't really do the M66 justice. NAD calls it "a no-compromise component so advanced, it represents an entirely new category of hi-fi separates." If the M66 looks familiar, that might be because it closely resembles the M33 integrated amp from 2020, and is intended to be paired with NAD's superb M23 power amp, which thoroughly impressed Chief Audioholic Gene DellaSala when he tested it last year. (NAD says that the M23 amp is the perfect match for the M66 "visually, sonically, and technologically," but you can use any high-performance amplifier you choose.) So, what makes the M66 so exciting? Like the M33 integrated, it has an audiophile-grade DAC and network streamer based on the BluOS platform. It has HDMI eARC and Dirac Live Room Correction like the M33, but there's no internal amplification. Is the M66 just a stripped down M33?
No. First of all, it uses ESS Technology's flagship ES9038PRO Sabre DAC — a noteworthy upgrade over the ES9028 chip used in the M33. And for volume control, the M66 uses an ultra-precise resistor-ladder control circuit, while the M33's digital volume control technically sacrificed some signal resolution. NAD says that the M66's volume control "markedly reduces thermal and related distortions, maximizes dynamic range, and more accurately matches left- and right-channel output across the entire volume range," compared to traditional analogue circuits. The M66 is also the first NAD component to feature the company's new Dynamic Digital Headroom (DDH) circuitry. This pioneering technology, which can be turned on and off via the BluOS app, "eliminates digital inter-sample peak clipping distortion, which can occur during digital-to-analogue conversion of sudden high-frequency transients," according to NAD. The benefit is reportedly easiest to hear with percussion instruments. "Cymbals are less splashy and more realistic," says NAD, and "rim shots are less strident and more impactful."
So far, I've discussed some of the M66's internal upgrades over the M33 integrated. But if you turn the M66 around and inspect the back panel, one of its most exciting features becomes clear without looking under the hood or reading the instruction manual. The M66 is the only stereo product I'm aware of with 4 subwoofer outputs. These are available on both RCA and XLR. Why 4 sub outs on a stereo preamp? Because the M66 also comes with the full, multi-sub version of Dirac Live Bass Control. NAD says this allows the M66 to "deliver more accurate in-room response than any two-channel component ever offered." With the ability to independently calibrate and optimize 4 subwoofers in both the frequency and time domains, Dirac Live Bass Control on the M66 promises "a seamless blend between the main speakers and subwoofers," and "consistent low-frequency response throughout the listening room, not just in the sweet spot." Rumor has it that once the exclusive partnership with Dirac and Storm Audio expires, the M66 will be firmware upgradeable to support Dirac Art!
In order for Dirac Live and Dirac Live Bass Control to work, all analogue audio signals must be digitized. The M66 handles this task using ESS Technology's ES9822PRO flagship ADC. But some vinyl enthusiasts hate the idea of digitizing their analogue audio, no matter how much benefit Dirac offers. Luckily for them, the M66 also features an Analogue Direct mode that bypasses all digital processing and routes the audio signal through a separate, all-analogue signal path. There are separate power supplies for the digital and analogue sections, and users can even disable the M66's Wi-Fi and Bluetooth circuitry to minimize RF interference when playing vinyl.
Like other NAD Masters products, the M66 boasts outstanding build quality, with aluminum casework, a 7-inch touchscreen, and a volume knob with a premium knob-feel. Around back, there are two expansion slots that support the latest version of NAD's Modular Design Construction feature, MDC2. This means the M66 can stay up to date for years to come; owners can simply insert an MDC2 module when new capabilities come along.
We believe the M66 represents the pinnacle of what is technically achievable today. And thanks to NAD's MDC2 future-proofing platform, the M66 will remain at the forefront as technology evolves.
— Cas Oostvogel, product manager, NAD Electronics
The NAD M66 will begin shipping in fall of 2023. More information: NAD M66