Klipsch Icon W, a New Icon in Home Theater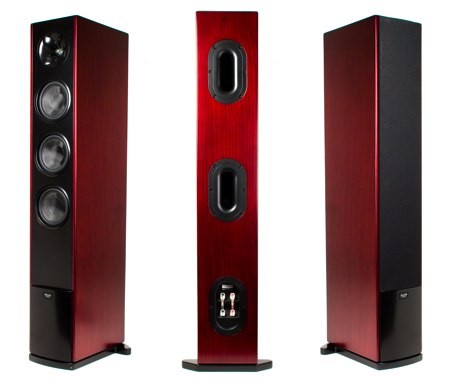 Klipsch introduces its new Icon W series of speakers designed with Home Theater in mind. Its wood veneer cabinets harken to a simpler time in audio reproduction, but Icon W brings the latest technology into its slim enclosures to bring living room friendly home theater sound. 
The legendary icon in two-channel sound is transitioning nicely to the modern consumer market. Sure, it was diverted with the iPod thing pretty hard. But what consumer electronics company hasn't in the last few years? Hey, it was 2005 and it looked like the iPod was taking over the world. Klipsch, like any other manufacturer tried to straddle new mainstream markets and its loyal audio-first customer base. Klipsch has diversified into a line of trademark earbuds and iPod speakers to elevate your mobile sound to something more than Apple had intended. 
Now Klipsch seems to be getting back to its roots with its latest foray into Home Theater. Introducing the new line of sophisticated speakers that Klisch says will look as handsome as they sound. The Icon W series flagship models are the WF-35 and WF-34 floorstanding speakers. Yes, Klipsch continues its horn-loaded driver tradition with a 1-inch Tractrix Horn tweeter included across the Icon W line. Rounding out the line are the WB-14 bookshelf, WC-24 Center and the WS-24 surround speakers. 
The Icon series doesn't include a subwoofer but a complete 5 channel surround speaker system that includes its flagship floorstanders will cost $2,500.
See also:
Recent Forum Posts:
dorokusai posts on June 09, 2008 20:59
The oval ports are pretty interesting. The finish and spec's look pretty nice but I'm no horny toad unless it fits in a corner.

Mark
Polk Audio CS
Bluesmoke posts on June 09, 2008 16:43
That looks beautiful. But I'm more than pleased with my Energy RCs.
Post Reply