Klipsch iGroove HG iPod System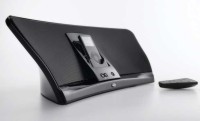 INDIANAPOLIS (June 15, 2006) - Following the success of its award-winning original silver iGroove, Klipsch is introducing the new iGroove HG. Complementing the latest trends in home and office décor, the iGroove HG has an eye-catching high-gloss black finish and unique curved shape. Available in July, this system will be sold at mass and A/V specialty retailers for $249.99 (U.S. MSRP).
Unlike other docking speaker systems on the market, the Klipsch iGroove speaker system works with most all MP3 player brands, as well as devices that have audio out or headphone jacks utilizing standard miniplugs. All third and fourth generation dockable iPods dock into the iGroove for charging. The system comes with special iPod mini and nano adaptors for sturdy and secure docking. The shuffle may also be connected to the iGroove via the included J-cup adaptor. The Klipsch iGroove is also easy to operate - just plug it in, pop in an iPod and hit play. The included remote handles full system control.
"Based on the surge in black iPod sales, it made sense for us to create a complimentary version of our premier all-in-one iPod sound solution. While the iGroove HG's contemporary design and high-gloss finish perfectly flatters black iPods and blends well with today's popular décor trends, it also looks great with traditional white iPods," said Tony Ostrom, director of product marketing.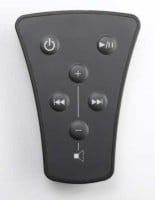 The iGroove HG is a true two-way system that employs dual 2.5-inch woofers, crossovers and dual 1-inch MicroTractrix™ Horn-loaded tweeters. It is the only speaker system in this category utilizing horn technology, a design that reproduces genuine, lifelike sound as well as produce more output using less energy.
With over 60 years of experience with horn technology and speaker design, Klipsch offers the fullest, widest frequency response of any all-in-one shelf system. Plus, by building on the performance prowess of the silver iGroove, the HG version provides improved acoustic performance through an increase in dynamic range.
On top of everything else, the iGroove HG is a ported system, which allows it to play louder and reproduce more deep bass frequencies than competitive models. The low-turbulence, tuned port is located on the rear of the cabinet. Placing the unit two to four inches from a wall or corner will further enhance the low-end performance of the system.
About Klipsch Audio Technologies
Klipsch Audio Technologies, a wholly owned division of the Klipsch Group, Inc., is a leading global manufacturer of high-performance loudspeakers and other entertainment products for the consumer and professional markets. Established in 1946, Klipsch celebrates its 60th anniversary this year, and continues its legacy of developing products that utilize unique, proprietary horn-loaded technology to create the most engaging, emotional and dynamic entertainment experiences. Acquired from company founder Paul W. Klipsch by Fred S. Klipsch and Judy L. Klipsch in 1989, Klipsch has worldwide headquarters and Audio Engineering and Technology Center in Indianapolis; European headquarters and a distribution center in s'Heerenberg, Netherlands; manufacturing facilities in Hope, Ark; and distribution centers in Buena Park, Calif.; Toronto, Canada; and Shen Zhen China. For more information, please visit http://www.klipsch.com .