Klipsch and Energy Coming to Circuit City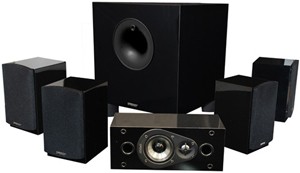 Energy Take Classic
Circuit City has announced it's expanding its home audio lineup to include Klipsch and Energy speakers. Klipsch has been courting the mainstream consumer with a diversified product line lately, now it's bringing Energy with it. 
Klipsch acquired the Energy speaker property back in 2006 when it bought the Audio Products International (API). API is a Canadian speaker company out of Toronto that included the Energy, Mirage and Athena speaker lines. 
It's always a surprise to see one of those best-kept-secret hi-fi manufacturers on the store shelves at the big box electronics stores. There's no denying that sales at these stores is a compelling argument for cutting deals with these titanic retailers. But is the average consume ready to make the plunge? Brands that were once for hi-fi enthusiasts only have been showing up on shelves next to bargain gear. We've seen Denon, Yamaha, Nakamichi and Harmon Kardon arrive at the big box stores now you can add Klipsch and Energy speaker lines to the list. 
Circuit City will carry the Klipsch Synergy Series speakers. The Klipsch products will include home theater packages with both floor standing and bookshelf speakers. Prices for Circuit City's Klipsch offerings will range from $250 to $900 per pair. 
The price category pushes the limits of your average big box store shopper but Philip J. Schoonover, chairman, president and CEO of Circuit City insists high quality audio enhances the overall enjoyment of the home theater experience. Do'ya think? 
Energy will throw in with Circuit City only a six-piece budget home theater package, the Take Classic system which sells for under $600. 
Expect to see Klipsch and Energy at Circuit City stores and online in the month of August.
See also:
Recent Forum Posts:
Joe Schmoe posts on June 30, 2008 14:24
Some total loser gave me an anonymous neg in this thread. Is there anything more cowardly than an anonymous neg? Whoever you are, go **** yourself!
Midcow2 posts on June 25, 2008 09:06
Circuit City Store shudown specifics -first phase
Midcow2, post: 426747
I was providing information that is true. To give me a red chicklet for providing information means you are a MORON.

So be it, have a good day

And then you don't even have the cojoens to say who are. Best of luck to you because you need it1
Circuit City Store shutdown specifics -first phase
Circuit City is having financial problems and intially is shutting down several stores to try and avoid filing chapter 11.
That is why I said initially that Klipsch may have picked the wrong store as a new distribution channel for their speakers.
Here is some information :
http://digg.com/tech_news/Circuit_City_to_close_stores
orlandosentinel.com — The closings will take place over the next six months at an expected total cost of $85 million to $105 million, all to be incurred in the current fourth fiscal quarter, which ends Feb. 28
http://newsroom.circuitcity.com/releasedetail.cfm?ReleaseID=155982
Circuit City Announces 19 Superstore Closings as Part of Its Ongoing Initiatives to Improve Financial Performance
Company Also Announces Closures of Five Regional Offices and One Distribution Center, Sale of a Corporate Building
RICHMOND, Va., Feb 16, 2005 /PRNewswire-FirstCall via COMTEX/ – Circuit City Stores, Inc. today announced the closing of 19 Superstores, five regional offices and one distribution center by the end of the month, as well as the sale of a corporate building, continuing its initiatives to improve the company's overall financial performance.
"Based on our continuing analysis of markets across the country, we have identified 19 Superstores located in trade areas that we believe can no longer support a Circuit City Superstore, leaving the locations with no reasonable expectation of positive cash flow and without relocation opportunities over the near term," said W. Alan McCollough, chairman and chief executive officer of Circuit City Stores, Inc. "In many of the larger markets in which we are closing stores, we have added incremental stores in more vital trade areas or relocated stores to more attractive sites. The repositioning of our stores within these markets continues, and it no longer makes financial sense to keep some of the stores in those markets open."
In the fourth quarter of the current fiscal year, Circuit City expects to incur expenses of approximately $30 million after tax in conjunction with the store and regional office closings. The costs relate primarily to lease terminations, fixed asset disposals and, to a lesser extent, severance and other costs. The 19 stores combined had revenues of $170 million for the 12- month period ended December 31, 2004.
In most cases, Circuit City customers who are affected by the store closings will have the option of shopping at a nearby Circuit City Superstore. All customers will be able to shop with Circuit City on the Web at
http://www.circuitcity.com
or over the telephone at 1-800-THE-CITY. The closing stores will not open today or tomorrow, but will reopen on Friday, February 18, for a close-out sale of display merchandise.
In addition to the store closings, the company will close a distribution center located in Doswell, Va. The 400,000 square foot facility will close at the end of the month. Expenses associated with the distribution center closing are not expected to be material. After a transition period, the company expects a reduction in inventory as the company shifts store replenishment distribution to its other nine distribution centers.
The company also sold one of the buildings at its corporate headquarters campus to Perimeter Center, LLC., an affiliate of Daniel Realty. The 188,120 square foot building, known as Deep Run II, opened in July 1994. The transaction resulted in a gain of approximately $1.8 million after tax, and the elimination of $12.6 million of long-term debt associated with the operating lease arrangement from the company's consolidated balance sheet.
Midcow2 posts on June 24, 2008 21:16
you red chicklet MORON
Midcow2, post: 425248
Circuit City is not doing very well and is talking about shutting down a majority , if not all of the stores
I was providing information that is true. To give me a red chicklet for providing information means you are a MORON.
So be it, have a good day
And then you don't even have the cojoens to say who are. Best of luck to you because you need it1
PENG posts on June 24, 2008 20:45
gus6464, post: 426444
Are they just going to top out with the RF-x2 series and Energy RC lines? I am guessing Veritas and RF-x3 will never set foot in a CC showroom.
I have never seen any Klipsch RF series speakers in big box stores up here in Canada. However, a few months ago I did notice a pair of Veritas 2.4i on display in a Future Shop store in Mississauga Ontario. If I remember correctly, it was listed for around $4K at the time. I have not seen any Energy models other than the RC mini in other FS stores. None in BB or The Source (same as CC in the U.S.).
rufas2000 posts on June 24, 2008 00:36
The article only mentioned the Synergy series (and prices topping out at $900) and one six piece budget system from Energy. No RF anything and no Energy offerings other than the one system.

I'm not sure why the article goes into the idea of Klipsch entering the big box retailer market like its something new. They've been at Best Buy for years.
Post Reply