HD DVD Won't Give In To Blu-ray Yet – What's Next?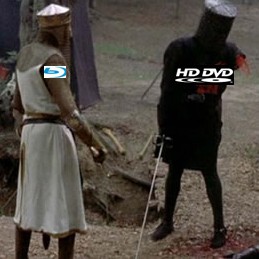 Just a flesh wound
It's been a busy week for high def disc formats and it's only Tuesday night!
Soon after the Warner / Blu-ray announcement, Toshiba told the press that HD DVD wasn't out of this format war just yet.
Just a flesh wound, indeed
Toshiba better have something big up its sleeve! The popular opinion of anyone but the most ardent HD DVD supporter is that the format's goose is cooked.
A certain Financial Times article sparked a rumor that Paramount (including Universal and other connected studios) might pull out of its HD DVD agreement. This would find the floundering format faced with no major film-studio to call friend.
Paramount was quick to squelch the rumors that spread rapidly across the web today. The studio responded that it had no intention to defect to Blu-ray.
"Paramount's current plan is to continue to support the HD DVD format." Said Paramount spokesperson Brenda Ciccone.
Further damning to HD DVD's position however is the news from DigitalBits.com that Blu-ray would provide some special offer to HD DVD users.
This information comes from the same article that reported Paramount was planning to defect from HD DVD to join Blu-ray. But the author does state that the whole situation is still in flux and that anything is possible right now.
The report seems confident that the BDA will make some kind of offer to people who bought HD DVD players and movies. Perhaps it'll be a rebate on your HD DVD player for a Blu-ray player, or discounts on movies. It's all speculation right now.
What's next for HD DVD?
In this eleventh hour for HD DVD, even former supporters of the format feel it's time for HD DVD to throw in its hand and end this format war. Unless, that is, Toshiba and HD DVD have a proverbial ace up its sleeve? What can HD DVD possibly do to stay alive?
One clever, if desperate idea, has HD DVD going for broke and re-marketing its players as upscaling DVD players at rock bottom prices.  
Since HD DVD clearly doesn't have the studio backing anymore, instead of marketing it as the ghetto of high def disc formats, it can market itself as a luxury upscaling DVD player - with a bunch of free HD DVD discs to boot!
The Christmas season provided a sizeable penetration of HD DVD players into the hands of consumers. A high-end upscaling DVD player for well under $100 might fly off shelves. That it happens to playback one of the failed high def disc formats is just a small bonus. Would it be enough to turn the studios back to HD DVD?
If Sony wants to claim victory it better close in for the kill quickly or risk little more than a pyrrhic victory over HD DVD.  The era of obtaining media from packaged, shiny silvery disc won't last forever. The cable/satellite companies, Internet sites like Amazon.com and online services like iTunes are the likely future direction of our high definition media.
Blu-ray could find that it's lost the format war to streaming and downloaded media.
See also: