Giant LED Screens Symbolize a Shrinking World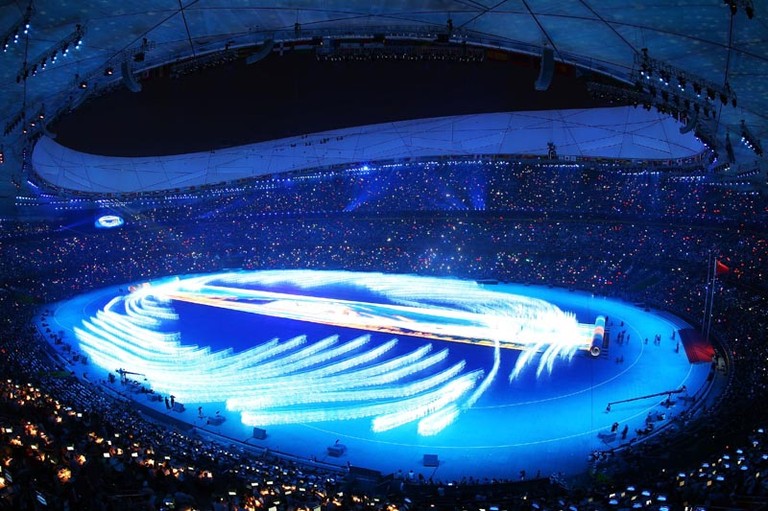 The once humble LED was elevated to symbol of Chinese economic might as a roll-out giant screen at the Olympics opening ceremony in Beijing. Similar LED display technology has been put to use by rock legends Genesis to wow audiences and can be seen at many major urban areas worldwide.
Not so long ago the humble LED was seen mostly as a power indicator on electric equipment that had far more important things to do than power LEDs. Today it's the focus of groundbreaking technology and has even been elevated to extreme status symbol for one of the most powerful nations stepping into the global economy at the 2008 Olympics.
The Show Must Go On
Last year Phil Collins rejoined ex-bandmates for the Genesis world tour, minus original front-man Peter Gabriel. But the brightest star of Genesis reunion tour turned out to be its backdrop, a magnificent structure consisting of over 9-million LEDs.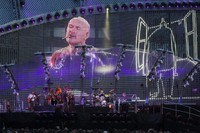 The monster display consisted of 15,089 Barco O-Lite LED panels and 102 Mitsubishi 16:8 high-resolution LED panels. The back wall measured 42 and a half feet high and 180 feet wide. Encrusted with lightning towers reaching 92 feet high, the structure was designed by UK architect Mark Fisher of Stufish.com.
Design and construction of the Genesis LED screen is may have been a marvel of modern entertainment in itself. But it was also designed to be portable. The whole screen traveled with the band from city to city and is said to have taken over 3 hours to setup and almost 3 full hours to break down after the show.
LED Symbolizes Chinese National Might
Rock legends aren't the only ones using LED to show its stuff. This week we saw one of the most truly awe-inducing examples of LED technology at work.
The Olympic opening ceremonies at the National Stadium affectionately known as the Bird's Nest has been called spectacular coming-out for China. It was a truly a technological wonder for the ages and at its centerpiece was a monster of an LED display. The spectacular show that kicked off the 2008 Olympics wasn't simply for its entertainment value. Almost every detail showcased local Beijing tech-sector talent.
The opening ceremony featured a massive LED screen along the floor that unrolled like an opening scroll to represent China's 5,000 year history. Thousands of additional LED beads were embedded in the elegant Tang Dynasty costumes of the show's players.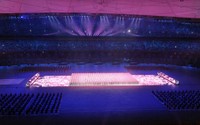 Performers depicted ink drawings on the giant scroll as Chinese music played on its ancient instruments. The show included martial arts demonstrations and breathtaking fireworks. It even alluded to Chinese ambitions in space with a recreation of its moon myth. To further the message of a homegrown space program Chinese gymnast, Li Ning donned the role of Bird's Nest-astronaut as she space-walked around the interior of the 91,000 seat stadium. It was a remarkable finishing touch for opening of the Beijing games.
The LED screen that measured 482 feet long and 72 feet wide was laid on the ground of the stadium bejeweled with some 44,000 LED beads each with a distance of about 2 feet (600 mm) between each two beads. More LED beads were embedded into the costumes of the show's performers. It created a stunning effect as the performers fanned out creating falling star filled sky within the National Stadium. All the while electronic monitoring systems kept track of over 18,000 performers using ID codes.
Fireworks were controlled with digital ignition systems that coordinated blasts in conjunction with music located in over 30 locations across the city of Beijing. Cai Guoqiang, the master behind the pyrotechnics display said, not a single of the 40,000 cannon shots faltered.
"We have combined creativity with the most complicated technologies in Olympic history to maximize the visual and sensory impact on the audience," said Yu Jianping, technical team leader for the opening. "Most of the core technologies used in the opening ceremony were independently developed by domestic companies."
Adidas - Impossible is Nothing
You thought this year's Olympic drama was all about the athletes like Micheal Phelps earning a record 8 gold medals. But it's also the biggest east-meets-west marketing blitz in history. Domestic Chinese companies seek to show off world-class talent while foreign companies desperately seek a piece of the Olympic limelight for themselves. China is widely expected to become the world's #2 consumer market (behind the US) by 2010. Companies are banking that being seen by the Chinese people during the Olympics will put their brand in a positive light with its billion-plus population.
Adidas aims to surpass Nike as the athletic brand of choice in China's burgeoning market. Adidas has invested its largest marketing campaign ever at the 2008 Olympic games and subsequently expects to see its market share surpass Nike by the end of the year.
Coca-Cola is digging deep for an Olympics win of its own in China. Investing in brand recognition, the beverage company has invited 10,000 guests to the event and erected the world's largest overhead LCD screen that covers an outdoor plaza to display the games.
R3 is a Beijing based media consulting group that serves companies as diverse as Coca-Cola, Adidas, Yili and Lenovo Group. The firm estimates advertisers will spend 19 percent more in China in 2008 than last year, calling it the Olympic effect that comprises a projected 8.6 billion dollars in additional spending.
Advertisers seems unconcerned with hot-button political and social issues like Tibet and Sudan that risk tarnishing reputations of prominent advertisers in the Beijing Olympics. In this case, the profit motive of seeing your brand recognized in the bright lights of Beijing easily trumps politics.
LED Urban Centers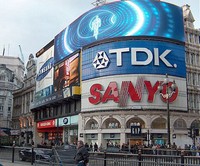 Giant LED screens have recently been the centerpiece to some of the most significant shows on Earth. Adopted by rock-legends for the reunion tour of Genesis and unrolled as a signal to the world's biggest corporations that China means business. Don't count on seeing these demonstrations repeated anytime soon, but it's certainly not the end for Godzilla sized LED displays.
You can still see the technology used in places like the Piccadilly Circus in London. The host city of the next summer Olympic Games in 2012 sports one of the largest curved screens in its famed commercial center. Blade Runner may have given us a glimpse of cityscapes to come, complete with huge digital displays. Urban Screens is an organization that wants to make it a reality using giant LED screens as art to beautify major cities the world over.
With its combination of brightness, energy efficiency and the ability to attach to a flexible substrate the LED will remain a star performer in many of the greatest shows on Earth for years to come.
Recent Forum Posts:
Wayde Robson posts on August 22, 2008 09:02
3db, post: 447196
Cool read.
Thank you 3db. I tried to tie in a few different
seemingly
related ideas and I hoped it didn't seem too scattered. I believe as a technology, the LED has come a long way from the little red lights on my Merlin portable game system when I was a kid. Hey… we didn't have those fancy PSPs in my day, it was
Merlin
and
Coleco Football
… I'm sure I'm not alone in having a long history together with LEDs.
hmm… come to think of it that might have been a good entry into the article. Anyone of my generation used to play with LED-based graphics all the time. I can still hear that dee-dee-dee, dee-de-dee that Coleco football made when you scored a touchdown.
3db posts on August 22, 2008 08:12
Cool read.
Post Reply