Circuit City Being Short-Circuited?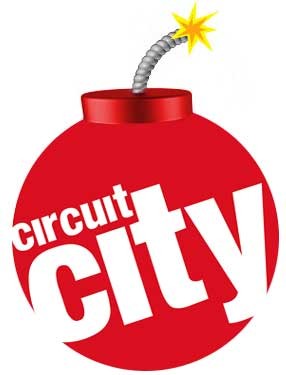 Circuit City Short-Circuiting?
A flurry of news came up this week on Circuit City and predictions that it would go bankrupt as early as the first quarter of 2009. According to Bradley B. Thomas, a research analyst at KeyBanc Capital Markets: "a Circuit City bankruptcy has become a question of 'when' rather than 'if.'"
Wow.

According to near duplicate reports by StreetInsider.com and the Associated Press, Thomas said the current economic uncertainty is accelerating the electronic chain's movement toward Chapter 11, and also lessening chances that it will emerge successfully after it gets there.

The KeyBanc analyst noted that the accelerating force would be vendors. If even one large vendor drops the chain, more will be certain to follow and the house of cards will fall. KeyBanc is raising its Best Buy status from Hold to Buy as a result, figuring that the competing chain store would clearly benefit from a Chapter 11  filing from rival Circuit City. He estimated that Best Buy's earnings could rise by 37 cents per share in 2010 if Circuit City were to close 300 of its approximately 700 stores.
The future isn't exactly written in stone, but we've seen several bad choices made over the past couple years by Circuit City and our own experiences with the local store has only confirmed that the chain is in for a rough road ahead. When analysts start chiming in, however, one begins to wonder if they aren't part of the force driving the company towards bankruptcy. Negative press certainly won't help Circuit City come out of its financial woes. At this point they've got to make some pretty good decisions and secure firm financial footing in order to come back from this predicted brink.

In either case, the tide has already begun to turn for the worse and we'll just have to see how far and how fast any additional changes occur.

skizzerflake posts on October 19, 2008 22:17
They have been caught in the death spiral. No profit, not enough cool stuff, therefore less appealing stores that are not profitable…..

I don't like the idea that Best Buy won't have any direct competition. There's the big boxes, which have crappy stuff and the high end stores that are too pricey for the general market but nobody else is a big player in the middle market.
croseiv posts on October 18, 2008 07:40
It's a bummer IMO, but there will be something out there to fill in the void. Lately, in my area, the CC has had lousy stuff to choose from, like they aren't updating stuff any more. They still have some receivers are quite out dated for sale for example.
The Dali posts on October 16, 2008 20:50
I'm amazed at how the only "big box" store that will be left dedicated to electronics is going to be Best Buy. What else is there? A few years ago you could find a handful around providing competition - now, nothing. Of course, there are the smaller specialty stores which is great, but you tend to find higher-end stuff there (which may be too expensive for the regular person). I mean, where do you go for a computer now-a-days? CC, BB, maybe Sears?

The web is awesome, but it is getting harder to try merchandise out before buying.
darien87 posts on October 16, 2008 19:41
I thought they had already gone out of business. They've already closed all the stores in my area.
Geno posts on October 16, 2008 18:53
Too bad they're tanking, but they deserve it. The last retail chain I cared about folded a couple of years ago (Good Guys), and I can't stand BB or Wally World, so I guess it'll be internet for me unless I go to some of the nearby metro areas.
Post Reply