Study Says Blu-ray Can't Save Disc-Based Media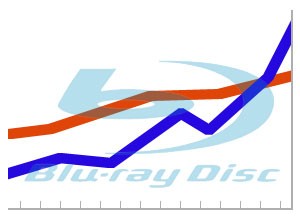 Blu-ray up, but disc media is flat
Here's one more reason last year's high-def format war between HD DVD and Blu-ray was so destructive. While miring potential customers in confusion it wasted much of physical media's remaining days in the sun. According to analysts at Futuresource; those days are numbered.
According to a study conducted by Futuresource, Blu-ray sales won't save physical media. Although we've seen high def disc sales are indeed growing, the study concludes that physical, pre-packaged disc media is flat and going nowhere fast.
Sure, Blu-ray is growing for now. People buy HDTVs and they can finally find affordable disc players to go along with them. But the new Blu-ray sales are largely being made at the expense of DVD sales. In other words the disc-based media pie is not growing, it's merely shifting.
The study agrees with the Blu-ray Promotions Group that sales of the new high-def discs should triple in 2009. But it will only be enough to counter the slide of slumping DVD sales. Futuresource predicts a flat physical media industry through 2012.
What's the future of home entertainment? You guessed it - digital downloads! The study predicts mobile and online digital revenue will make up 15 percent of home entertainment spending by 2012 when disc-based media will have peaked for the last time.
The analysts are saying that by 2012 you, me and the media buying public together will spend some $20 billion on shiny discs with movies. But we'll also spend $3.5 billion on digital downloads. From there it'll be downward curve for shiny discs.
One bright spot Futuresource had for the Home Theater industry at large was that it sees the economic downturn as having a limited effect on media sales.
"We don't see the economy having a significantly negative impact," Hoang said. "There will be an element there, but it won't be significant. Software prices are going to decline and that will aid in the format moving."
They identified a few compelling factors holding back an explosion in Blu-ray sales. Number one that has been mentioned a number of times on Audioholics forums is the price for the software. There is currently a markup of 200 to 400 percent on the price of a Blu-ray disc over its DVD counterpart. That's a strong argument in favor of just renting a copy of Stargate: Extended Cut rather than springing to buy the Blu-ray disc.
Analysts at Futuresource noted what they see as the single most important thing that hinders Blu-ray's growth through 2012. They say it simply doesn't represent as dramatic an upgrade from DVD as DVD did from VHS. We have to guess Futuresource isn't watching high-def movies from a 100-inch picture with 1080p front projector.
Perhaps Futuresource meant to say that DVD to Blu-ray isn't as significant an upgrade because you already don't have rewind DVD. The inherent laziness of the average consumer (myself included) shouldn't be underestimated. It's really all about the convenience of not having to rewind your physical media (or digital download) before returning it to the video store.
Recent Forum Posts:
basspig posts on October 09, 2009 04:15
How can most people tell the difference between DVD and Blu-ray, when they watch a 37" plasma or LCD from 15' away? That's how video is viewed in most homes that I've visited. Until that, and the "just good enough" philosophy (the Flip camera crowd) is addressed, real HD distribution will languish.

For me, watching Blu-ray on a 154" screen is heavenly, especially from 9' away. I have a lot of DVDs, too, and upscaled, they look about as good as what I've seen in the local Loew's theaters, but a good BD title can look breathtaking.

My big beef with Blu-ray is all that Java garbage they run. Sometimes it takes 7 minutes to get to the main menu from the moment the disc drawer closes. Other titles can be playing in mere seconds. It's extremely annoying when you want to show something to some guests without making them wait to the point of leaving the room, bored.


Oh, uhh.. one more thing… when all the ISPs impliment bandwidth capping and pay per gigabyte metered billing, all the streaming media will be out of business, literally in one night.
cwall99 posts on October 08, 2009 21:41
jostenmeat, post: 523501
I actually didn't! Now that we have colluded in unnecessarily hijacking a perfectly fine thread, what's your gear in the photos up front? The speakers, the silver component, those treatments . . .
And those two SVS subs!!! Yikes!!!
cwall99 posts on October 08, 2009 21:37
jinjuku, post: 518165
It's like complaining that the restaurant wont let you leave with the glass your drink came in. It's just a delivery mechanism.

You are mixing the message and the messenger up.
Yeah, but when I buy a disk, I can pop that movie into my player whenever I want and view it.
If I'm buying a drink, I can't redrink it, so your analogy sorta breaks down pretty quick.
The other thing is that while impressive strides have been made in terms of the reliability of cable networks, what happens in those weird times when you lose your network.
Or, in this economy, maybe you lose your job? Hey, I'm in Detroit here, we have close to 20% unemployment in some areas.
If you can't pay for cable, you can't access your movies. However, if you have a disc and you still have your gear, you don't need to pay that monthly access fee just to watch media you bought the right to watch whenever and wherever you choose.
mg428 posts on October 08, 2009 17:43
So did I buy a region-modified Oppo BDP-83 for 750 including international shipping while owning a PS3 for vain?
aarond posts on October 08, 2009 15:43
Post Reply