Blu-ray Pirates: A Few Lines Short of 1080p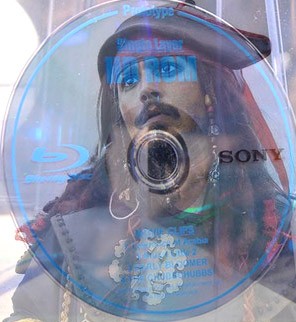 Pirated Blu-ray
Who wouldn't be attracted by lower priced high-definition movie discs. But pirated Blu-ray discs are getting so good over in China, complete with Blu-ray cases, they're becoming virtually indistinguishable from the real thing. But the new breed of digital fakes isn't quite perfect and it's all about the resolution.
DVD piracy in China is just the tip of a glacial underworld flourishing in the country. You can literally get fake anything in China. Highly skilled engineers in Asia's most powerful nation can build everything from shady facsimiles to look-alikes that actually improve on the original design. But it's just not so for the current crop of pirated Blu-ray discs.
Blu-ray Pirates Busted
The Wall Street Journal is reporting a raid in the city of Shenzhen that uncovered an operation that was producing up to 800 fake Blu-ray titles. The knock-off high-def discs were selling for about $7 and look convincingly like the real thing from the outside with replica Blu-ray cases and printed discs. The discs themselves are actually made from blank DVDs rather than blank Blu-ray discs, allowing the pirates to save some money.
Ironically Shenzhen (well-known for its electronics manufacturing) is where California entrepreneur David Ji was arrested. Mr. Ji is the founder of Apex Digital, the company that is widely attributed to ushering in the sub $200 DVD player era back in 2000. According to Chinese authorities Apex was able to sell DVD players at such a steal because the company didn't bother paying labor contracts. That's only part of the shady business practices we (unwittingly) indulge as consumers when we buy no-brand or bargain basement priced electronics.
Knock-off Hi-def Movie Discs 
The trouble with the high-def movie discs priced too-good-to-be-true is a downgraded technology. Most Blu-ray discs are encoded in VC-1 or MPEG 4 and practically all of them carry a resolution of 1080p. The pirated discs use an encoding format called AVCHD and only uses a resolution of 720p. The lower res means it doesn't require as much space so they can get away with using DVD rather than having to spring for a real Blu-ray disc.
Still, 720p provides a high-def image that outdoes DVD's 480p potential - but it falls short of Blu-ray's capability. The pirates are taking advantage of the fact that most consumers won't be able to tell the difference.
Recent Forum Posts:
avliner posts on November 20, 2008 08:02
Thunder18 posts on November 19, 2008 19:18
Jack Hammer, post: 485591
So if they are using a dvd disc to burn these onto, would they play on a regular dvd player? How would tell if your copy of a movie is a pirate or not?

Jack
I believe they are using the AVCHD codec which is ready by nearly every Panasonic and Sony Blu-Ray player and is also the hi-def format used by Sony, Panasonic and I believe Canon hi-def consumer camcorders.
Jack Hammer posts on November 19, 2008 18:14
So if they are using a dvd disc to burn these onto, would they play on a regular dvd player? How would tell if your copy of a movie is a pirate or not?

Jack
mike c posts on November 19, 2008 18:07
old news to me … i've been seeing these on "stands" for quite some time …

it's inevitable that they're gonna get "real" BD pirated discs out soon.
Wayde Robson posts on November 19, 2008 16:45
what's interesting is that there hasn't been a penalty to buying digital copies on DVD. It really was just a copy of the real thing. Now there is! Pirated Blu-ray discs really are of compromised quality.
Post Reply