Donald Fagen: Sunken Condos (2012) CD Review
Donald Fagen: Sunken Condos (2012) CD Review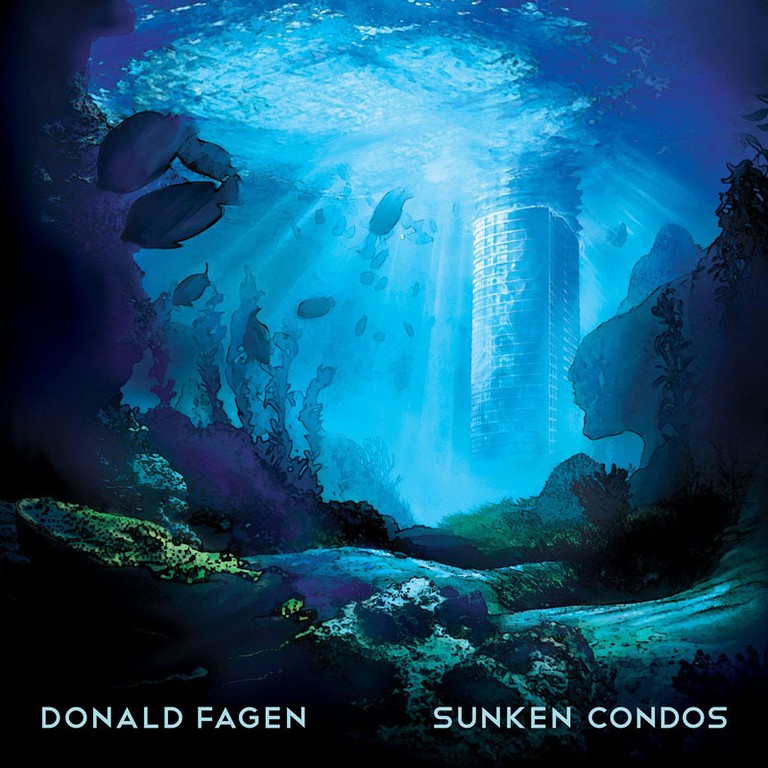 Donald Fagen: Sunken Condos
Label: Warner Reprise (B008O9V4C2)
Introduction
After a year's worth of rumors, Donald Fagen has finally released his fourth solo CD. A follow-up to his self-proclaimed "trilogy" (The Nightfly, Kamakiriad, and Morph The Cat), Sunken Condos is a worthy addition to the library. Unfortunately there's good news AND bad news.
The good: both writing and performance is strong, and stylistically this release has some very Steely Dan-ish tracks that are sure to please some of the old-timers (like me)!
The not-so-good: production value is not quite up-to-par with previous Fagen (and certainly Steely Dan) recordings. As a drummer/percussionist, I tend to listen for the "pop" of the snare drum, "thump" of the bass drum, or "sizzle" of the cymbals. This recording seems to lack the dynamic range of Fagen's previous recordings, and I have a theory; different recording tools and different recording engineer(s). Sunken Condos was largely recorded using Avid's Pro Tools, a digital audio workstation platform (for PC and MAC) used throughout the industry in music production and film scoring. The existence of both positive and negative opinions regarding use of Pro Tools as a recording medium (remember, once upon a time there was nothing but multi-track mixing consoles and tape—whether analog or digital—for professional audio recording), suggests another possible reason, the absence of long-time Fagen/Steely Dan recording engineer Elliot Scheiner (he only has one minor supplemental credit). Scheiner is largely responsible for capturing many great musical performances over the years along with the late, great Roger Nichols (who unfortunately passed just last year). These two guys have collectively received more Grammy nominations and wins than just about anyone in the business, and it's possible their absence in the studio was missed more than co-producers/engineers Michael Leonhart and Fagen realize.
Track List
1) Slinky Thing - Nice slow rock groove and background vocal arrangement. The guitar solo reminds me of Steely Dan's cover of "East St. Louis Toodle-oo".
2)  I'm Not The Same Without You - About as close to a "pop" song as you'll get on this CD, which is probably why it's the first single to be released.
3)  Memorabilia - Another solid slow rock groove with a catchy and complicated background vocal arrangement (I still can't get all the words in on the refrain). A respectable muted trumpet solo from Michael Leonhart.
4)  Weather In My Head - My favorite track on the CD and one of the most Steely Dan-ish sounding. Great groove with biting guitar riffs and vocals. I can listen to this track over and over!
5)  The New Breed - A smooth groove with a haunting organ sound and killer vocal harmonies on the refrain.
6) Out Of The Ghetto - This is my least favorite track on the CD, and not just because it's the only one NOT penned by Fagen (it's an old Isaac Hayes tune). It just doesn't "fit in" for me sonically with the rest of the set.
7) Miss Marlene - Another one of my favorite tracks while also very Steely Dan-ish sounding. The vocal harmonies are great as is the horn arrangement. Don't know if I'll ever tire of this cut either.
8) Good Stuff - This track has a nice groove and features one of the best bass lines on the CD.
9) Planet D'Rhonda - This is probably one of the most unusual sounding tracks on the CD, partly due to the interesting chord structure and strange lyrics.
Audio Quality
As already mentioned, the audio quality on this CD doesn't quite live up to past Donald Fagen (or Steely Dan) efforts. That's not to say it's poor, but the dynamic range seems limited. With the exception of multi-talented producer Michael Leonhart and his sister Carolyn (who has been on multiple tours with Steely Dan as well as appeared on their concert video), this CD features several new musician's that have never appeared on a Donald Fagen CD: drummer Earl Cooke, Jr. (who plays on EVERY track), bassists Harlan Post and Lincoln Schleifer, and harmonica player William Galison (who is actually pretty famous in his own right). On the other hand, many members of the horn section (along with long-time Steely Dan tour guitarist Joh Herrington) have both performed in studio and on tour with Fagen before.
Summary
While I highly recommend this CD, I'm going to give it an overall rating of 4.5 (out of 5) for one reason: audio quality. The fact that Warner effectively "snuck out" this release says more about the current state of the recording industry than the capability or popularity of the artist. There were no major announcements or high-rotation single plays. While this release is generating great interest among the Fagen (and Steely Dan) faithful, it isn't charting well and Fagen has been quoted as saying a solo tour would only come to pass in support of successful sales numbers. Looking at the bright side, maybe that means we'll see another Steely Dan album (and tour) sooner than later!
 Reference Equipment
Yamaha DSP-A1 Natural Sound A/V Amplifier (Stereo Mode)
Pioneer Elite CLD-99 Reference LD Player
Polk Monitor 10B Speakers (x2)