Donald Fagen - Morph The Cat 2006 CD Review
Donald Fagen - Morph The Cat 2006 CD Review
by
stanton
—
December 07, 2006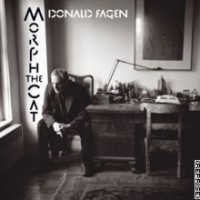 Label: Warner Reprise (49975-2)
Track Listing

1. Morph the Cat
2. H Gang
3. What I Do
4. Brite Nitegown
5. The Great Pagoda of Funn
6. Security Joan
7. The Night Belongs To Mona
8. Mary Shut the Garden Door
9. Morph the Cat (Reprise)
Introduction
It's finally here: another Steely…err…Donald Fagen CD! This once-per-decade phenomenon (Fagen's third solo release since 1982) has been highly anticipated by Steely Dan fans everywhere, and I'm happy to say it was worth the wait. In fact, the Steely Dan ties are so strong, you'll find many of the same musicians (minus Walter Becker) that played on Steely Dan's last release ( Everything Must Go ). Present are the usual double entendres and cynical wit; in this case, the overarching subject matter is basically death. Fagen, now in his late 50's, claims this release completes a trilogy that began with The Nightfly . Sadly, I get the sense that this may be his final solo release; at the same time, if you view his releases as "bonus Steely Dan tracks", maybe that's enough to keep you going until the next one.
Track List
1) Morph The Cat
This track features an unusual but excellent vocal arrangement, and a horn arrangement that goes well with the oblique vocal harmonies. Anyone who has heard Fagen perform live (or listened to an old bootleg Steely Dan recording) knows that he doesn't have the best voice, but he sure does know how to write great background vocal arrangements and lead vocal harmonies.
2) H Gang
Here comes the H Gang: I would play in that band for free! More than any other track, this one reminds me of OLD Steely Dan (circa late 1970's): the chord progression, the background vocal arrangement, the guitar solo. This is probably my favorite track on the CD, and a great choice for the lead single.
3) What I Do
This is another one of my favorite tracks. I like the simple refrain and love the piano sound: kind of a "dirty" Fender Rhodes (inspired by Ray Charles). It has a laid-back, steady rock 'n roll groove.
4) Brite Nitegown
This is a very hip tale based on a famous W.C. Fields saying (death is "The Fellow In The Bright Nightgown" ). It's hard to believe the falsetto is Donald Fagen doubling himself on vocals: I'm impressed! Nice horn arrangement over a groove that practically swings.
5) The Great Pagoda of Funn
This is basically a love story with a couple of nice solos. Veteran Marvin Stamm's muted trumpet solo should become a classic.
6) Security Joan
The combination of an open ride cymbal and tambourine gives this track a throw-back rock-n-roll sound. This is an unusual account of going through airport security like only Fagen can tell. Yet another nice vocal arrangement.
7) The Night Belongs To Mona
This is probably my least favorite tune on the CD, but not so bad I can't listen to it.
8) Mary Shut The Garden Door
This track has double-entendre written all over it; even the chord changes sound mysterious. This is another favorite because I really like the groove.
9) Morph The Cat (reprise)
We've heard this somewhere before…
Audio Quality
I would be shocked if the audio quality on this CD wasn't top-notch, and it definitely lives up to the expectations. Essentially the same production crew won a Grammy in 2000 for "Best Engineered Album/Non-Classical" for Two Against Nature . As expected, the band features an outstanding mix of hot newcomers and talented veterans of the recording industry.
Drummer Keith Carlock, a graduate of the famous North Texas State University (UNT) jazz program in Denton , Texas (just up the way from where I live). One of the youngest members in the band, Keith already counts touring stints with both Steely Dan and Sting among his credits.
Keyboardist Ted Baker, a veteran of the broadway show circuit (he's been a part of The Who's "Tommy" and the Lion King, among other things), he has toured alongside both Steely Dan and Art Garfunkel in recent years.
Bassist "Ready" Freddie Washington is probably the one musician on this CD who hasn't regularly played or toured with Fagen (or Steely Dan) over the last few years. Washington was a first-call bass player throughout the 1980's and 1990's, recording for the likes of Anita Baker, Whitney Houston, Lionel Richie, and George Benson, just to name a few. He's a funk master at heart, and it shows in the grooves.
Guitarist Jon Herington has held the envious position of "Steely Dan's guitar player" since the their resurgence in 2000. Prior to that, he played with many of the modern day jazz greats like the late Bob Berg, Michael and Randy Brecker, Mike Stern, and Jim Beard.
Saxophonist Walt Weiskopf's early career was distinguished by stints with two of the most famous Big Band orchestras: Buddy Rich (when he was still alive) and Toshiko Akiyoshi. He had recorded several solo CD's in the 1990's before being "discovered" on Steely Dan's last release and joining their touring band.
Trumpet virtuoso Marvin Stamm is a veteran of the 1970's and 1980's New York studio music scene, and it's nice to see his name again.
Summary
While I highly recommend this CD, I'm going to give it an overall rating of 4.5 (out of 5) for one reason: I miss the variety of bands/musicians/soloists that we used to see on Donald Fagen (and Steely Dan) releases. For example, while Keith Carlock is obviously an excellent drummer, I think that "mixing it up" a bit with other drummers would add even more variety to the grooves. Being a drummer may make me more sensitive to that particular element, but I would also enjoy hearing other great soloists besides the one or two featured. Unlike some of the iconic rock bands, most don't identify Donald Fagen's (and Walter Becker's) music so much by the musicians as by the music. For any other artist, this would be nit-picking, but I think the standards these guys have established over the last 30 years are extremely high. Having said all that, I think this CD is stronger than the last Steely Dan release ( Everything Must Go ) and MUCH stronger than the last Donald Fagen solo release ( Kamakiriad ). If you just can't get enough, check-out a streaming audio interview with Fagen (including links to some Steely Dan interviews) on NPR's World Café.
Confused about what AV Gear to buy or how to set it up? Join our Exclusive Audioholics E-Book Membership Program!