IM760PU Build Quality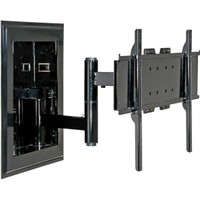 When you purchase a flat panel the biggest travesty (in my humble opinion) is to set it on a piece of furniture as if it is business as usual. With today's available inventory of flat panel TV wall mounts, it's insane to not want to place these beautiful masterpieces of technology up on the wall where they belong. And if you have an even newer flat panel display that is less than two inches in thickness, why not try to get that TV right up against the wall and as flat as it can be? With the Peerless IM760 series you can. It allows installation of a full swing arm mount within the stud cavity of your wall, enabling you to recess that cables, swing arm and mount so that it is quite literally flush against your wall. Seeing is believing.
Peerless makes all kinds of flat panel and projector mount products. Some of my favorites include their quick-change universal mounts which facilitate easy adjustment and replacement of products without having to jump through all kinds of hoops. They make it easy for maintenance to be performed, such as bulb replacement and servicing of televisions. While many other products on the market assume you'll never remove that flat panel or projector from its mount, Peerless develops lots of products that take into consideration the fact that sometimes you just have to make an adjustment or send a unit in for repair.
Build Quality and Use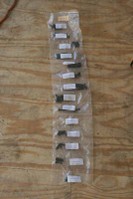 I normally have a discussion on build quality that goes something like this: "The unit was amply constructed and seemed able to withstand the product it was designed for". In this case, I'm happy to report that the IM760PU is probably stronger than the stud wall you're putting it into. It's actually "overbuilt" if you can take that comment as a good thing (which is my intention). Because you are securing it into the face of twin studs with large lag bolts - and it applies ample side pressure between the studs themselves, this mount is actually able to hold up to 200 pounds. That's the rating, my guess is that it could actually handle 300, but we weren't able (or willing) to test that theory in the field. All required accessories are included in terms of nuts and bolts and the tools required to secure your cabling and get your display mounted. Since I ordered the IM760PU, this mount was suited for plasma televisions in addition to LCD displays - and the mount arrived in three separate boxes, all well-protected through the use of internal padding and packaging.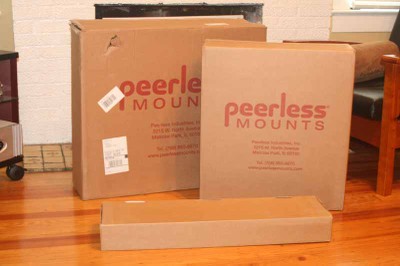 The IM760PU is designed to hold LCD and plasma displays from 32" up to 60" in size. There is even a model that is equipped to handle sizes up to 71". As you can guess, the construction is all steel, but what may surprise you is that the entire mount is coated in a scratch-resistant "fused" epoxy. I'm not sure of the exact process they utilize to make it, but it held up to our harsh installation environment (more on that later) and the high gloss finish provided an exceptional look to the finished product. It also comes with a flush-mount surround which covers the lag bolts used to secure the mount to the stud wall. Remember, this mount will be near-invisible when completed, so the fact that Peerless took so much care in providing a solid finish is commendable (and probably expected for the price).
What makes this mount unique is that it is designed to fit within the stud cavity of a wall. It comes with a left or right mount swing-arm that will allow you to manipulate a flat panel TV such that you can swing it out into the room and turn it left or right to "point" it where you need it. The articulating arm is made of steel tubing and the entire assembly is built well enough that you won't spend any time wondering if your flat panel investment is safe riding that far out from the wall.
Confused about what AV Gear to buy or how to set it up? Join our Exclusive Audioholics E-Book Membership Program!
See also:
Recent Forum Posts:
TV On Wall posts on August 07, 2009 04:02
Mounting TV on Wall

I agree this article about flat panel TV wall mounting.Amazing information for mounting TV. While i plan to buy flat panel TV to mount on wall. I found Install Express,it's UK based company. This install express is the best place to buy TV as well as to install TV on wall. I would recommend you all who have any doubts about mounting, just consult with install express. Surely you will get clarification for all questions.
cwall99 posts on May 18, 2009 15:55
Um, just to clarify one thing: I understand that this bracket is not for RPTVs like mine. Yeah, so, um, I was just asking for future reference.
cwall99 posts on May 18, 2009 14:23
So what are your recommendations for mounting a flat panel on the wall? Currently, that's not an issue for me since I have a 6-year old monster 57-inch RPTV (it's monster-sized for me, but I know others don't consider that a monster-sized display) that still performs pretty well for me. Looks great when I feed it an HDTV signal or something form my Oppo.

Anyhow, my wife likes to watch these re-decorate your house shows on HGTV, and it always astounds me that a) there's almost never an audio system in these houses, and b) if there is, they let the daffy designer do things with the speakers that are, IMHO, criminal (like taking both speakers of a stereo and putting them next to each other on a sidewall so that you can put a large piece of glass over the top of them and use that as a table.

So, I'm pretty underwhelmed by what I see there in terms of audio, but even televisions get mounted above mantles, and while it may look impressive, it strikes me as a pretty bad angle to watch TV from. I've always assumed that you kind of want your eye to be at the same height as the midpoint of the television (and I'm willing to admit I'm wrong on this, but I sort of view the middle of the television as sort of the visual equivalent to the correct position for your tweeters).

Here, then, (FINALLY) are my questions:

1 - Are you more inclined to mount the display higher when you have a wall-mount device like this?

2 - I live in Detroit, and the best wall for me to mount something like this is an exterior wall. I'm not excited by the prospect of cutting out a huge wad of insulation to accommodate a wall-mount that hides inside the wall. How does this mount handle the need to keep your house warm in colder climates?

Thanks.
westcott posts on May 18, 2009 12:01
Maybe it was just the wall mount I bought but after taking great effort to make sure it was securely attached to the wall (I cut into the sheetrock and added framing) and that the mount was level, it still made the flat panel a little askew. This is because the frame slightly twisted once it was mounted with the flat panel. I had to attach it off center to clear the AV connections to the back and this was enough offset weight to twist the frame. I had to remount the entire thing but it sure looks like it would be a nightmare if the same thing happened with this unit.

Even so, it is nice to know some mfgs are thinking!!!!
Clint DeBoer posts on May 18, 2009 07:45
ned, post: 567940
Finally, a mount that's price close to a flat panel itself.
Haha, that was awesome… Keep in mind that this mount probably costs around half as much to a dealer and it's really made for a custom installer to "prescribe" for a client who has need of it.
Post Reply