PRG-UNV Precision Gear Projector Mount Review
PRG-UNV Precision Gear Projector Mount Review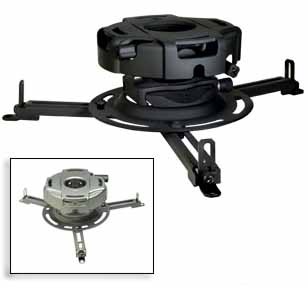 50 lb Weight load capacity

Patent pending precision gear provides accurate projector image alignment

Two adjustment knobs control projector image alignment

Horizontal wrench access slots make flush mounting installations fast & easy

Pre-assembled design reduces installation time

Quick release mechanism to easily service projector

Cable management allows cables to be routed through projector mount out of sight.

Security hardware included for theft prevention

Tilt: +/- 20 degrees, Roll +/- 10 degrees, Swivel 360 degrees

Available with Spider® Universal adapter plate, model specific adapter plate, or universal clamp style adapter plates
Pros
Incredibly convenient
Full controls for roll, tilt, and swivel
Supports up to 50 lbs
Introduction
When you decide to go with a front projection system you then have the challenging task of locating the best mounting system. Mounting systems can be simple. They can also be manufacturer-specific and particularly suited to the exact projector you own. But as we all know, it's only a matter of time before the upgrade bug hits and you may find yourself seeking out another model. It's because of this that solutions like the Peerless Industries PRG-UNV exist.

Confused about what AV Gear to buy or how to set it up? Join our Exclusive Audioholics E-Book Membership Program!
Recent Forum Posts:
ivseenbetter posts on September 23, 2008 14:31
This review and the supporting posts from BMXTRIX have been incredibly helpful for me. I have been using a cheap projector mount from Monoprice. Now I am a huge fan of Monoprice and I think the majority of the things they sell are a tremendous value. However, the mount they sold me just didn't work for what I needed. I'm sure it is fine for somebody out there and more power to them. However, for me, the Monoprice mount just didn't offer the flexibility necessary for the perfect install.

After reading through this thread I am going to jump on board and get a PRG-UNV. I have done tons of research for almost every piece of equipment in my HT room and I'm ashamed to admit that I threw the mount into the category of a minor accessory that didn't warrant much research. If I had done a little reading ahead of time I would have seen how important a role the mount plays. Luckily, due to the low prices Monoprice charges I am not out too much money. I'm looking forward to getting the PRG-UNV now and I am sure I will have a good experience with it!
BMXTRIX posts on July 18, 2008 22:15
ned, post: 435504
Could you please elaborate on this? Where do we get it?
We literally used generic L shaped brackets that were longer than the ones provided with the mount and bolted the ones that came with the mount to the L brackets.
I think we were trying to use a Chief LSB-100 bracket which delivers 3" of lateral shift, but it wouldn't work because we didn't have the right Chief mount, so they scavenged it, drilled some holes in the steel, and bolted it together and got the three inches that they needed.
ned posts on July 18, 2008 22:12
BMXTRIX, post: 435411
and recently we had people use L shaped extensions to gain a few inches when necessary,
Could you please elaborate on this? Where do we get it?
BMXTRIX posts on July 18, 2008 18:19
I also gotta struggle a bit with the price that's shot down. The MSRP is extremely overboard with the amount, and this is available, online from Amazon for about $100. That's actually a good deal less than the non precision gear Elite Chief mount, and even less than the standard Chief universal mount sells for regularly.

I think that if people look at the street price then they would be far more enthusiastic about the product, and that the review does miss a tiny bit on that point.

It would also be nice to read more about how you set things up and how long it actually takes to set things up. I've used multiple universal mounts before our company directed most mounts towards this specific model. It simply is packaged to easily go straight onto a projector in minimal time with excellent packaging.

Next up - take a look at their ST-650 unversal tilting plasma mount. Likewise, a standard which I think others need to live up to.
BMXTRIX posts on July 18, 2008 18:13
ned, post: 435376
Probably not the height adjustment but certainly horizontal. How much leeway does the spider mount allow on horizontal movements?
Most mounts give very little in the way of horizontal movement at at all. You get a few inches that is possible by using the spider brackets which are included, and recently we had people use L shaped extensions to gain a few inches when necessary, but generally speaking, no mounts do this because it is a pretty significant installation issue if the mount is that far off from where it should be.
With dropped ceilings, on the other hand, there are any number of ways to get significant movement from the mount, and that movement occurs where the mount connects to the ceiling, not in the mount itself. There's no reason you can't do this as an exposed fixture, but it still wouldn't be in the mount itself because it likely would make it to flimsy to hold a projector securely.
Post Reply