Auton Under the Bed TV Lift First Look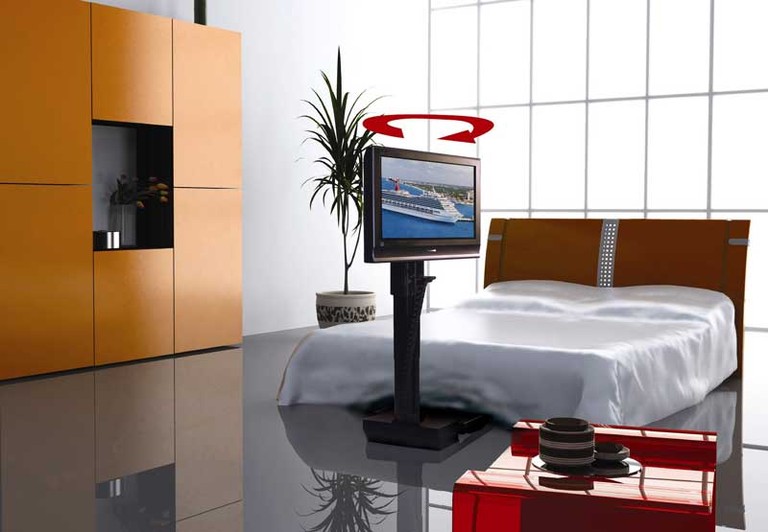 Auton Dream machine Under-Bed TV Lift
Summary
Comes fully assembled

Installs in just minutes

Includes Wireless Remote

Maximum Lift Capacity: 120 lbs.
Max Vertical Travel: 26.5"
Vertical Under-bed clearance required: 9"
Dimensions: Length: 71" W x 31" H x 9" D
Warranty: 5 years

Executive Overview
The Auton Dream Machine is a high-end under-bed TV lift that is designed primarily as a modern space-saving device. It hides, slides, raises and swivels a bedroom television to any desired viewing position within "seconds", with just a push of a button. When we say "high-end" we mean it. The smallest model retails for around $14,000 and the most expensive model is $23,000. This is not the type of product Auton expects users to shop for at their local Best Buy or hhgreg. In fact, we'd classify this as one of those "if you have to ask, you can't afford it" types of products... that is, until someone decides to make one and sell it for less money.
We've seen several innovative ideas for hiding AV equipment, from in-furniture solutions to products which drop complete displays down from the ceiling (not just screens). Typically, designers recommend these products in response to a desire to save space, and keep them from detracting from room design or ambiance. For whatever the reason, we've seen TVs emerge from behind paintings, rise from an armoire or descend from the ceiling.  
Responding to commands from a simple remote, Auton's Dream Machine causes a television to rise with a quiet purr from beneath the bed, transporting it to a preset ideal viewing position at the foot of the bed. Auton claims the entire process happens quickly, in a matter of just several seconds. From the way their demonstration video jumped around, we'd suspect the timing could be measured as nearing a minute by our rough estimate - still not shabby, and I certainly don't want my expensive TV getting whiplash. 
The real advantage to this system, however, is its ease of install. While it's true that you'll ned to run cabling for your TV, the mount simply rolls under the bed and plugs in. It can work on carpet, tile, or wood flooring and you don't need to fasten it down or secure it due to the inherent weight of the system. Of course, if this is going on one of those expensive yachts Auton recommends, then we'd suggest some kind of restraint system to keep it in place.
Interestingly enough, a couple years ago we saw an under-bed TV lift demonstrated at CEDIA, but hadn't really seen it since. Auton seems to have come out with their own flavor and the company seems very excited about it. Their position is that bedrooms need to be as harmonious and uncluttered as possible, especially where window views and a sense of spaciousness really matter. Think beach house or somewhere you have lots of glass and very little wall space for a television, even a new razor thin model. Sometimes you want to watch TV, but you don't want it in your room. Well, if you have the cash, now you can have your cake and eat it too.
"The entire world of TV has gotten thinner. That's because people value their space. They don't want their space cluttered or consumed by objects.  Consumers are always looking for more space in their homes as well as in the bedroom. They want more floor space, more counter space, more wall space, and unobstructed window views.
"This is definitely the next generation of television convenience. You just slide it under the bed on its polyurethane wheels. You don't need to do anything else. You just plug it into an outlet, and everything else is automatic."
- Virgil Walker, CEO and Founder of Auton Motorized Systems
Auton's new Dream Machine is, for lack of a better word, a steel chassis that fits underneath the bed frame. It requires absolutely no assembly or modification to the unit, and no construction or attachment of any kind. It only needs 9" of clearance under the bed. The Dream Machine operates from a wireless remote, allowing the user to slide the television from under the bed and raise it to the ideal viewing position effortlessly and quietly within seconds.  From that position, the TV can swivel 360 degrees (180 degrees in each direction) allowing it to be viewed from anywhere in the room. Another simple click returns it to its original hidden position under the bed.
Slick. Quiet. Hoity toity.
Auton is obviously targeting the Dream Machine for high-end homeowners, luxury hotels and suites, as well as for yachts and other locations where making a grand impression is just as important as saving space. If you think it's expensive, you're probabaly not in the target demographic. Architects and interior designers will find it an ideal solution for situations where they want to accentuate an unobstructed majestic view. (They'll also undoubtedly love the embedded markup - Editor)
The Dream Machine can be seen in action at http://www.auton.com.

See also:
Confused about what AV Gear to buy or how to set it up? Join our Exclusive Audioholics E-Book Membership Program!
Recent Forum Posts:
customtvlift123 posts on March 19, 2010 05:26
hi

If you have money to spend then why not spend it on something you want to put in your house. as long as you are satisfied with what you buy then there is no problem. The problem is when you are in a tight budget and still you buy something that is not necessary or not even have a place in your house to place.
tbergman posts on March 09, 2010 19:52
But weather it's practical or not, useful or useless, I'm going to go out on a limb and guess that people with the means to buy one of these are not reading reviews on audioholics to see if it's worth their $23k….
BMXTRIX posts on March 09, 2010 16:48
cwall99, post: 696299
What's deeper? A cabinet at the foot of the bed out of which your television can rise up, or, for the sake of argument, let's just say the vertical dimension of a 42-inch television?
It's not about depth, Clint didn't say it was. He said that there are times when a piece of furniture at the end of the bed may not be desired, and this may be appropriate.
For example: I've gone into homes with a raised platform in the bedroom with two steps up to a classic four poster bed. There is space under the bed, but no chance in the world that there is going to be a large piece of furniture placed at the foot of the bed. Yet, a motorized mount of this nature may have been ideal.
Likewise I've been in rooms with fairly low profile designs with space under the bed, but not room for a large cabinet. Windows on THREE walls, with the headboard against the fourth wall. Plenty of space for something to slide out and raise up, but completely inappropriate for a flat panel lift at the foot of the bed.
It is NOT for everyone, in fact, for the few it even works for, it is probably not ideal for most of them. This is a product of extremely limited use, but fits those very unique situations where it is the perfect product with the matching budget.
These are people who are willing to drop $20,000 on the 1-way mirror frame LCD display setups and $10,000 for Sunbrite outdoor weatherproof LCD displays without a lot of thought. Not for those of us trolling eBay, Amazon, and Craigslist looking for a crazy A/V deal.
cwall99 posts on March 09, 2010 13:53
Clint DeBoer, post: 696197
Only temporarily. There could easily be situations where there wasn't the desire to put furniture there, but there was clearance to allow the TV to come out - and then disappear when done.
I guess I'm not following you Clint.
You need to leave the space at the foot of the bed clear so that the entire television is clear of the bed before it starts pivoting up (at least going by the video on their web site). Once the television pivots to its normal vertical viewing position, it extends straight up.
But, you need to have at least a space as deep as the height of the television and as wide as the television clear of anything at the foot of the bed. My guess is that, for safety reasons, if the television, when it extends out from under the bed, encounters anything, it'll have to stop and go back to its storage position, much the way your garage door opener will return to the door to its raised position if it encounters anything on the way down. Otherwise, that's just a law suit waiting to happen. (At the same time, though, it's kinda fun to imagine putting one of those yappy little rat dogs on one of these, and cranking up the pivot speed so that you can launch the little critter like a catapult).
What's deeper? A cabinet at the foot of the bed out of which your television can rise up, or, for the sake of argument, let's just say the vertical dimension of a 42-inch television?
Unless, of course, you're just going to leave it in the viewing position all the time, and if that's the case, I'd want a much more attractive alternative. This thing is UGLY.
BMXTRIX posts on March 09, 2010 12:47
I will never understand why people who can't afford something nice feel that it is inappropriate for those who do have that money to spend it.

A well windowed room with a 4-poster classic bed does would not have a large piece of furniture sitting on the end of that bed. Even with walls, the level of aesthetics in the room would likely demand that no audio or video be seen in the room at all. At the sacrifice of some quality, the speakers end up being the type which can be painted and blended seamlessly into drywall (Sonance) and the television gets hidden entirely under the classic bed so as to not intrude on the look of the space.

This isn't a $30 monoprice mount for the $100,000 townhouse.

This is a $20K mount for the $2,000,000 custom installed home with an interior decorator that charges as much as a lawyer for the home design work she does.

I'm more jealous of those who think nothing of dropping that kind of money than I do about whether or not that product is practical… In fact, the product is NOT practical, but that's what makes it incredibly unique and of value to certain people. Especially considering the typical quality of this manufacturer.
Post Reply