V-MODA Zn IEM Sound Quality Tests
V-MODA Zn IEM Sound Quality Tests
V-MODA says the 8-mm drivers inside the earpieces are specially tuned for crystal clear midrange and clarity. So, one might expect they'll perform with a flatter frequency response like a true in-ear monitor should.
Generally, I am a full-sized, over-ear headphone person. Even using a good pair of earbuds, when compared to open-back, over-ear headphones you can expect limited soundstage. What's worse is sometimes earbuds can make it sound as if music is playing inside your head. I prefer the wider soundstage of full headphones that sound like I'm the middle of a concert. The other common drawback to earbuds is experienced during longer listening periods, these sessions can get uncomfortable when using silicone ear tips usually provided by the manufacturer.
On the plus side, the earbud form factor can provide a certain amount of acoustic isolation which is perfect for those of us that work at a desk in front of a computer all day. The extreme portability of earbuds is also a plus, they're generally quite efficient so external amplification may be optional. But if you can put a DAC/amp behind any earbud it will almost certainly improve the sound.
Out of the box, I tested the V-MODA Zn IEMs with the largest pair of Zn included eartips, in the Bliss 3.0 line. I soon abandoned them in favor of a pair of Comply Isolation Plus eartips which have become my favorite since using them for an RBH EP3 earphone review. Honestly, if it wasn't for Comply tips I wouldn't consider the in-ear form factor for long listening sessions. But foam tips are so comfortable and the acoustic isolation they provide is such a dramatic effect they make the perfect companion for computer work. The nearly absolute lack of ambient environmental sound really helps brings out detail across the frequency spectrum but especially in the bass.

After much listening the verdict is… awesome!
As promised the tonal quality is easily perceived as quite even-handed across the audible spectrum, Zn is rated with a 2-to-25,000 Hz frequency response. Even using the Comply tips, which can augment bass, there was no audible bloat in the lower-end. The bass was powerful where required but never at the expense of the detailed midrange.
Thomas Newman: Spectre Soundtrack
The soundtrack for the latest installment of James Bond franchise is on my personal rotation when I need work-music with no lyrics that propels my mind forward. Thomas Newman's second Bond soundtrack does the trick.
The music alternates between rhythmic percussion with a Spanish flair to tensely dramatic. The Zn earbuds were perfectly suited to both. The earphones effortlessly provided rich, warm tonality to orchestra pieces like Vauxhall Bridge and were equally at home when the soundtrack switched to its more rhythmic pieces like Los Muertos providing some bounce with a fair amount of toe-tapping pump in the bass, perfect when you're OCD'ing on a line of code or copy.
The Comply tips make the perfect companion to the Zn tonality. It's nice to get the extra bass that the foam tip's isolation provides. But since the Zn isn't specifically tuned to bass, it never seems to go overboard.
Heavy Metal on Zn

As the name suggests, zinc is a heavy metal, so I had to test them out on some of my amplified guitar favorites. A handmade Spotify playlist runs the gamut; from Metallica and Pantera to Coal Chamber and Disturbed. But these days its heavy on the Motorhead, always a staple on my phone's music collection, the band has been on heavy rotation lately as I mark the passing of Lemmie who left us so much great sound on Dec 28 2015. To celebrate the music of Lemmie — Zn was going to be tested for heavy metal!
The sonic demands of metal are surprisingly subtle considering its detractors will call it a bunch of noise. There is a lot going on in the mid-range, but without a subtle punch down low, it's easy to lose the heavy in heavy metal, leaving it sounding more like anemic tin. V-MODA's Zn provided just the right balance for rock and the right detail for vocals. While the earbuds are revealing they definitely give off a warm tonal quality that prevents them from being truly analytical monitors. I can see how V-MODA has developed a loyal following for its signature sound as it is a distinct profile that constitutes a departure from the full-sized planar magnetic headphones I've been listening to the most lately.
In listening to songs like the Motorhead anthem, Rock and Roll, too many headphones these days don't get it right. In an effort to bloat the midbass, possibly for the benefit of electronic and hip-hop, they over-represent the bass drum at the expense of everything else. So, I have to conclude that these might not be the IEMs you're looking for if you're specifically looking for a lot of pounding bass. But Zn is more than capable when it comes to midranges, guitars and the human voice takes on a silky quality that is difficult to describe, Zn seems to exude sonic pleasure.
Conclusion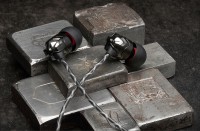 For $180 you can't go wrong. I haven't heard enough $300 to $1000 IEMs to really give any credence to VMODA's claim that Zn can compete in this price range. But it's a good bet that if you're looking for warm, musical listening experience from a pair of earbuds that won't leave you feeling acoustically claustrophobic, Zn has all the right elements in place.
The best compliment I can give the new V-MODA Zn is the fact that they've replaced my full-sized Denon DH-600 headphones as my go-to at work. I wouldn't give up the mix of plush comfort and punch of the DH-600 for just anything! These are great headphones for long jam sessions particularly suited to what I like to hear at work that ranges from no-lyric dub-step, ambient, screaming hyper metal or mellow classic jazz.
I found the Zn armed with Comply foam tips are comfortable for extended listening and they provide me with a more adaptable sound signature that is a great for any mood or music.  Color me impressed these are damn good IEM's.
Confused about what AV Gear to buy or how to set it up? Join our Exclusive Audioholics E-Book Membership Program!
See also:
Recent Forum Posts:
Don G. posts on April 11, 2016 15:57
Nice write up Gene. Would you say these are similar to Etymotic 4-P's? They seem to be in the same price range. Those are very accurate monitors though.
gene posts on March 02, 2016 00:06
V-MODA has earned a name in the headphones market with cans that manage to blend ruggedness with elegant design from MIlano, Italy. But what they're most noted for is a distinct sound-signature that fans will tell you consistently punches well above their price class. Company CEO Val Kolton is well known on headphone and hi-fi message boards he not only listens but responds to his community headphone fans.

This isn't the first pair IEMs by V-MODA, but Zn is their firs run at a premium product in this category.



Read: V-MODA Zn In-Ear Monitor Review
Post Reply